Provençal Pairings: Wine with Food

Side by Side by Syrah
by David Scott Allen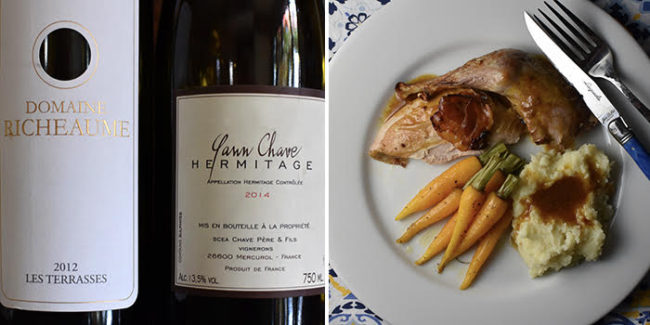 Winery: Domaine Richeaume
Cuvée: Les Terrasses
Appellation: IGP Bouches-du-Rhône
Region: Provence
Type: Red
Vintage: 2012
Grape Varieties: 100% Syrah
Alcohol: 14.5%
Average Retail Price: $60
Winery: Chave Père & Fils
Cuvée: Yann Chave Hermitage
Appellation: Hermitage
Region: Rhône Valley (Northern)
Type: Red
Vintage: 2014
Grape Varieties: 100% Syrah
Alcohol: 13.5%
Average Retail Price: $75-100
Your average dinner for four. Apéro had been served. Dinner was in the oven. The table was set. Two wines were open and ready. But this wasn't an average dinner. And we certainly didn't have average wines. In fact we – Susan, Towny, Mark, and I – had two highly rated, 100% Syrah wines that we wanted to taste side by side. A Tale of Two Syrahs, as it were. (Sorry Mr. Dickens!)
It wasn't a tennis match, nor the lighter and loftier badminton. It seemed more like a game of strategy – a chess match that ended in a stalemate. There was no clear winner, and there certainly was no loser. Actually, if you asked each of us (I did), both wines were winners, each with its own strategy.
For the main course, I served roasted pheasant with a Marsala-orange demiglace – head over to Cocoa & Lavender if you would like the recipe. Syrah seemed to be a good grape to pair with this slightly gamey, and savory-sweet sauced dish. You could go bigger (my first time, I paired it with a wonderful Amarone), but I wouldn't go smaller. This meal needs some oomph from its pairing.
We tried to give both wines their due. We didn't decant one and not the other. The temperature was the same. They were opened at the same time. The glassware was the same. We did, however, make one a "movie star" (click HERE if you haven't seen "The Day in the Life a A Bottle), but that didn't sway our taste buds. We are not ones to be star struck.
Wines, like conversations, are organic. They ebb and flow, and you can't really tell for sure where they will go. (I did not intend for that to rhyme…) These two wines wove in and out of first place throughout the evening.
We started with the Richeaume. The color is a deep purplish red, with an inky darkness that made it seem quite mysterious. The nose was bright – dark and tart fruits, black currant and mulberry. My first taste was equally bright, although it mellowed beautifully and opened up quite a bit as the evening progressed. I definitely recommend decanting it. Flavors of black fruits with pepper and a hint of cinnamon. It has very soft tannins and a luxurious mouth feel – quite velvety.
The Hermitage, in contrast, didn't change much during the meal. It remained constant and strong. Its color was deep red – like garnet. The nose was redolent of dark fruits – blackberry and purple plum. There was a hint of pepper and some really earthy overtones. It smelled rougher than it tasted. On the palate, it was smooth and easy, with very prominent fruit. There was a bit of leather and prune on the finish.
Both wines paired extremely well with the pheasant, and we liked them both immensely. As Susan was there, I look forward to her notes in the comments. Did she smell and taste what I did? It will be fun to see.