MY DAY AT WINE PARIS 2019
by Susan Manfull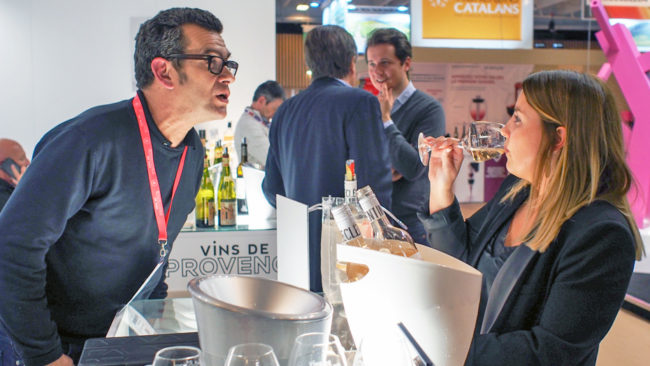 Paris has long been known as the City of Light and the City of Love. Now, it might also lay claim to the title "City of Wine." From the 11th through 13th of February, 26,700 wine professionals were drawn to the capital city for the inaugural Wine Paris event. Approximately 2,000 exhibitors from France and 24 other countries were there to introduce their 2018 vintage to buyers, journalists, and other winemakers. Among those in attendance were William Manfull, my husband and Provence WineZine photographer, and me.
Why a new show?
Wine Paris was an ambitious effort to bring together two separate trade fairs: Vinisud, representing wines from the Mediterranean, and VinoVision Paris, representing wines from the cooler climates in France. Vinisud, which has almost always met in Montpellier, was established in 1994 by the marketing boards in the South of France, comprising the wine regions of Corsica, Languedoc-Roussillon, Provence, the Rhône Valley, and the Southwest. VinoVision Paris was created more recently, in 2017, by the marketing boards of the Loire Valley, Central Loire, Burgundy, Beaujolais, Alsace, and the Champagne Winegrowers' Organization SGV and had held two trade shows in Paris. By combining these two international trade shows (plus Bordeaux), all major wine regions in France were under one roof, which, according to a press kit booklet entitled "When Paris Becomes the World Capital of Wine," underscored their ambition: "to put France back in pole position and establish its unrivalled, long-standing leadership in the wine arena."
The sheer diversity of these regions within a country the size of Texas is staggering. Within each region are appellations (and sub appellations or "terroir designations") each of which further reflects specific qualities related to climate and micro-climate, soil, geology, geography; otherwise known as terroir, these qualities, combined with grape varieties, viticultural and vinification methods, tradition, and the Instituit National des Appellations d'Origine (INAO) regulations result in an amazing array of wine from one country. In Provence alone, there are nine appellations, with Côtes de Provence, the largest appellation, boasting four terroir designations (with plans in place for more).
It's probably no surprise to PWZ readers that demand for wine is high in France. It is the second largest wine consuming nation in the world (the U.S. is first); in 2017, 3.5 billion bottles were consumed in France. Per capita consumption in 2016 was 51.2 liters compared to 11 liters per person in the U.S. in 2017. Another way of looking at the popularity of wine in France is that 86% of the French drink wine—54% at least once a week and 18% everyday—and most French people buy French wine (preferably, the statistics seem to suggest, from their own region).
France is the second largest producer of wine (Italy is first) and the top wine exporter by value. The U.S. is the largest market for French wine and spirits (followed by the U.K. and China). For France, wine and spirits is the second largest export category (after aerospace technology and above perfumes and cosmetics). Clearly, France has a vested interest in supporting their wine market through domestic and export sales.
"But in an increasingly competitive environment, we need to constantly challenge ourselves and innovate to hold on to our leadership position," according to Pascale Ferranti, Managing Director of Wine Paris, as reported in a Wine Paris publication
A wine show of this magnitude — with wine from all wine regions in France and from 24 other countries — would, according to Ferranti, in the same interview reported in a Wine Paris publication, "leverage new growth for the French wine industry."
Why Paris?
Logistically, it is centrally located in France and easily accessible from around Europe and abroad. The iconic nature of Paris underscores the "'Made in France' expertise on the international stage," said Ferranti.
The Parisians themselves were another reason cited to hold this wine show in their city. The Parisians love wine: 5.32 million hectoliters of wine was consumed in the city in 2017 (that is, 709 million bottles). Yes, they had some help from tourists — it is the world's most popular tourist destination as evidenced by the 33.8 million visitors it welcomed in 2017. Finally, I would be remiss if I didn't mention the obvious: Parisians love good food and recognize the synergistic properties of food and wine. After all, French gastronomy is included on the UNESCO World Heritage list. Note that this wine show is not open to the public but I suppose being in the nexus of so many wine aficionados instills the right spirit in the trades, journalists, and winemakers who are attending.
These are important points, certainly, but to some of the wine people we talked to in the South of France, where we were before Wine Paris, those points – as well as exposure to a wider domestic and international audience — weren't persuasive enough to make the trek north. Those who have typically attended Vinisud in Montpellier (or in Marseille the singular time it was held there) expressed concerns about the increased costs associated with a destination 750 kilometers away (7 hours by car) in the capital city. For many wineries in Provence, production is simply not high enough to warrant those costs. Many said they would attend next year if they heard favorable feedback.; my guess is that those with enough production will be there next February.
Impressions of Wine Paris from a wine writer's perspective
The show seemed to have something for everyone, and it was particularly well organized so that one could easily find that "something." Of particular interest to me, for example, was the section in the Visitor's Guide entitled "le fil vert" (the green thread) where winemakers of every persuasion were identified (by country) and could be located within the Wine Show: Biodynamic Winegrowing, Organic Winegrowing, High Environmental Value Scheme, Corporate Social Responsibility Approach, Vegan approach, In Organic Conversion, Natural Winegrowing, and Sustainable Winegrowing. About 800 producers fell into one or more of these categories.
Two large areas of the show, where long rows of white-linen covered tables were crowded with hundreds of wines for free-pour tasting at one's leisure, were organized (separately) by Vinisud and by VinoVision Paris. Other areas were devoted to subjects such as female winemakers in the Rhône Valley, young producers, forgotten and unusual grape varieties, and even boxed wine formats.
The Conseil Interprofessionnel des Vins de Provence (CIVP) set up a semi-enclosed platform in which many of the wines from three of the appellations of this region (representing 96% of the volume of AOP wines in Provence) were available for tasting. With rosé dominating production in this region (89%), there were (unfortunately) only a few red and white wines to taste, a situation I understand but lament as there are some outstanding red and whites from Provence.
CIVP's free-pour format was a great way to compare and contrast this region's rosés, the global standard bearers of this color of wine. I caught up with Romain Ott, from Château Léoube, who seemed to be doing exactly that; he revealed that he was very pleased with the Château Léoube Secret cuvée, one of four rosés Léoube produces and part of the CIVP tasting. (So was I…. although I have been smitten with this cuvée since I was first introduced to it a few years ago, the 2018 is exceptionally good).
For a writer focused on Provence and Rhône wines, it was also a fertile place to network. As I made my way through these Provence rosés, familiarizing myself with the 2018 vintage, I also ran into Daniel Bagnis, relatively new owner of Château Constantin in Lourmarin in the Rhône Valley region, and daughter Camille Bagnis, wine ambassador from the Château. Camille also acknowledged the value of being able to taste the neighboring region's (famed) rosés. Still at the CIVP stand – I guess I was there a while! – I had the pleasure of meeting one of my regular readers and self-described fans of PWZ, Steve Veytia, President of Vins Clémentine de Provence. We later met him at the Vins Clémentine stand and discussed meeting again for a longer conversation about what he's doing now (think sparkling wine).
For importers , such an opportunity was a godsend. Patrick Walsh, Founder & CEO of Provence Wine Imports, Inc., located in Plymouth, Massachusetts, told me that the CIVP free-pour area enables him to prioritize which stands he really wants to visit at the show. As an importer focused on the geographic region of Provence, he does most of his business at the winery itself in order to get "the spirit of the winery and wine maker," but with hundreds of wineries in Provence, the CIVP tasting area can yield new prospects to consider. (The same is true for distributors or those in the trade (e.g., restaurants, wine shops) seeking Provence rosé for other parts of France.)
The wide array of very interesting Masterclasses and Conferences bear mention here, too. Subjects included, of course, various aspects of French wine regions and the wines each produces but also topics relevant to regions outside of France. Issues such as marketing challenges, climate change, social media, and the growth of organic wine were also covered. Rosé merited two courses, both given by Provence resident Elizabeth Gabay MW, author of Rosé : Understanding the pink wine revolution and occasional contributor to PWZ: "Does Rosé Still Have the ability to Surprise?" and "Discovering the diversity of Roses d'Anjou: Fruit, Freshness and Gourmet Food Potential." A wealth of information awaited anyone inclined to dive in.
My take-aways
The 2018 vintage. In the fall, harvest reports across France promised an exceptional 2018 vintage, which has been borne out (thus far) when corks were popped in the new year. Everyone at Wine Paris was very positive about the new vintage; adjectives like "very good," and even "exceptional" and "outstanding" were bandied about in conversation. In Provence, generally, a lot of rain characterized the first half of the year but, I'm told, the ever-faithful mistral seemed to keep moisture issues at bay. Pickers enjoyed a long harvest with excellent weather, resulting in good quality fruit. The yield is said to be higher than 2017, but below average for the past five years. Ditto this synopsis for the Rhône Valley.
The proof is in the bottle, though. We tasted mostly rosés and whites (as we were in France from the end of January to mid-February, before most 2018 reds were released). On our drive from Condrieu down the Rhône Valley to Provence, we thoroughly enjoyed the 2018 wines we tasted: very nicely balanced fruit and fresh acidity. Many, I suspect, will only get better. The few 2018 reds we tried – those that were made to be released early — were very good.
Rosé has secured its position in the wine world. Provence rosé heralded the appeal of dry, pale pinkish rosés with fresh acidity, and led the whole category to the huge popularity it has enjoyed around the world and, now, it seems the whole world is making rosé. As Gabay has gone to great lengths to point out, many of these rosés — from other regions in France and other countries – are quite good (and not pinkish in color). No one seems to be arguing the position anymore that rosé is merely a trend. Rather, the demand for premium rosés remains strong, and (good) entry-level rosés seem to be flying off the shelves. In fact, I was told by a couple of sources that the grapes for entry-level roses are in such demand by large wineries and négociants that prices for those grapes have soared and shortages are feared; some winemakers are buying grapes in the neighboring wine region of Languedoc-Roussillon.
Organic wine production continues to rise. Florent Guhl, Director of the BIO agency, in an hour-long class entitled "The exceptional rise of organic wines!", said that the number of hectares of organic vines has tripled in ten years. In 2017, 10% of the vines in France were certified organic and 22% of France's vines are in the process of conversion; half of these vines are in the first year of the three-year conversion process. Provence is leading this organic effort among the nation's wine regions.
Worldwide, in 2016, 5.3% of the vines were organic; that's about 379,000 hectares of organic vines, which is a 14% increase from 2015. (The vast majority of these organic grapes are vinified.) In 2016, about 50 countries had organic vines and 83% of those vines (about 314,00 hectares) are in Europe. The majority of these vines are in Spain, Italy, and France.
Who's drinking organic wine? The largest market for Europe's organic wine is Germany, followed by France and the U.K. Interestingly, the fourth largest market for organic wine from Europe is the U.S., a country that makes remarkably little organic wine (although it should be noted that, in the U.S., "organic wine" can only be certified as such if no sulfites are added, a situation that, for complicated reasons, has undoubtedly discouraged wineries from producing it).
Finally, a 2018 survey found that 13% of consumers in France report that they only drink organic wine and 41% say that when they drink wine, more than half of the time, it is organic.
Summing Up Our Day at Wine Paris
Wine Paris was very successful in underscoring France's "unrivaled, long-standing leadership in the wine arena." For the French winemakers who attended, I can't help but think that the show instilled some sense of pride in being not only regarded as international leaders but, also, in being a part of such a historically significant and deeply held cultural tradition like winemaking.
The most important role of Wine Paris may be in the international arena. Its very name is English, as Patrick Walsh observed in our conversation. For importers interested in a quick and convenient snapshot of wines from around France and 24 other countries, Wine Paris is a great destination. As I have tried to point out, the show has much more to offer but its central location, convenient transportation, and ample accommodation make it a great venue for one-stop importing business and for wineries actively seeking to export. However, so is Prowein. Widely considered the world's premiere trade fair for wines and spirits, this annual salon is held in mid-March in Dusseldorf, Germany.
In Provence and the Southern Rhône (my beat as the editor of Provence WineZine), the cost-benefit analysis for many winemakers with whom we spoke didn't support attending the inaugural show. Whereas a trip to Montpellier to participate in Vinisud made economic sense, such a venture to Paris did not. Many winemakers told me, both this year and for the last two years, that they have had to make tough decisions about attending wine shows, which can cost over several thousand euros for the booth alone. Attendance at Prowein has, historically, been considered obligatory, so it was weighed heavily against a new show. (I'm curious if there was a significant change in attendance by winemakers from the South of France. My own cursory comparison of figures from Vinisud 2018 to Paris Wine 2019 suggested attendance by winemakers from Provence was about the same but that about half of those who attended Vinisud in 2018 did not attend Wine Paris.)
Stephen Cronk, founder of Mirabeau en Provence, expressed those sentiments to me when he wrote: "We attend Prowein annually and tend to get so much done there that we're always slightly reluctant to spend time and money on other trade fairs." But, after receiving feedback about the debut of Wine Paris, attendance next year seems very likely. "…Wine Paris seems to be attracting a slightly different audience [than Prowein] and so we're planning on being there next year."
Camille Bagins, whose family winery, Château Constantin, is located in Lourmarin, said that, for their small winery, a significant difference from Vinisud was the lack of local trade (that is "from Provence") in attendance at Wine Paris. Bagins suggested that future Wine Paris salons include at least one weekend day to accommodate small trade businesses. When I asked if Wine Paris was a successful venture for Château Constantin, she said they would have to wait and see.
Another consideration for some wineries in Provence is that the inherently small production cannot meet the demand for Provence rosé, leaving these winery with little left for show or even to sell. Philippe Bru, Directeur Œnologue of Château Vignelaure in Coteaux d'Aix-en-Provence recently explained his rosé was already sold out and, since importers are rarely looking for white or red wines from Provence, a trek to Paris did not make economic sense. (Bru is not going to Prowein for the same reason.)
For winemakers who produce organic wine (including, of course, biodynamic and natural wines), the wine fairs, Millésime Bio and BIOTOP Montpellier, are attractive options closer to home in the South of France.
For Provence WineZine, I intend to be at WineParis next February. I suspect the show will continue to grow in participation and attendance, especially if attention to organic, biodynamic, and natural producers continues to increase at the show. I also plan to attend Millésime Bio (and perhaps BIOTOP Montepellier) next January and suspect it will continue to grow in both participation and attendance (as it has been doing). A treasure trove of ideas for future Provence WineZine stories can be found at these events.
Notes:
Resources for statistical information are "When Paris becomes the world capital of wine," part of the Press Kit for Wine Paris 2019 and "2018 US Wine Statistics: Overview of the US Wine Industry in 2018: Stable Growth Forecasted — Based on 2017 Stats" by Liz Thach MW