IT'S TIME TO (RE) DISCOVER THE ROSÉ BELOVED BY KINGS, POPES, AND WRITERS: MEET TAVEL
by Susan Manfull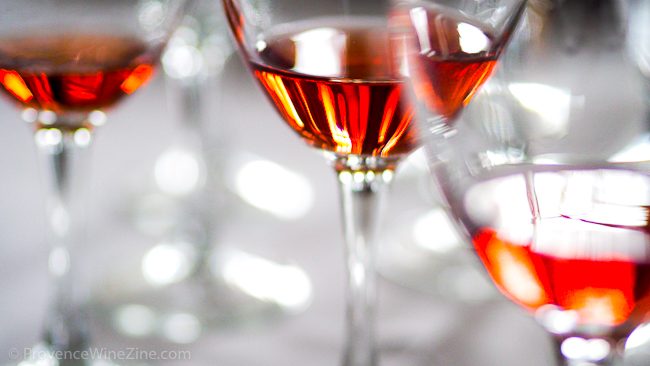 I was delighted to learn Tavel was a favorite of Ernest Hemingway. This rosé's popularity and fame, though, predates my favorite author by centuries.
In the 14th century, when the Popes resided in nearby Avignon, their cellar surely was filled with Tavel alongside their namesake wine Châteauneuf-du-Pape. Papal records reveal that wine transactions with Prieuré de Montézargues, a highly regarded domaine still today, carried right on through the height of plague and famine even when Pope Innocent VI was compelled to sell his own silver for the benefit of the Avignon Papacy. Even earlier, in the 13th century, King Philip IV "Phillipe le Bel" is said to have declared Tavel his favorite wine and later, in the 17th century, King Louis XIV "Le Roi Soleil" declared his fondness for Tavel. Understandably, Tavel came to be known as "Rosé of the Kings, King of the Rosés." Such homage, however, was long ago.
Until recently, the number of people I knew who were acquainted with this lovely rosé was so small I could count them on one hand, still holding my glass of Tavel in the other hand. Not surprisingly, the few who knew Tavel, loved it. They were also wine aficionados and of a certain age. I'm guessing millennials, arguably the largest segment of the driving force behind Provence rosé's astronomical growth, have absolutely no idea what Tavel is. Part of the problem—and clearly part of Tavel's marketing challenge—is that Tavel wine is darn hard to find, even in a wine lover's mecca like New York City. What happened to Tavel?
This question plagued me as I prepared for our trip to Tavel a few months ago. We were in Manhattan, where I thought surely we would find a decent selection of Tavel for a tasting so my husband and I could better understand the terroir(s) of the appellation and, more generally, whet our appetite for our upcoming trip. I was perplexed to learn that only two Tavel wines were available in what seemed like all of Manhattan (we made a lot of telephone calls). It wasn't until we widened our search to the suburbs of New York City and found a shop owned by someone who really likes Tavel, that we were successful: Tavels from five different producers.
I discovered that I had much more than a passing fancy for this rosé–I really liked it–stoking the fire to understand why this rosé, in the midst of the rosé revolution, was not attracting the attention it deserves and had once enjoyed. Permit me to introduce you to Tavel, if you are not already acquainted. I'll tell you what it is and give you a short version of its history. By the end of the article, you will understand what happened to Tavel and I predict you will be eager to find a bottle to get better acquainted, even if you have to go to Tavel yourself.
Tavel is the name of a village, of an appellation, and of the wine produced in the appellation. The appellation is located in the southern part of the Rhône Valley wine region, on the right bank of the Rhône River in the Gard which is a department in the administrative region of Occitanie (which, as of January 2016, subsumed the regions of Languedoc-Roussillon and Midi-Pyrénées). Tavel, the village, lies in the center of the appellation. To be clear, it is not part of Provence but, historically, has been more closely tied, economically and culturally, to the Rhône Valley and, also religiously, to Avignon rather than to Nîmes and the Languedoc.
One of the smallest appellations in the Rhône, today its vines barely cover 1000 hectares (2471 acres) and annual production is about 35,000 to 45,000 hectoliters or about 4.7 to 6 million bottles. (To put this in perspective, about 7 million bottles of Provence's wildly popular Whispering Angel rosé will likely be filled this year.) With less than 25% of Tavel's wine exported, it is not surprising that it is difficult to find a wide selection even in New York City (and, in some parts of the U.S., not even a single bottle).
Tavel is rosé. That is, this appellation only makes rosé and is the only appellation that makes only rosé. It is dry, structured, and gently laced with pleasant tannins. With at least three different terroirs in the appellation, there are distinct differences among the wines but, generally, Tavel is characterized by red fruit aromas and flavors, complexity, and elegance, and a gorgeous color, described by the Syndicat Viticole de l'Appellation Tavel, as a "deep luminous pink." It actually glimmers. Bradbury Kuett, in a recent article about Tavel, refers to its color as "voluptuous." The color is so unique that fellow writer Jerry Clark, in a blind-tasting on a recent visit to Bordeaux, was able to identify L'Anglore solely on the basis of color.
Grenache typically dominates the blend and is almost always accompanied by Cinsault; other grapes include Syrah, Mourvèdre, Clairette, Bourboulenc, Carignan, Picpoul, and Calitor. (No single variety can make up more than 60% of the varieties grown in the vineyard.)
Generally, vinification entails a cold maceration lasting 12 to 48 hours (and even slightly longer) followed by saignée and/or gentle pressing, the juices from which may or may not be combined for fermentation in, most likely, stainless steel vats (temperature-controlled), followed by aging in stainless steel vats for at least six months.
Tavel was granted AOC (Appellation d'Origine Contrôlée) status in 1936, making it the first AOC rosé wine in France. It is one of 18 cru wines in the Rhône Valley, a status that underscores an appellation's authentic expression of its terroir in the wine it produces. In Tavel, there are about 34 independent producers and one cooperative, Cave des Vignerons de Tavel (which makes the wine of 50% of the growers). The Cave de Roquemaure vinifies the grapes from at least one Tavel grape-grower. There are 11 certified organic producers, and others that practice organic farming or agriculture raisonnée. There is one certified biodynamic producer and another who practices biodynamic agriculture and vinification and is widely known for his "natural" wines.
Driving into Tavel is like going back in time. Once off the busy A9 and onto the D4, we meandered back toward the village, passing vineyard after vineyard, each with rows of vines made barren in their dormant period, thereby exposing the exceptional stony terroirs for which Tavel is renowned. An austere beauty dominated the countryside. Later, I would discover how truly captivating the landscape is.
The sun was setting in the winter sky when we rolled into the small village of about 1800 people. Although steeped in history, Tavel's charm is not immediately apparent; but it is there, in abundance, in nooks and crannies, dating back centuries. I found myself imagining what it would have been like back when Tavel wine was the king of rosés and the village was prosperous and confident.
In the 18th century and through the first two-thirds of the 19th century, the population rose as high as 1300, propelled by the immensely successful commercialization of wine. According to André Jullien, in his 1832 version of Topographie de tour les vignobles connus, Tavel's vines blanketed 721 hectares of the land. Tavel wine was revered and commanded a higher price than other wines from neighboring vineyards. According to Rolf Bichsel, who wrote the well-researched and documented (2011) book, Tavel: The People and The Wines, "We can thus claim that in the early nineteenth century, based on a reputation stretching back a hundred years, the wine of Tavel was considered to be one of the greatest wines of France." By 1931, however, the population had plummeted to 600 and the number of hectares was a mere 300, mercifully up from a nadir of 50 hectares in 1870. In a word: phylloxera.
The devastating effects of the massive infestation of Phylloxera vastatrix (aka Daktulosphaira vitifoliae), a tiny pest with a proclivity for grape vines changed the trajectory of Tavel's growth for decades to come. The vines across France and all of Europe were decimated but because Tavel is just five kilometers from the commune of Pujaut, where phylloxera was likely introduced in France, it was particularly hard hit. Arguably, it is at the root (pun intended!) of why Tavel still struggles to straighten its crown however well deserved it is (and it is!). It's a complicated story, interestingly reminiscent of the tragedies performed on stage by the very people who were probably the first to cultivate vines in Tavel as far back as the 5th century BC.
Phylloxera was a pivotal period in Tavel's riveting history and, during my visit to Tavel, it was the subject of much conversation along with, I hasten to add, the exciting things happening today in Tavel's wine business. My introduction to Tavel began with a tour of the area. With Gaël Petit, President of the Syndicat Viticole de l'Appellation Tavel, in the driver's seat and Sandra Gay-Moulines, Attachée de Communication at Syndicat Viticole de l'Appellation Tavel, in the back set with my husband, I rode shotgun as we tooled along the Route Romaine and the 17-kilometer (10-mile) long Route du Vignoble passing vineyards and stopping to see the different terroirs, up close and in my hand, all the while hearing the story of Tavel.
The three distinctive "terroirs" best describe Tavel although the winemakers we spoke with made it clear that it is more complicated. It seems that over the millions of years it took for Mother Nature to create this landscape, she didn't attend to boundaries as she was moving around rocks, mountains, and bodies of water. (If only my geology class had not been at eight o'clock in the morning!) The upshot is that pockets within each of these three areas may not match the general descriptions I am about to give you. Further, most estate owners have small parcels from more than one terroir. The Tavel in your glass—its aromas, flavor, texture, structure, complexity, alcohol level, and color—could be a product of all three terroirs.
The terroir where vines were first planted is referred to as Olivet or le Plan. Lying southeast of the village, wines from this sandy and stony soil tend to be elegant wines with character, lower alcohol, higher acidity, low tannins, and fragrant. The exposure of these vineyards encourages full maturity of the grapes. Some of the oldest estates, not surprisingly, are located here: Château d'Aquéria, Château Manissy, Château de Prieuré de Montézargues, and Château de Trinquevedel.
The Vallongue terroir, located north and slightly east of the village, is known for its large, smooth stones ranging in diameter from 10 to 40 centimeters (4 to 15 inches). It's an amazing sight to see a vineyard so thickly covered with these stones that insulate the roots of the vines. I remarked to Petit that they were similar to the "galets ronds" found in nearby Châteauneuf-du-Pape to which he laughed and said that Châteauneuf-du-Pape's galets were similar to Tavels! Wines produced from grapes grown in this terrain tend to have good structure and aging potential, strong color, and higher alcohol. Domaine de la Mordorée is located here.
West of the village is Les Vestides where the soil is blanketed with limestone rocks called lauzes, the roots run deep and extensively, even more so that the other two terroirs. Considered the most arid of the soils in Tavel, it was hard to cultivate but highly regarded for imparting fruity aromas and minerality as well as great depth and a pleasing finish. Domaine Maby is located here.
The landscape is a beautiful patchwork of vineyards spread over undulating hills that range in height from 80 to 149 meters. The gentle slopes are ideal for grape vines with soils that drain well and are covered with the aforementioned stones that can retain sufficient moisture during dry periods and sufficient heat during cold periods. There is abundant sunshine in this part of France and two cooling winds, the Mistral and the Tramontane, that mitigate the effects of hot days as well as help to keep the vines dry and free of insects and fungal diseases.
Petit took us to the top of one of those hills where we had a commanding view of the area. It was a particularly clear February day and it seemed the vines stretched all the way to the foothills of Mont Ventoux. It was a breathtaking sight.
"Do you know the difference between a Greek theater and a Roman theater?" Petit asked me, to which I confessed I did not. He explained that Roman theaters, such as the internationally famous Théâtre antique d'Orange in Orange, just 20 kilometers away, included constructed backdrops. Greek theaters, on the other hand, used the landscape as a backdrop.
Sweeping his hand across the stunning landscape that had captivated us all, he told me that he always imagined a Greek theater on the very spot we stood. As one can see in the photo (above), the backdrop is breathtaking. I've given that idea a lot of thought since I returned home and continued to read about Tavel's history and drink the absolutely lovely rosés produced by today's winemakers. He's right. And how befitting it would be if the first play were a modern-day version of a Greek tragedy: one based, not on myth but on history, and one with a happy ending. I'm thinking about the story of Tavel.
The setting is the land, recognized some 2600 years ago as perfect for grapevines, first by the Greeks and later by the Romans who expanded the vineyards and added more olive trees. Strategically located on a significant trade road between the Rhône River port of Roquemaure and the thriving Roman outpost Nîmes, trading popular commodities like wine (and olive oil) was a lucrative business. When the Roman Empire fell and throughout the Middle Ages, the trade routes were not safe and the transport of goods from the south to Paris and England essentially ended. Bordeaux took center stage as a supplier of wine in the north and the wine trade around present-day Tavel became more localized. The vines, fortunately, were in the capable custody of religious communities and the lords who oversaw the land and the reputation of Tavel's wine continued to grow. By the end of the Middle Ages, Tavel wine had been famously recognized by King Philip IV and by the popes who resided in Avignon. In the late 17th century, aided by the extended reach made possible by the opening of the Canal du Midi and also by a severe frost in Bordeaux, Burgundy, and Champagne that crippled wine production and shifted demand for good wine back to the south of France, Tavel's wine business began to grow again.
Tavel's reputation for its "light red" wine grew quickly throughout the country and by the early 18th century, the village—by then christened Tavel—was quite prosperous. The future looked promising, in spite of continued challenges in transporting wine north, until the late 19th century when phylloxera infamously infested the source of their prosperity and confidence. The vines were decimated and winemaking screeched to a halt. There was an exodus of residents in search of work. A pall covered Tavel (and the surrounding villages) that had derived their livelihood from wine.
It would take years to restore confidence in the future of the very industry that had brought them fame and success for centuries and to see real progress, it would take decades, marked by two world wars. Still the people of the village worked together, striving to return their industry to its previous grandeur when it was the king of rosés. There was the Syndicat des Propiétaires Viticulteurs de Tavel, the AOC status Tavel achieved, and the creation of the co-operative winery. Eventually, vines covered the land, and men and women returned to winemaking. Today, the wine that is flowing from Tavel is absolutely lovely, undoubtedly much better than that Hemingway touted decades earlier, as evidenced by the numerous accolades and awards.
However, the world of rosé has changed. While Tavel was busy resurrecting its wine business, the demands of the market changed. It is Provence's pale dry rosés that now set the global gold standard. The growth of rosé, both in turns of value and volume, is at an all-time high but figures suggest that it is only the rosé from Provence that is increasing in popularity at such an astronomical pace (and, in fact, other rosés are declining in growth).
It is very hard to compete with a nearby Goliath—Provence—that is the largest producer of rosés on the globe, accounting for 6% of world production. Côtes de Provence, for example, produced an annual average of 730,000 hectoliters in the most recent five-year period for which figures are available compared to Tavel which produced 45,000 hectoliter annually in recent years. Côtes de Provence, admittedly the largest appellation of the nine that comprise Provence, is twenty times the size of Tavel in terms of vines raising the question: how does Tavel make its way through a sea of Provence rosés, back to wine shops, wine lists, and onto your table?
I am not an expert in marketing, but I do know that when one can't compete on volume and price, then one focuses on quality and on serving a niche audience. Petit, and other winemakers who my husband and I had the pleasure to meet, understand this concept and have indeed focused on quality, including significant investments in technology (to complement traditional approaches) that have led to greater expression of Tavel's unique terroirs and overall increased quality, especially in wines that were in the lower-end of the spectrum of wines. Some winemakers are experimenting with oak. But, as many of the winemakers stressed, they need to get the word out to their potential audience that Tavel is making exceptional rosés.
"We want a seat at the table with the other good French wines," Petit told us over lunch. What a story, I thought.
There are different styles of Tavel to explore, ranging from lighter to bolder, fruity to savory, and gastronomic. Tavel pairs well with an impressive variety of foods, from spicy to cherry crumble. For me, it is now one of my go-to wines for a juicy hamburger or a roast chicken. We thoroughly enjoyed the Tavels that accompanied our Thanksgiving dinner last year. My most memorable pairing, thus far, was a 2008 Domaine de la Mordorée La Reine des Bois with a wedge of Roquefort. Many Tavels have aging potential and, with all, you would be quite happy with the previous year's vintage (perhaps even more so than the current vintage).
It is not Provence rosé—about which I have written so much on these virtual pages and which, in its many varied styles, I love—it is Tavel. Win Rhoades, wine aficionado who attended one of our Tavel tastings, went so far as to say, "It is not rosé, it is not red wine….It is Tavel."
I encourage you to seek out Tavel and see for yourself. It is well worth the effort to find. Most prices range from $15 to $23 per bottle, so even an excellent bottle won't break the bank.
If you are lucky enough to be in the South of France right now, anywhere near Tavel, I encourage you to make your way to the village this Saturday, July 15th (4:00 to midnight) for the annual "Couleur Tavel." There, in a beautiful outdoor setting, will be many of the winemakers pouring their wines for your pleasure, accompanied by music, art, good food, and conviviality. I encourage a visit to Tavel and the Rhône Valley at any time!
I wish I could be there. I'll have to console myself with a re-read of A Moveable Feast and a bottle of Tavel. Hmmm….which one will it be?
Notes:
To learn more about Tavel, visit their website: http://www.vin-tavel.com/en/.
For a full list of the Tavel AOP producers, click here. Tavel's certified organic wine producers are listed below:
Domaine La Barrière
Domaine Bel-Ange
Domaine des Carabiniers
Domaine Lafond-Roc Epine
Château de Manissy
Domaine Florence Mejan
Prieuré de Montézargues
Domaine de la Mordorée
Palai Mignon
Domaine de la Rocalière
L'Anglore
Domaine des Carabiniers is certified biodynamic. L'Anglore, although not certified, practices biodynamic agriculture and vinification and is widely known for his "natural" wines.
To learn more about "Couleur Tavel," visit their FaceBook Page: https://www.facebook.com/couleurtavel/
We stayed in the Auberge de Tavel, an inviting hotel in the center of the village. The room was comfortable and bright, the food excellent, the service personal, and owner Corinne Brouillaud was lovely and very accommodating. I learned later that it was once a boys' school. I would stay there again in a heartbeat!
We had lunch at Auberge de Tavel and at the Michelin star Restaurant Entre Vigne et Garrigue in nearby Pujaut, both of which we highly recommend.
To learn more about the favorite Tavels of our PWZ tasting panel, watch for an upcoming article on our recent Tavel tasting. Also, watch for an upcoming article highlighting several of the wineries we visited in Tavel.
The wine shop I mentioned above, with the good Tavel selection, is Rye Brook Wine and Spirits in Rye Brook, New York, 30 miles north of the City.