YOU KNOW MIRABEAU ROSÉS, BUT HAVE YOU MET THE RED WINE?
by Susan Manfull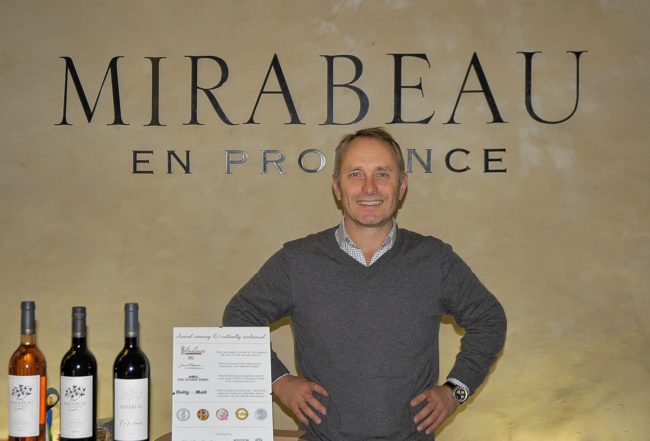 Have you ever had a dream that you really wanted to follow? One that tugged so hard at your heartstrings that you resorted to cold showers to quell those feelings? Stephen Cronk did. And, now, after harboring this dream for some 25 years, this handsome man with boyish looks that belie his 50 years of age is living his dream in the heart of Provence, making award-winning rosés, (very) successfully experimenting with reds, and dabbling in the production of whites and sparkling pinks.
The label is Mirabeau, one I am sure you've heard of because, in just five years, Cronk's rosés have taken the rosé world by storm, garnering accolades from the likes of Robert Parker, Jamie Goode, and Jancis Robinson.
Cotignac's falaise (cliff) is 80 meters high and 400 meters wide and filled with caves, where people — called troglodytes — lived over 1000 years ago. Today, people still live on the cliff although their homes could hardly be called caves! The ruins of a 15th-century castle still sit atop the cliff.
I just had to meet this man when I was in Provence last summer and hear, first-hand, his story of realizing dreams and making wine. Cronk agreed to meet photographer Pamela O'Neill and me on what turned out to be opening day for the company headquarters in the center of the picturesque village of Cotignac. The headquarters, which also houses the boutique and tasting room, is located at the bottom of cours Gambetta, the plane tree-lined boulevard that runs through the center of the village, in a centuries-old building called La Falaise, named for the massive cliff ("la falaise") at the opposite end of town.
In choosing the décor of the headquarters for Mirabeau, I can't help but think that the Cronks were guided by the same philosophy that drives Pure, my favorite of the two rosés Mirabeau produces. Simple, light, and yet elegant and sophisticated.
The thick walls, colored a very pale shade of ochre, along with interior glass walls and plexi-glass backing of the shelves, create an open feeling and allow a lovely light to stream in. The patches of exposed stone below the windows, framed by rustic shutters, offer a brilliant contrast to the computers that fill the loft and the modern steel letters that spell out "Mirabeau en Provence" above the tasting counter. A small area of the tiled floor was left open and covered with plexi-glass so that visitors can peer into the cave below the tasting room and see where wine was stored, some 400 years ago. Simple, light, elegant and sophisticated are words that came to mind as we entered the tasting room.
Outside La Falaise and the Mirabeau headquarters, look for the Cronks' familiar blue 2CV truck, Belle, or "Deuch." This 1979 Citroën Acadiane—in original blue—is the company mascot.
We were Cronk's first customers in his new space (a role that is certain to go down in Mirabeau history). I bought the two rosés, Mirabeau "Classique" Rosé and Pure Mirabeau Rosé (both Côtes de Provence), and the red, Mirabeau Rouge "La Falaise." This article is about that delicious red wine, which don't think has received the attention it deserves…but I digress.
"It's been amazing," Cronk told Pamela O'Neill and me. "I am an English man making French wine in France and the people have been so open and helpful."
"Provence has been receiving outsiders for hundreds of years," Cronk mused, as he went on to tell us how his dream unfolded.
For years, Cronk dreamed of making wine in Provence. Then, in 1999, while standing in the middle of a vineyard in Perpignan (near the Spanish border, in the Languedoc-Roussillon region), he was confronted with the stark but inspiring realization that "I could buy this vineyard for the price of my small house in London." Returning home to England, he and his wife Jeany undoubtedly had one of those long "what's-the-meaning-of-life?" conversations that, in their case, culminated in the decision to "give it a go."
Plans commenced to start a négociant wine business in Provence in which, generally speaking, Cronk would buy wine from vineyards and blend it himself. It would be ten years, but in 2009, when Cronk was offered a significant promotion at work, he quit his corporate job rather than accept the offer, sold the family home in London, packed up their belongings and, with three children in tow, Stephen and Jeany hit the road for Cotignac.
Undeterred by their lack of French, Cronk was buoyed by Steve Jobs' words, "It will work." But it was not easy at first.
On the home front, there was settling the three young children and finding a home. Adapting to a new school is not without challenges anywhere. Toss in a foreign culture and unfamiliar language and those challenges can feel insurmountable. Making this transition was particularly difficult for one of Cronk's children and heart wrenching for the parents to watch. However, happily, those days are now tucked away in the back of the family album as the children are now firmly immersed in village life and fluent in French to boot (as well as German, acquired from Jeany, who is German).
Problems building a new home, on the other hand, took longer to settle. Despite obtaining the requisite building permits (no simple task in the Byzantine bureaucracy of the typical French village), construction was, ironically, held up by their English neighbors who complained that the Cronks home would be too close to theirs. After several years, they have just recently finished the wine cellar of the house and are beginning work on the main floor.
On the business front, Cronk's entry into wine making was, at first, so discouraging that another man might have sought refuge as a troglodyte in one of those famous caves that overlook the village. Armed with a two-pronged approach to his wine business, Cronk intended to "make a rosé that would come to be regarded as one of the best from the region" and to strategically market Provence rosé by educating people about rosé itself.
"My principal objective was to make a world class rosé," Cronk explained when we first sat down at the long table where the blendings for the 2014 rosés were just completed. "One that stands out from the crowd," he added.
Toward the first goal, Cronk assembled an "outstanding winemaking team," that he describes as having close to "70 years of combined winemaking experience" and repeatedly credited with the eventual success of his rosés.
But before Cronk could make the wine, he had to secure the grapes. That wasn't easy.
"I began by cold-calling wineries in my terrible French," Cronk explained. Going directly to the producers, Cronk told us that he said, "If you are not selling all of your grapes for bottles, would you be interested in selling [some to me]." Cronk told us that he was getting nowhere.
Feeling very discouraged, Cronk told us, "I made one more call that would change the story of our lives."
Cronk called James de Roany, Secretary General of the Commercial Division of Conseil Interprofessionnel des Vins de Provence (CIVP), who gave him three names. Cronk followed up and, within two weeks, the stage was set for Mirabeau en Provence.
Cronk then set out to market his rosé and Provence rosé in general. He felt strongly that it is essential to educate consumers about what rosé is. Cronk's primary medium initially was social media and, as such, he put up a Facebook page and created a very attractive blog and an equally appealing website, both of which are filled with much information about wine, food, and Provence culture, many stories, and over 200 videos. Already enjoying a large audience, video #222—about opening a bottle of wine by placing it in one's shoe and banging it against the wall—went viral.
"Two-and-one-half-million views in the first week," Cronk said. Mirabeau was firmly on the map. Since that time, it seems that marketing efforts have definitely expanded beyond cyber boundaries. Several times this fall, as Cronk and I tried to schedule time to talk, he was en route to or from a speaking engagement.
The style of rosé that launched Mirabeau was darker than the typical Provencal rosé. Because Cronk decided that he "did not want to compete with other winemakers in one of the best sectors in French wine," Mirabeau began with a "100% export market to the UK" and thus made a "rosé style familiar to the UK, which is darker [than Provence rosé]." That is Mirabeau "Classique" Rosé, which is in its fifth year with the release of the 2014 vintage. Then came Pure, which is in its second year with the release of the 2014 vintage.
Now, in addition to being available in England (including the huge account of premium supermarket Waitrose), Mirabeau rosés are available in France, Germany, Holland, Australia, Canada (Alberta and British Columbia) and the USA (39 states).
Of the 150,000 bottles that Mirabeau produced this year, only 7,000 were not rosé. I was happy to have snagged a bottle of IGP Méditerranée La Falaise Rouge (2011), of which only 1000 bottles were produced. (Yes, it shares the same name as the building that is now home to Mirabeau headquarters.)
"La Falaise is made in partnership with Sylvain Hoesche who owns Domaine Richeaume," explained Cronk. Located in Puyloubier, just north of Toulon, Cronk told me that Hoesche chooses to make a "Vin de France wine" (the former "Vin de Table" category) so that "he is free to make it exactly as he wants." Notably, this is an "organic conversion" vineyard.
La Falaise is a blend of almost equal amounts of Cabernet Sauvignon, Grenache, Merlot, and Syrah. The soil is clay, limestone, and iron and the yield is 20-25 hectoliter/hectare. It was aged two years in old French oak barrels.
We opened this bottle to accompany our lunch of steak-frites and watercress salad. What a terrific pairing! It would marry exceptionally well with any grilled red meat and perhaps would be perfect with a juicy burger. We would also serve it with roast chicken, pork with cranberry sauce, and cheeses.
La Falaise is a light to medium bodied wine that is pleasantly jammy—dark berries or plum—with hints of spiciness and pepper. Its 14% alcohol is balanced well by its acidity. It is a wine that would have broad appeal, especially for the U.S. market. One guest said that the softness of the Merlot juxtaposed with the complexity of the Cabernet made for a very interesting wine. Others said that, to their taste, it was slightly sweet to enjoy beyond a glass or two. I think we all agreed that picking the grapes (especially the Grenache) ever so slightly earlier would have made for a more balanced wine, but this would not deter me from buying a few more bottles for my cellar. I would keep a few down cellar for a while longer but rest assured that as soon as I fire up the grill to cook burgers this summer, I would definitely uncork a bottle or two… if I were lucky enough to have some. (It is not available in stores in the U.S. yet.)
Let's hope that Cronk continues to experiment with his reds. He told me that he hopes to do just that but that he will have to "hand sell" the reds as they will be pricier than the rosés. (Could I assist with that task, starting with the next sentence?) This is a very enjoyable wine and well worth the €15 euro price tag.
When I last spoke with Cronk in December, he and his winemaking team had just wrapped up the blending of the 2014 rosés. He was exuberant about the latest vintage of rosés. I can't wait for their release in the spring and for the release of the next red.
Cronk is still taking those cold showers I mentioned earlier. The thoughts of buying a château still send him straight to the sobering shower, however, he did reveal—this is news!—that he is making preparations to rent a winery. Such a deal would enable him to start making red wine himself and a portion of the rosés. This is indeed exciting news! Steve Jobs' words come to mind again: It will work.
Notes:
Steve Jobs' full quote is, "If you act like you can do something, then it will work."
Mirabeau en Provence
Cours Gambetta
83570 Cotignac
Tel: +33 (0)4 94 37 40 02
http://www.mirabeauwine.com/