4TH GENERATION VIGNERONNE TAKES CHÂTEAU BARBEBELLE TO THE NEXT LEVEL
by Susan Manfull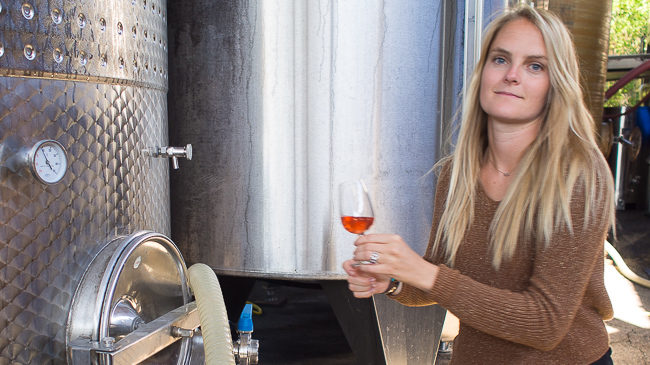 "My father gave me something very, very good," Madeleine Herbeau, Director of Château Barbebelle told me recently. "The Château was already very successful with good quality and good production, and we sold all the production. I want to preserve that," Herbeau said emphatically. "I don't know how to make the best wine ever because that is not my background but, with marketing and commercialization, I think I have something to add."
Herbeau may not have studied oenology but wine is in her veins. She was born and raised on the Château. After completing studies at the Sorbonne in Paris and the EDHEC Business School in Lille as well as a corporate internship with Nestle Co. in Paris, Herbeau returned three years ago to take the reins of Château Barbebelle, alongside her father, name. She was just 25 years old: in all likelihood, the youngest director of a Château in the region and female to boot.
Château Barbebelle, located in Rognes about 20 kilometers (12 miles) northwest ofAix-en-Provence, is one of the oldest estates in the Coteaux Aix-en-Provence appellation; there is evidence of agriculture dating back to Roman times and the Château itself dates back to the 16th century. Herbeau's maternal great grandfather acquired the property around the turn of 20th century and it was passed on through three generations to Madeleine Herbeau, 4th generation, in 2015.
Herbeau's parents took over the Château from her mother's father in the early 1970s when her mother and father were in their early 20s. Herbeau's mother knew the Château well and was passionate about it, having grown up just a short distance from the property and making frequent visits to her grandmother.
Early on, Herbeau's parents must have felt like they were starting from the beginning, Herbeau explained: the vines were very old and had to be unearthed and completely replanted and, shortly after that, her parents made the transition from en vrac (bulk wine) to mis en bouteille au Château (bottling the wine on premises) for the first time. In the meantime, her mother managed all the production.
"It was a lot of work and my mother and father were quite old by the time they had me," Herbeau said. Then, at age 40, Herbeau's mother died, leaving behind her only child at age 7. Young Madeleine and her father remained in the Château.
"My father was very busy with the Château, and I was an only child," Herbeau said a situation she believes led to her very close relationship with her dad as well as her own maturity and love of work. She chuckled as she told me she was in charge of dinner at 10 years old.
Herbeau came to my home in Portsmouth, New Hampshire, earlier this year. She was in our State for promotional events with her New Hampshire importers, Jacques Navarre and Ken Scupp of Top Terroir LLC.
Herbeau is a striking young woman with a presence and grace that belie her 28 years. She exudes an unusual combination of strength and kindness with not a pretension to be found. Whether in jeans and sneakers, as she wore the last time I met her in Provence, or in a chic black and white knit jacket extending to her thighs and accented with a silk scarf, as she wore the day she visited our home, Herbeau has her own style that she intertwines well with air of comfortable professionalism.
Over some tea and homemade blueberry muffins, I asked her if she had always thought she would follow in the footsteps of her family into winemaking. "Yes," she replied without hesitation, "I knew I would work with my father in the family estate, for sure, but I wanted to focus on my studies and find other jobs so that when I come back I would be very sure and passionate about Château Barbebelle."
"I knew after my internship that, although Nestle Co was a good company, it was not my type of job," Herbeau explained, adding that she prefers a smaller company where her entrepreneurial spirit can be realized.
So, three years ago in this past March, Herbeau returned home. It was a good time to return because two Château Barbebelle employees were retiring and Herbeau's father suggested she should take a prominent role in hiring the people with whom she would like to work. Herbeau agreed. Equally as important, it seems, Herbeau's fiancé decided to accompany her and is now in charge of all production (on the vines) on the estate. They are to be married this past June.
I asked Herbeau what she expected when she took on the responsibility of overseeing the property. "First, I expected to learn," Herbeau told me. "And, I have spent three years learning how to maintain the quality, in the vines and in the production."
Herbeau's next goals, she told me, were to create a new range of products—eliminating some cuvées and creating others—and to market the lines and products as well as find export partners.
Herbeau is now very pleased with the Château's current range of products. The recently added premium line, called Héritage, underscores the four generations of family winemaking experience and includes rosé, white, and red wines; it is a gastronomic line best paired with food. The flagship line Madeleine, named by Herbeau's father in her honor, also comes in all three colors and works well as an apéritif wine or as one to accompany food. The Barbebelle Rosé Fleuri is an entry level rosé perfect for quaffing by the pool or enjoying with lunch in a casual café.
For Herbeau, the relationship between quality and price is very important. "I don't want to create a brand that is very expensive but [rather] one that people like because it's good and the quality/price [value] is good," she explained. "Often you see products that are very expensive only to see them discounted at the end of the year. No, for me, I want well positioned products."
"I don't want to create the 'wow' effect – even if I would be happy that the business is good in my generation – I want to preserve it and pass it on to the next generation," Herbeau made clear to me.
The aforementioned philosophy dovetails with her family's longstanding view of conservative re-investment in the business. Herbeau described her family as being very practical people. "When we buy something for the cave or the vineyard, we make very reasonable, step by step plans," she said. Under Herbeau's watch, they recently invested in new tanks for red wine production but don't expect any conspicuous tasting rooms to surface on this property!
In continuing our discussion of marketing, I asked Herbeau what message she would like to get across about Château Barbebelle. "That's easy," she said: "We are a family estate so we take care of the quality of our wine by controlling the whole process—from the vines to the vinification to the bottling to the commercialization—we do everything at the Château and we want to preserve that. We don't buy any grapes. I am not [just] a brand."
Herbeau has succeeded in finding at least three importers in the U.S., two of whom I know, and I can attest that they are effectively conveying the story of this estate, an integral part of the appeal (and ultimately the success) of a winery that sells predominantly rosé (however good it is) in a sea of rosés.
The Château consists 42 hectares of vines nestled into the 300 hectare estate: "We have terroir, altitude, wind, very good sun, soil (very calcaire), and old vines." The result is well-balanced wines that are aromatic, full of flavor and freshness, and finishes that are long and rewarding. About 280,000 bottles comprise the total production.
The 2017 vintage, a difficult year for all wineries in Provence (and beyond), included the now infamous April frost followed by a long drought, leading to lower volumes (of varying degrees) across the region. The harvest began in August, two weeks earlier than usual, something Herbeau's father had never witnessed, and lasted through mid-September. Herbeau reported that Château Barbebelle sustained losses around 15% in volume (although other vintners suffered greater losses, as much as 80%). Nonetheless, Herbeau said, "The vintage is good — very, very good — with very good flavor, very open, and more fruity than usual."
Monsieur Herbeau continues to play a significant role on the assemblage team (as well as in many other areas in the vineyard and the winery). Also included in determining the blends are the oenologist, Madeleine's fiancé, and at least two employees.
Like most Provence wineries, production is dominated by rosé: about 80% is devoted to that color, 15% to red and 5% to white. Twenty years ago, only red and rosé wine was produced and evenly divided.
The 2017 Madeleine Rosé (Grenache, Syrah, and Cinsault) is much paler than last year's rosé and rosés from other estates. Château Barbebelle engages in "best practices" to produce the pale pink rosé for which Provence is famous—harvest during the night, pressing grapes while they are very fresh, temperature and oxidation controls—and the blend remains basically the same as last year, so it is unclear why the rosé is so much lighter, other than the fact that "the juice is very young," Herbeau reminded me. I can unequivocally report that the 2017 rosé is superb: a delicate floral nose, followed by a fruitier, round mouth and a long, flavorful finish. I have not tasted the 2017 vintage of Héritage Rosé or Barbebelle Rosé Fleuri.
Both top-tier 2017 rosés from Château Barbebelle excelled in a recent Decanter tasting where they received the best scores of all rosés (90s) in Coteaux d'Aix-en-Provence. At the Concours Général Agricole competition in Paris, the Madeleine Rosé (2017) garnered a Gold award and the Héritage Rosé (2017) received a Silver award.
I am told by Herbeau that it is a sensational year for white wine, words echoed by other winemakers in Provence, and that the demand for Provence white wine continues to increase. She told me that they intend to plant more white grapes by extending the size of the vineyard in order to increase production in about five years.
For Herbeau, in addition to ensuring that the terroir comes through, it is important to produce a white that is very feminine, very pure, and very elegant. Though I have not tasted either line of 2017 whites yet, I was a big fan of last year's whites. Herbeau was particularly pleased with the Ugni Blanc grape variety of the current vintage which comprises 20% of the Héritage blend (along with Rolle, Grenache blanc, and Sauvignon blanc) and 30% of the Madeleine blend (along with Rolle and Sauvignon blanc).
The two red wine cuvées look very good, Madeleine told me, reinforcing her belief that Provence can make excellent red wine, too. These reds (each composed of slightly different blends of Grenache, Cabernet Sauvignon, and Syrah) are very fruity and strong but the balance is very good, she said.
I've been visiting this Château for a half-dozen or so years now, as it is located on the D543, on the way to Lourmarin where my family and I have been vacationing for many years. If the proof of one's success is ultimately in the bottle, Herbeau and her team are excelling and, after talking with Herbeau, I am confident the trajectory will continue to be upward.
Like all new leaders, Herbeau has faced challenges. I asked her to tell me about some of her greatest challenges and, after a long pause, she said that managing people has probably been the hardest. Of course, the managerial aspect of any job has its challenges for anyone; but for a young female leader, there are, unsurprisingly, particular challenges that surface in a male-dominated field (such as winemaking).. With the growing number of women entering positions of leadership in winemaking, thereby normalizing the presence of women in such positions, and with the increasing recognition that women bring significant strengths to this field—often not as apparent in men—there is hope that this source of stress will be ameliorated.
"I hope I will come back [to the States] next year with my father. He doesn't like planes, but I want to show him the results of all the work he did," Herbeau told me. "Me, I've just done a small part. He did so much hard work for 40 years. To see 'the product of the chef' here would be a great dedication to him."
"My mother is here, also. I think she would be happy to see this. For us, she did the worst job for 20 years. And, now, yes, I think she is looking," Herbeau said.
After some reflection, Herbeau told me that her mother's name was Solange. "It's a very old name…her nickname was Lola," Herbeau added. She reached into her briefcase, pulled out a folder, and retrieved a sketch of a design she had created: a beautiful label for a cuvée she would like to name "Lola" in honor of her mother.
"I haven't determined what the cuvée would be, but I am thinking about it," Herbeau told me. The label is both feminine and pure and, to me, is befitting of Barbebelle's white wine.
"I don't know what kind of wine she liked best," Herbeau explained. "I have to discuss it with my father…right now, it is an idea," Herbeau emphasized.
Fans of Château Barbebelle will just have to wait and see.
Notes:
Madeleine Herbeau will be in Boston, Massachusetts and Portsmouth, New Hampshire this week. On Wednesday, April 18, Madeleine will join her Massachusetts importer Patrick Walsh of Provence Wine Imports at Brix Wine Store in Boston's South End. On Friday, April 20, Madeleine will join Jacques Navarre and Ken Scupp of Top Terroir LLC at a ticketed event at the Martingale Wharf.