Provençal Pairings: Wine with Food

Be Still, Mon Coeur
by David Scott Allen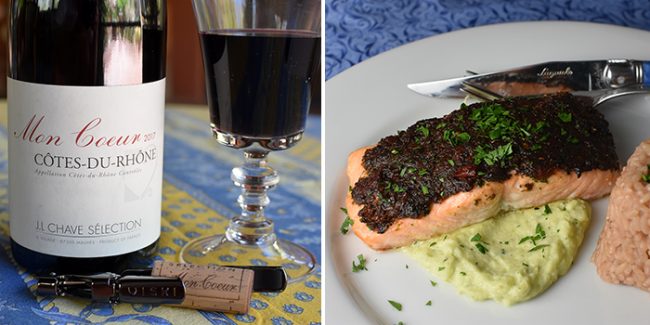 Winery: Jean-Louis Chave
Cuvée: Mon Coeur
Appellation: Côtes-du-Rhône
Type: Red
Vintage: 2017
Grape Varieties: 50% Grenache, 50% Syrah
Average Retail Price: U.S. $19
When it comes down to it, it isn't the wine that is getting us through "this," it's the sharing of the wine. Whether from 15 feet apart in the back garden, or online via Zoom, FaceTime, or Skype, we still thrive by sharing a glass with friends over a meal, an appetizer, or even a bowl of popcorn. It doesn't matter how we do it, it matters that we do it: staying connected and staying safe.
Dinners on Zoom have become de rigueur in our household. No pandemic is going to stop us from spending quality time with people we love. It took time for some of our friends to get on board, feeling that a virtual experience was just that — virtual. But, in the end, it isn't. It may be the case for business meetings or even telehealth visits, but when you can sit down and dine with friends something changes.
We dress up. We use nice linens, china, and crystal. For really special occasions, we pull out the sterling silver. It is an event in our generally dull weeks. A reason to create a special meal, open and incredible bottle of wine, and discuss… the food, the wine, the weather, … and maybe even a little politics.
Susan and Towny had a bottle of Mon Coeur Côtes-du-Rhône (2017) from Jean-Louis Chave, and so did we. We took this as a sign that we should do a meal together. I had just been telling them about a dish I recently threw together and Susan thought it would be perfect with Mon Coeur. (Spoiler alert: it was!) So we decide to cook together and then sit down and enjoy the wine with my Salmon with Sun-dried Tomato and Olive Tapenade. A side of puréed leeks with basil made the perfect accompaniment. For the recipes visit Cocoa & Lavender.
I don't think pedigree is always important when considering wine. Some of the finest wines I have tasted have come from young winemakers just starting their careers and their wineries. But knowing the a wine has more than 500 years of family history in winemaking is pretty impressive. Jean-Louis Chave has been producing fine wines in the Côtes-du-Rhône region since 1481… I mean, Columbus could have taken a 10-year old bottle with him when he sailed the ocean blue. Just sayin'…
This is one beautiful, organic Côtes-du-Rhône. It has a deep ruby color and aromas of red fruit and spice. On the palate it had a chameleon-like response to the food. One sip and taste brought dark black fruits — black currant and blackberry — and then the next bite brought bright red fruit — strawberry and red cherry. It was earthy and herbal with notes of anise and pepper, with a nice black cherry finish.
I really enjoyed this wine and I think you will, too. In addition to salmon, I think this would be a perfect wine for any number of meat and poultry dishes. I can almost taste it with Chicken Marbella.
* * * * * * * * * * * * * * * * * * * * * * * * * * * * * *
And speaking of virtual food an wine events, please join Susan Manfull (Provence WineZine), Susan Tipton (Acquiesce Winery), and me (Cocoa & Lavender) for a virtual wine tasting of three beautiful white wines made by Susan Tipton.
On Sunday, November 15, at 2:00 PST/5:00 EST, sign on for our virtual special event: Cook, Drink, Learn – an afternoon/evening with Susan Tipton, Susan Manfull, and me! For more information and to sign up click HERE (https://www.acquiescevineyards.com/wine/cook-drink-learn/) – the cost is only $96 for the event (covers the three bottles of wine) and, if you use the Promo Code COCOA or PROVENCE, you will get free shipping. A link to the event will be provided. (Orders must be received by Monday, November 9, in order to receive your wine in time for the event.)
We truly hope you will join us! If you have any questions, let me know in the comments or send me an email at cocoaandlavender@gmail.com .