Provençal Pairings: Wine with Food

A Perfect Clos(e) to the Year
by David Scott Allen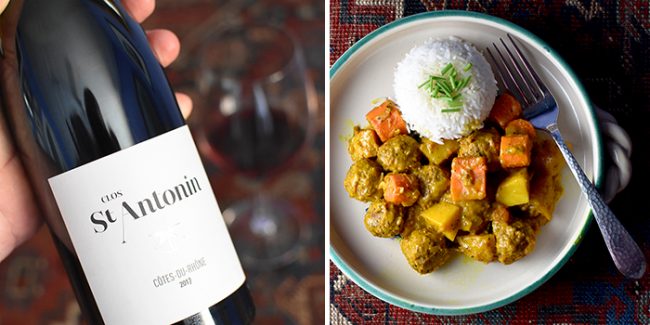 Winery: Clos St. Antonin
Cuvée: Côtes-du-Rhône
Appellation: Côtes-du-Rhône
Type: Red
Vintage: 2017
Grape Varieties: 50% Grenache, 50% Syrah
Average Retail Price: U.S. $19
I am a firm believer that wine and food need to be shared to get the optimal pleasure from both. We are so close to getting that back in our lives that I can almost taste it. Literally.
I have been pairing food and wine for myself now for nine months. Sure, Markipedia likes a good meal and decent wine but, together, we like sharing our meals with friends around the table. Zoom has been a good stopgap but we want to give our guests a hug hello when they arrive. We want to clink glasses and look into one another's eyes at close proximity… and to see everyone's smiles. When that day is upon us, I can hear myself saying, "Welcome. Please come in." I will have tears in my eyes.
This week though, pretending we had company, I made a very special recipe: Persian Goat Meatballs with Potatoes and Carrots. Wow, what a zinger of a dish for a wintry night to go with a wonderful, dark Côtes-du-Rhône from Clos St. Antonin! Real perfection. The dish is filled with flavors of earthy turmeric, bright lemon, and pungent black pepper. It's just a fantastic dish and I think you will love it. If you can get a bottle of this St. Antonin cuvée, I highly recommend it; if not, another good Côtes-du-Rhône should work well. Goat not available in your Piggly Wiggly? You can use ground lamb. Head over to Cocoa & Lavender for the recipe.
The color of the wine, which I mentioned above, is a dark and intense ruby color. The nose is of dark red fruits and a touch of anise. On tasting, we found it full bodied with a soft velvety mouthfeel. While not a hugely complex wine, it was spicy (brought out beautifully by the black pepper in the dish) and bore flavors of cherry, licorice, and burnt caramel. It complemented each component of the stew — in fact, even better than I had hoped.
Have you tried a vintage of this St. Antonin? What did you think? With what did you pair it? Inquiring minds want to know.
As we approach the new year, I want to thank you for reading and for all your gracious comments and compliments throughout the year. As always, let me know if you have any questions or thoughts.