Cook, Drink & Learn: A Special Event
by Susan Manfull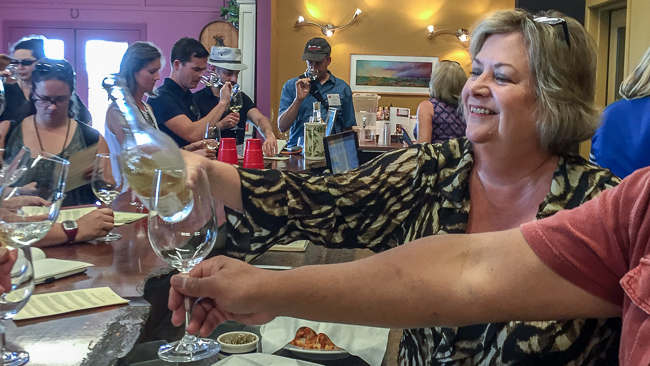 Escape the COVID doldrums with "Cook, Drink and Learn with Acquiesce," our inaugural (virtual) food and wine tasting on Sunday, November 15th at 2:00 p.m. PST/5:00 p.m. EST.
Please join Susan Tipton, Winemaker and Co-Owner of Acquiesce Winery, David Scott Allen, Editor of Cocoa & Lavender and wine and food writer for Provence WineZine, and me for an hour of food and wine fun (and a few facts!).
Beginning with a cook-along with David, we will make Mini Croques — you will receive a shopping list so you can be ready to make these scrumptious chèvre, ham and Dijon appetizers, too! Susan Tipton will accompany us through a tasting of three of her award-winning white wines. And, moi…as Editor of Provence WineZine, I am happy to be in the chair, paper on my lap and pencil in my hand, posing the questions.
How can you join us? The deadline to order the wines has past but you can still join us for the cook-along. Ask your friendly clerk at The Cork Stop or online at Urban Wine Club to recommend a Rhone or Rhone-style white wine to go along with the Mini Croques. Please click
HERE
to register for the event. We will record the event so those who are late to the party can watch and partake at a later date.
I had the pleasure of meeting Susan and Rodney Tipton, husband and Co-Owner of Acquiesce Winery, about four years ago when I visited Lodi, California. I was bowled over by Sue's wines and the story of how she came to produce such stellar Rhône-style white wines in Lodi, a region most known for its Zinfandels….until Susan Tipton entered the scene. It all started with a white Châteauneuf-du-Pape.
We will talk about Susan Tipton's life-changing encounter with that Châteauneuf-du-Pape and how, beginning in 2008, it eventually led to a gorgeous 18-acre vineyard of some of the same grape varieties found in Châteauneuf-du-Pape and a stunning portfolio of ten wines made from those grapes.
We will also talk about the six rare grape varieties that comprise the wines we will be tasting. For example, the (2019) Ingénue is a blend of four grapes — why did she choose those four grapes? What do they each bring to the blend? The other wines — Clairette Blanche (2019) and Roussanne (2019) — are single varietal wines; that is, they are each made from only one grape variety — why only one variety?
As a wine writer, I love to learn more about the man or woman who makes the wine. Tipton's wines are exceptionally well crafted and beautifully balanced, much like a perfectly choreographed symphony. What characteristics does she bring to the cellar to create these wines? We may also delve into some other little known facts such as how her father's love of Julia Child may have encouraged Tipton's well-known passion for finding just the right food to pair with her wines — how does she always nail these matches?
David, the man behind the recipes, can't hide behind his pots and pans at the stove top — I have some questions for him, too.
In addition to the Mini Croques, David created two other chèvre-themed appetizers to pair with Tipton's lovely wines; each appetizer is inspired by the grape varieties that comprise the wines. The recipe for the Mini Croques, will be provided in advance and the two others will be sent after the event.
Please join us for this fun hour of food, wine, and conversation on Sunday afternoon, November 15th. Don't forget to go grocery shopping, charge your device, and to set the table with three wine glasses!
Cook, Drink and Learn with Acquiesce Winery
Sunday November 15, 2020
2:00 p.m. PST/5:00 p.m. EST