Château Saint-Maur Showcases Work of Storytelling Artist Marc Ferrero
The Wine Snoop Report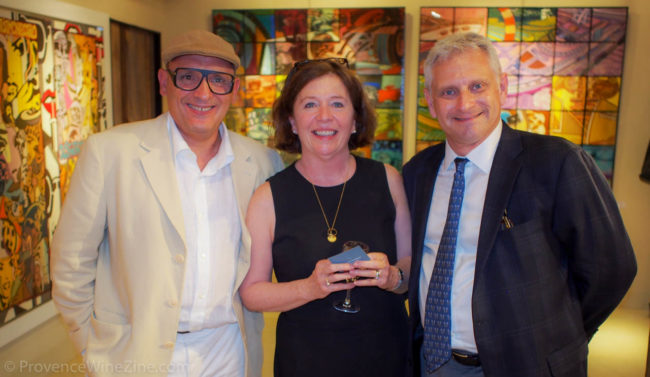 Rod Stewart famously sang, "Every picture tells a story," and internationally acclaimed contemporary artist Marc Ferrero is creating artwork that really does just that. As leader of the "Storytelling Art" movement, he is bringing stories to life on his canvasses. For Ferrero, "the canvas becomes a permanent theatre."
Ferrero's oil paintings are currently on exhibition on three floors of the spacious reception area of the very modern tasting room and vinification cellar of Cháteau Saint-Maur, located in Cogolin, 10 kilometers north of Saint-Tropez. I cannot imagine a setting more befitting for Ferrero's ultra-modern and, in many cases, immense paintings and sculptures. In fact, few settings can accommodate canvases as large as 260 x 162 cm (103 x 64 inches).
I had the good fortune of attending the reception for Ferrero in early June. Upon receiving the invitation, I did the customary research about the artist and his work–that is, I googled him–and, just viewing his art online, I was immediately smitten with his big, bright, and colorful paintings. Many were captivating in their provocativeness and eroticism; others lured me in with their apparent layers upon layers of detailed, often whimsical images. What is going on in this painting? What is the story?
However, my cursory examination of his work on the computer screen failed to prepare me for the awe-inspiring experience of seeing his paintings in person. I, as well as husband Towny Manfull and friend Patricia Thornton, were bowled over, as was every person I spoke with that night. The room was energized by this man's art.
I had the pleasure of chatting with Ferrero who, like his paintings, is a larger-than-life personality, the very embodiment of a bon vivant. Ferrero showed me the main characters of his stories–Lisa L'Aventura, Spencer Percival Duke, and Cello Córdoba–who appear again and again in his paintings. He also revealed the story behind one particularly detailed painting. entitled La Foule (roughly translated the crowd or the mob). The painting highlights the solving of a crime, one probably laced with elements of the seedy underbelly of modern life fueled by conspicuous consumption (my interpretation in New York's Time Square). Other paintings more clearly suggest the degenerate side of Wall Street or Monaco or other parts of the world where Ferrero has traveled.
Before choosing to become an artist, Ferrero traveled the world, educating himself about the people and places that would later take form on this canvases. I suppose travel was in his genes with his Argentine-Italian father and French mother. Ferrero says that his travels to Spain, Morocco, Ivory Coast, Turkey, Brussels, New York, and the French Riviera provided him with the inspiration for the characters in his paintings. He said he already had the passion. A permanent exhibition of his work can be found in Galerie M. Ferrero in Eze Village ( between Nice and Monaco).
Ferrero told me that he was probably most influenced by Picasso, especially during his Cubist period. Since 1999, his work has been exhibited in most the major cities in the world.
How Ferrero came to exhibit his work in Château Saint-Maur is a very interesting story. Marc Monrose, General Manager of Château Saint-Maur, a relatively new winery (owned by Roger Zannier) in Côtes de Provence, spent his summers along the Côtes d'Azur. His family traveled south from Burgundy for many summers. In fact, he met his wife along the coast before either had even reached puberty. Monrose also took tennis lessons during these summer vacations from an instructor he was quite fond of: Marc Ferrero. Over the years, the two young men traveled different paths and lost track of one another. Their paths intersected recently, decades later, when a mutual friend inadvertently connected them. That friend happened to mention one of their names, in passing conversation and the two boyhood friends were back together. Monrose took a look at his old friend's internationally acclaimed artwork and, thinking that Château Saint-Maur was the perfect venue for his Ferrero's Art, invited him to exhibit it at the cháteau.
It was a great evening with Chateau Saint-Maur's wonderful rosés flowing, endless plates of delicious appetizers passing by, and laughter and conviviality filling the air. There was much to celebrate: wine, art, success, and old friends.
If you are in Provence and near Saint-Tropez, Château Saint-Maur is well worth a detour: for its wine, the art exhibition, and a beautiful setting. Ferrero's artwork is on exhibit through August 2016.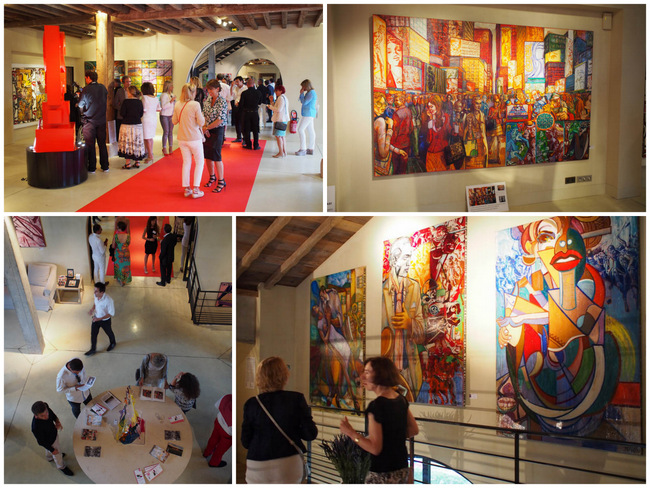 Marc Ferrero's exhibit will be on display at Château Saint-Maur through August 2016:

Château Saint-Maur
537 Route de Collobrière
83.310 Cogolin (Golfe de Saint-Tropez)
France
Exhibit and Tasting Room Hours
From Monday to Friday : from 9:00 to 12:00 and from 14:00 -19:00
Week-ends & public holidays : from 09:00 to 12:00 and from 14:00 to 18:00
Tel: +33 (0)4 94 95 48 48
Visit Marc Ferrero's Gallery in Eze:
Galerie Marc FERRERO
6, Rue de la Paix
06360 EZE VILLAGE
Tel: 04 92 10 82 92
http://www.ferreroart.com/