E & J Gallo Quietly Launches Provence Rosé, Fleur de Mer, into the U.S. Market
by Susan Manfull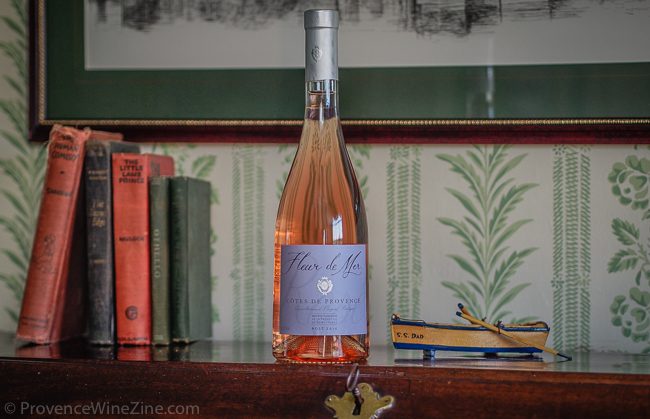 Knowing that Americans are thirsty for Provence rosé, E & J Gallo has hooked up with Les Maïtres Vignerons de la Presqu'île de Saint-Tropez in Provence to make a rosé for the U.S. market. After introducing two rosés, both produced by Les Maïtres Vignerons, to several test markets in key U.S. areas (e.g., Los Angeles, Florida, and New England), Gallo selected Fleur de Mer rosé over Les Voiles rosé. With the release of the 2016 vintage, Gallo has just launched a national sales campaign.
Les Maïtres Vignerons de la Presqu'île de Saint-Tropez, a consortium of about 14 châteaux and caves in Provence, will provide Fleur de Mer rosé exclusively to Gallo under the Maïtres Vignerons de la Presqu'île de Saint-Tropez label in what is referred to as an "import partnership," an arrangement that characterizes quite a few of the relationships Gallo has established around the world, particularly with luxury brands. To be clear, this wine is made in Provence and is an AOP Côtes de Provence rosé.
E & J Gallo, the largest winery in the world, is indeed huge. Its portfolio includes 90 brands of wine (table, dessert, and sparkling), distilled spirits and "beverage products." Headquartered in Modesto, California (not far from where I grew up), it owns over 23,000 acres of vineyards in the Golden State alone. Surely, they could produce a rosé from some of those vineyards, you may be thinking.
"We have quite a few domestic rosés, but the best rosé comes from Provence," Megan Stockton, Senior Manager in Public Relations, recently told me, citing the terroir, the acidity, and the fruit in Provence as being ideal to produce a dry rosé. "Provence rosé is an emerging and amazing category [and] when this opportunity became possible, it was too good to pass up," Stockton added.
I asked Stockton if Gallo was looking for a specific rosé profile to add to their portfolio, to which she replied that they had no specifics in mind beyond a "Provence-style" rosé. Although there is variety in color, texture and flavor in the rosés produced in Provence—the region generally considered to set the gold standard for rosés worldwide—the quintessential Provence rosé is thought to be fresh, crisp, dry, and pale in color.
Stockton explained that Gallo relied on Florian Lacroux, the dedicated winemaker for Fleur de Mer, to create the wine. Blending Grenache (46%), Cinsault (21%), Syrah (15%), Carignan (11%) and "other select reds," Lacroux came up with the winning rosé that he described, in a recent letter, as having a "…crisp acidity, bright fruit notes and dry, mineral finish…."
Lacroux, who is also the director at Saint-Roch-les-Vignes, a wine cooperative in Cuers in the Var department, also wrote that he is able "to choose the most ideal vineyards for the perfect Fleur de Mer blend, select sites within the 'golden triangle' between Cuers, Pierrefeu and Puget Ville." Over 200 winegrowers are part of this cooperative, which spans 750 hectares (about 1850 acres). The soil is very dry clay and limestone, necessitating the growth of deep roots to find water; the yield is low. Should Fleur de Mer reap the benefits of the explosive rosé market growth in the U.S. (and worldwide), my quick calculations suggest that Gallo will be in a good position to expand production with Les Maïtres Vignerons de la Presqu'île de Saint-Tropez.
The popularity of Provence rosé has grown steadily in the U.S. for the past 20 years and the past few years have seen truly remarkable growth. From January 2015 to January 2016, Provence rosé imports to this country have grown 58% on volume and 74% on value, not including on-premise bars and restaurants (which comprise 20% of the market) or small independent retailers (all to say growth figures may be much higher). Provence rosé makes up 29.7% of all imported rosé sold in American retail stores by volume and 42.9% by value.
Whispering Angel, the entry level (negociant) rosé of Sacha Lichine's portfolio at Château d'Esclans has enjoyed unparalleled success in the U.S. market. Whispering Angel accounts for 20% of the Provence rosé market in the U.S. I gave a call to Paul Chevalier, National Fine Wine Director at Shaw-Ross International Importers and importer of Château d'Esclans rosés, including Whispering Angel, to get his thoughts on the new entry to the crowded rosé field. It seems to me that Gallo's Fleur de Mer could be in a strong position to compete with Whispering Angel, if for no other reason than the shelf space that E & J Gallo can command.
Les Maïtres Vignerons de la Presqu'île de Saint-Tropez, unlike most other Provence wine businesses, could also compete in terms of production. According to Tom Schreckinger, Director of Public Relations for Château D'Esclans, in a conversation last summer, about 7 million bottles of Whispering Angel will be produced in 2017. Chevalier said that about half of that will be imported into this country. If Lacroux can draw upon the viticultural resources he apparently oversees at Saint-Roch-les-Vignes, my back-of-the-napkin calculations suggest that plenty of Fleur de Mer rosé could flow into the U.S.
"At the end of the day, it is all about the category," Chevalier told me. "There's room for everybody." He laughed a little and said, "Maybe they can help spread the rosé charm," adding that perhaps he wouldn't have to work as much.
Chevalier acknowledged that a powerhouse like Gallo may have more clout on supermarket shelves, but, he said, not for on-premise purchases. Furthermore, after ten years in the U.S. market, he feels confident that Whispering Angel has established a wealth of brand loyalty. "It's a killer rosé," he said, underscoring his unwavering support of Whispering Angel.
"It actually says a lot for Provence," he summed up. "They could have gone to Mendocino to produce a Provence-style rosé, but they went to Provence."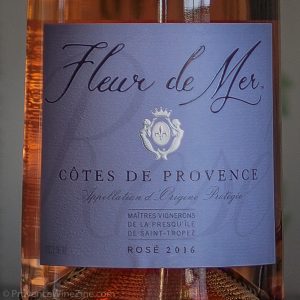 It's an elegant label: a gorgeous shade of lavender, textured paper, and beautiful script. E & J Gallo is not mentioned at all. Gallo still suffers from a bit of an image problem in spite of some truly exceptional wines in their portfolio these days. As a native of Fresno, where Gallo purchased a winery just before I was born, I vividly recall the earlier (bleak) days of their jug wines. I remember my father talking with a neighbor of mine as they surveyed my patio after a party I had hosted and, upon spotting an empty jug of Carlo Rossi, he told the neighbor that I would just as soon believe the bottle had been dropped from the sky than fathom the idea I had invited someone who actually drank wine from a jug.
Fleur de Mer, however, falls in a category nowhere near jug wine. It is indeed a "Provence-style" rosé that will appeal to many people who, for example, are looking for a casual rosé to sip by the pool or to hosts who are looking for a crowd pleaser. It may not be as elegant as its label suggests, but at the $14.99 price it is going for in New Hampshire, all will enjoy and no one will be embarrassed for the neighbors to see the empty bottles.
Notes:
For Fleur de Mer Tasting Notes, click here