Provençal Pairings: Wine with Food
Those Summer Nights
by David Scott Allen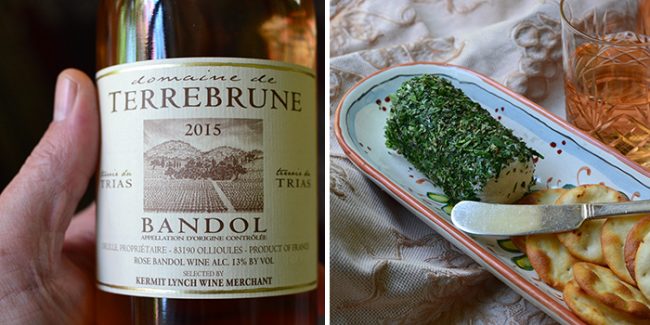 Winery: Domaine de Terrebrune
Cuvée: Bandol Rosé
Appellation: Bandol
Type: Rosé
Vintage: 2015
Grape Varieties: Mourvèdre 50%, Grenache 25%, Cinsault 25%
Alcohol: 13%
Average Retail Price: U.S. $32

While summer isn't the only season to drink rosé, it is incredibly refreshing on a hot summer evening… and that is something we know well in Tucson. Sometimes, it is so hot in the evening (lately, our temperatures have been hovering at 115°F or 46°C) that we don't want a full meal – perhaps just apéro with some nice wine, a little cheese, and a few friends.
With a bottle of the 2015 Domaine de Terrebrune Bandol Rosé chilling, we invited a few friends over for some wine and cheese. Simple. Casual. Relaxed. Early in the morning, while it was still relatively cool, I plucked some fresh herbs from the garden, crushed some peppercorns, and coated two logs of goat cheese – one with herbs, one with peppercorns, then returned them to the refrigerator to let the flavors meld throughout the day. To learn how to make the herbed and peppered goat cheese logs, please visit Cocoa & Lavender.
Bandol is an appellation of wines – red, white, and rosé – from the area surrounding the Mediterranean town of Bandol, just 34 miles east of Marseille. The appellation was created in 1941 and, while that was 76 years ago, Bandol is new to my palate.Admittedly, there are very few Bandol wines available in Tucson. But right around the corner at a nice grocery store, they carry this Domaine de Terrebrune Bandol Rosé. The price was high (quite a bit higher than the national average for this wine), but the temperature was also high and I said, "What the heck!" After all, with just a couple of logs of goat cheese, this wine was going to be the main attraction. The wine is a rich pink, tinged with gold – it is beautiful to look at. The nose is quite acidic, and lemony, even a bit of stainless steel. I was quite relieved, though, that upon tasting it, it was soft and silky, and bore no resemblance to the aromas I sensed. Instead, it tasted of bright strawberry and nectarine, and a touch of resin.
It paired well with the goat cheese – both with the herbs and pepper, although each brought out something different in the wine. The strawberry was much more dominant with the herbs, while the nectarine and a touch of white peach prevailed with the pepper-crusted cheese.
Later, when everyone was gone, there was still some Bandol left and I decided to test it with a burger. This, however, was not such as good pairing – the acidity I sensed on the nose was now on my palate, and I have come to the conclusion that this particular Bandol does better with light meals – salads, simple fresh cheese, and white fish.
Yes, I liked the wine, but I am not sure I would buy it again, especially at the price. There are many other rosés I like more, and perhaps other Bandols I have yet to try.