KITÁ WINES: FOR NATIVE AMERICAN WINEMAKER TARA GOMEZ, DREAMS DO COME TRUE
by Susan Manfull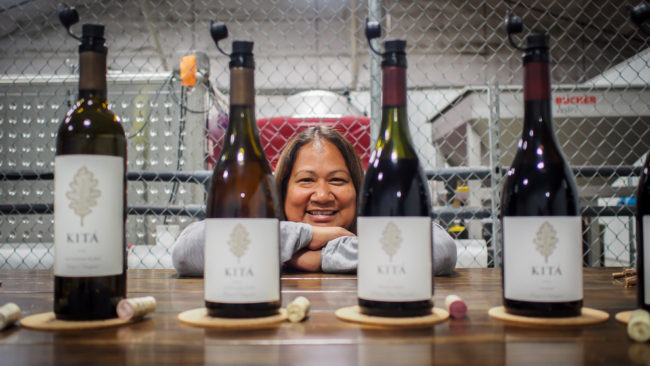 By the time Tara Gomez graduated from high school in 1991, she knew she wanted to be a winemaker. In many ways, she had been preparing for that role her whole life. But, she probably never imagined she would be making wine for her tribe, the Santa Ynez Band of Chumash Indians in the American Viticultural Area (AVA) of Santa Barbara, California, or that she would also co-own a nearby winery, Camins 2 Dreams, with her wife Mireia Taribó, a winemaker, that specializes in natural wines. Dreams do come true.
A Little History
Gomez traces her love of winemaking back to childhood visits to wineries with her parents. "We did the winemaking tours while my parents did the tasting. Sometimes, when I step into this cellar, the aromatics take me back to my childhood days, big stainless-steel tanks, and lab technicians in white coats doing titrations."
Gomez's early interest in science probably also played an important role in reinforcing her interest in winemaking. "I got my first Fisher Price Microscope at four- or five-years-old. From there, came chemistry sets."
After high school, thanks to the financial assistance of her tribe, Gomez attended California State University, Fresno, where she studied viticulture and enology. Fresno State, located in the San Joaquin Valley, established their viticulture program in 1948 and the enology curriculum in in 1956. In 1997, they were the first university in the nation to obtain a license to produce and sell wine on campus (where I've been known to buy some excellent wines when I am in Fresno). I mention this detail, with a certain amount of pride, because, being from Fresno myself, it is where I took my first enology class and, over the years, I've watched their program grow and collect accolades.
Gomez entered the program with about 100 other students, she said, and when she graduated with a Bachelor of Science in Enology in 1998, the class had dwindled to 12, two of whom were women. She chuckles a little and, perhaps in a nod to all those childhood chemistry sets, said there is a lot of chemistry in enology.
Gomez honed her winemaking skills at Fess Parker Winery in an internship, followed by nine years at J. Lohr in Paso Robles during which time she created her own label, Kalawashaq' Wine Cellars, a lot of travel in Europe to study old world winemaking, and a sojourn abroad that included two harvests at Castell d'Encus winery in the Pyrenees mountains in Spain. When she returned from Spain in 2010, the tribe was in the process of purchasing a 1400-acre (about 566 hectares) parcel in Santa Ynez Valley to be used to expand housing for the tribe. A 246-acre (about 100 hectares) vineyard happened to be on the land, one Gomez had seen because it was Fess Parker's land.
"They didn't know what to do with the vineyard," Gomez explained. "It took some convincing to get them to even think about getting into the wine industry.
"The name "Camp 4" was given to this piece of land because it was the fourth stagecoach stop on passage from San Francisco to Yuma, Arizona (and perhaps on to Saint Louis) in the 19th century. Camp was made to allow the horses and the passengers to rest on this long journey. In the late 1990s, when Fess Parker purchased the land, he kept its original name."
In April 2010, the sale of what was long known as "Camp 4" was finalized. In June, with less than three months left to prepare the vines for harvest, Gomez got the okay from the tribe to make some wine. She said they said something like: "We'll allow you to make three tons. Pick what you want. Do whatever you want to do, and we will evaluate it and see." Gomez went with one ton each of Cabernet Sauvignon, Syrah, and Grenache.
"It was a bit of a challenge," Gomez told me, clearly understating the situation. In addition to the looming harvest time, Gomez had to find a place to make the wine. "We had to make the wine in another winery," she explained. "We were both bringing in fruit at the same time, waiting to process and use equipment. So, we worked it out that we would pick in the middle of the night, process everything in the middle of the night and be cleaned up, done and out by 7:00 a.m. when they would get in." The day was not over for Gomez's team, though, as they still had sampling, running analyses, and so on. "Yeah, those were very long days for us," Gomez laughed.
Gomez did have one advantage. It had been a really cool growing season in the Santa Ynez Valley so the grapes never fully ripened, she explained, but these weather conditions were familiar to Gomez, having just returned from making wine in the Pyrenees Mountains, where such conditions are the norm. For other winemakers in the area, some of whom had never experienced such conditions, it was a difficult vintage.
Gomez feels that the 2010 Cabernet Sauvignon was the best vintage to date. It was lauded by all, including her tribe who was thrilled and endorsed continuing the wine business and even allotted more of the vineyard to Gomez.
In June 2013, Gomez got her own cellar, and, in 2018, the tasting room was opened. Today, Kitá produces 1500 to 2000 cases and grows 20 varieties on 200 acres of the 256-acre vineyard.
Underlying Philosophy
Kitá Winery was thus born with that 2010 vintage and on its way to the success it enjoys today. "Kitá" means "our valley oak" in the Santa Ynez Chumash native language of Samala. Oak trees dot the Camp 4 vineyard. Each bottle is graced with a lovely image of the Kitá leaf, the center of which is covered with lines, much like a topographical map. Gomez explained that the lines represent the life of the tree and the life of her Chumash ancestors, and underscore her deep connection to the earth and the spirit of her tribe.
This connection to the land is deeply ingrained in Gomez and influences all of her decisions. "Everything we take from the vineyard goes back to the vineyard," Gomez said. "From pressing, we haul it all back to the vineyard and mix it with manure of farm animals and then incorporate all that back into the soil. We rely on our natural resources like hawks, owls, and bats."
Gomez added that they practice sustainable agriculture and adhere to biodynamic principles as much they are able. In the cellar, Gomez relies on as little intervention as possible to enable the essence of the grape berry to come through. The word "purity" often pops up in describing her wines, she said (and I would agree).
The idea of "balance" is one that embodies both Gomez's wine as well as herself. "It was something that came naturally for me because I grew up with [this philosophy]," Gomez said. She said that she learned early how important it is to seek a balance between one's self and one's surroundings and to try to find a balance in everything, including viticulture and vinification.
"Growing grapes and making wine is an endless search for balance because you have no control over Mother Nature," Gomez said. "We deal with what she bestows upon us – we make the adjustments," she laughed, adding that at Camins 2 Dreams, where native yeast is used, there is even less control.
Gomez works closely with the tribe and reports to the tribe, which consists of about 130 tribal members (who vote on everything). "So, instead of having just one boss, I have about 130 bosses, and everybody has an opinion," Gomez said, smiling. "But, on the other side, they are all family. It's challenging, for sure, but I'm just saying, like, we're all related."
Gomez would like to get more tribal members interested in viticulture or viniculture, but, thus far, few members have demonstrated a long-term interest. "I would really like to be able to pass on something to the youth [in her tribe]," Gomez said.
"Representing my tribe with this project is, in itself, everything for me," Gomez told me. She said that it is a big honor for the tribe to be recognized by the State Legislature as the first winery solely run by a Native American tribe, making wine from vines on tribal land, with a Native American winemaker at the helm.
In many ways, Gomez feels she has come full circle. Her tribe supported her college education and, now, she's giving back to them. Gomez made the point that talking about Kitá wines is a great way to tell the story of her tribe.
Gomez hasn't forgotten the wine community either. Kitá got its start in another winery's cellar, you may recall. This past harvest, Gomez and her team opened their cellar to local small producers for "custom crushes" and "press and go's" that, all together, totaled 55 tons.
"It was a rough one, a long one," Gomez said of the 2019 harvest. Afterwards, she and her wife packed their bags and fishing poles and headed for the woods up in Calaveras County. And totally disconnected.
Kitá Wine
My husband and I first met Gomez and her wife, Mireia Taribó, in June 2017 in San Francisco at a Rhône Ranger tasting. The Rhône Rangers, a non-profit group that was founded (officially) in 1997 with 13 wineries, is dedicated to the goal of promoting American Rhône varietal wines; that is, Rhône -style wines in which 75% of the wine's content must include at least one of the 22 traditional Rhône grape varieties. Today, there are over 100 wineries and vineyards in this organization, mostly in California but also in Washington, Virginia, and Arizona. Kitá Winery is a Rhône Ranger winery and was pouring wines that day.
We immediately fell in love with freshness of these wines. My notes read: clean, balanced, well- structured, layers of flavor. They are, in fact, Old World style wines. They are not big and not overly high in alcohol. They are wines that are very food friendly and can go with many different types of dishes.
Kitá's hallmark characteristic of freshness and brightness comes, in part, from picking early.
"I was always the first to pick and so I got questioned a lot. I was pretty confident about my decision," Gomez told us, "but, I still wondered why people were questioning me." Gomez told them to wait until they taste the wine so they could see what she was trying to do and, after they did, no more questions were asked (except, I imagine, the following year when they watched to see when she would be picking so they get ready to do the same!)
The soil at Camp 4, where all but Chardonnay and Pinot Noir grapes come from, is sandy-loam. The growing season is long with warm days and cool nights. Sustainable farming prevails. Grapes are hand-harvested.
The Chardonnay and Pinot Noir varieties come from Hilliard Bruce Vineyard in the Santa Rita Hills appellation, which has more of a maritime influence. The soil is sandy silt. Sustainable farming and hand-harvested grapes. The 2017 was the last vintage of these two grapes and, henceforth, Kitá will not make these varietal wines (although these Chardonnay and Pinot Noir are the mainstay of the region).
My First Visit to Kitá Winery (December 2017). My daughter, Alex Manfull, and I visited the winery, located in the very small, sleepy town of Lompoc, in December 2017, and enjoyed an informative tour of the very small operation and a fabulous tasting. I was once again, bowled over by the freshness of the wines coupled with the layers of flavors in each glass. Space prohibits a full discussion of the tasting but a few highlights underscore the style of wine Gomez aims for and brilliantly succeeds.
The 2015 Chardonnay was beguiling. The aromas of slate and the sea leapt from the glass and, combined with citrus and green apple, we were primed for an elegant, nuanced experience, greatly relieved that we would not need to wade through the usual buttery and oaky flavors of most California Chardonnays. My daughter always swore she could never cozy up to a Chardonnay, even if it were from one of the most famous estates in France and I shared her feelings about the stereotypic California Chardonnays. Alas, this one was, well, as I've written several times above: fresh, bright, and brimming with flavor in a well-balanced and nicely structured body. As for oak, 14% saw New French Oak and 86% Neutral Barrels for six months, contributing to a lovely mouth feel. Alex was so surprised that she really liked a Chardonnay that she went so far as to purchase a bottle (which I now have and will open soon).
Spe'y means "flower" in the native Chumash of Samala. The 2014 vintage is a blend of Grenache (55%), Carignane (20%) and Syrah (25%). From its aromatic nose through the seamless passage to the long finish, there were so many flavors, some quite nuanced, jumping out that we had fun discovering each of them. And for all the flavors we noted, Spe'y is medium-bodied wine. As for oak, 20% enjoyed new French oak and the rest neutral French oak for 18 months. Lovely tannins, I wrote in my notes.
Gomez described herself as more of a purist when making single varietal wines, seeking the essence of the grape variety as much as possible. When blending, the winemaker inserts herself. "One gets to create," she said, "and it says a lot about [the winemaker]." I asked Gomez how the T'aya and Spe'y wines reflect her, and she replied "Old World and New World winemaking." Indeed.
The 2014 Cabernet Sauvignon really spoke to us. Forty percent went into New French Oak and 60% into Neutral French Oak for 18 months. I noted tobacco, pencil shavings, dark red fruit and a little vanilla; nice tannins; and a long finish. I also wrote "very drinkable" which I probably wrote to remind myself how much it differs from a typical big Cab from California.
Kalas (2014) is a chapeau off to Bordeaux. Its name means "breathe" in Samala, the Santa Ynez Chumash native language, suggesting that this wine, like most from Bordeaux, needs to breathe. Its blend of mostly Merlot (48%) and Cabernet Franc (38%) with a little Cabernet Sauvignon (9%) and Petit Verdot (5%) is reminiscent of right bank Bordeaux and its deep red color and nose will make you feel you have such a wine in your glass; but one sip reveals a freshness that would not be among the first words that come to mind with a Bordeaux. This is a lovely wine with complexity and layers of earthy flavors underneath freshly picked dark red fruits. Heed its name.
My Second Kitá Winery Visit (January 2020). A little over two years after my first visit to the winery, Towny and I recently stopped by and met with Gomez to catch up on the latest news, As it turned out, there is a lot that is new, beginning with the recently opened tasting room where we had another excellent pouring of Kita's most recent releases, the highlights of which are below.
The 2017 Chardonnay might be evidence that Gomez has perfected this more European-style Chardonnay. It really showcases the freshness of her style, perhaps even more than the 2015 Chardonnay because for the 2017, 15% of the Chardonnay spent six months in new French oak and the rest is divided between the neutral French oak and stainless-steel. Beautiful acidity.
T'aya (2018) is composed of Marsanne (56%), Roussanne (40%), and Grenache Blanc (4%). "T'aya means "abalone shell" in the Chumash language of Samala and this wine lives up to its name with a minerality leaning into a brininess that is woven into the nose and palate. But the dominant flavors are a long list of aromatic white fruits and flowers. Regarding the oak treatment, 14% spent 18 months in new French oak and the rest is divided between the neutral French oak barrels and stainless-steel tanks. This is an exceptional wine that could easily compete with similar wines from the Northern Rhône.
The 2018 Sauvignon Blanc is a stand-out among Sauvignon Blancs. Gomez brought to our attention that it begins with a little bit of jalapeno and green pepper followed by loads of tropical fruits, including papaya and lychee. There is beautiful acidity and even a little minerality. There is no evidence of the strong grassy type of herbaceous flavors that my palate doesn't appreciate. Similarly, the same grassy flavors are not appealing to fellow writer, David Scott Allen, who has been, as long as I've known him, notoriously (and vocally) averse this varietal wine. But, he had not tasted Sauvignon Blanc from Kita Winery. (Make sure to read his PWZ Wine and Food Pairing about this wine!) Regarding oak treatment, 16% went into new French oak and the remaining went into neutral French oak and stainless-steel tanks.
The 2018 Grenache Rosé is, first of all, a gorgeous pale pink color. The grapes are picked fairly early in the harvest season, foot-stomped a bit to encourage skin contact with the juice,and then left to sit for about nine hours before being pressed. Gomez explains that her Grenache is particularly light in color, necessitating a longer skin contact than some winemakers might guess. Stainless steel tanks for seven months. There is lots of nice acidity and lots of savory red fruit in this refreshing rosé that will really shine with food.
The 2015 Pinot Noir is an elegant, well-structured gem with earthy and spicy (as in black peppery) notes woven into layers of dark red fruit. Gomez pointed out the bouquet of rose petals and violet on the nose and we all noted the long finish. The characteristic Kitá freshness and soft tannins contribute to this very appealing Central Coast Pinot. Regarding barrel time, 20% spent time in new French oak and the rest enjoyed neutral French oak, all for 18 months. Gomez said this wine can be kept for another ten years.
The 2017 Grenache was "soooo good" that Gomez did not want to blend it. But, she knew that her (excellent) 2012 single varietal Grenache (the only other time she released a 100% Grenache wine) was a little hard to sell because most of her customers were not familiar with Grenache on its own and needed some coaching, so to speak, before they purchased. This time around, it is selling much more easily. Understandably, as it is terrific. Gomez's tasting notes sum up its immediate appeal: "[It's] a pretty garnet color with a tantalizing nose of cranberry, raspberry, ripe cherry, and sugared orange peel." Then, the multitude of savory flavors of the palate culminate with a nice finish and anticipation of another sip. Of course, the bright acidity makes for a beautifully crafted, nicely structured wine. Regarding barrel time, 20% spent time in new French oak and 80% went into neutral French oak for 18 months.
The 2015 Spe'y really speaks to me. It is a beautifully made blend of about half Grenache and a quarter each of Carignan and Syrah. This vintage marks the beginning of Gomez's move toward including more and more Carignan. This 2015 blend has 5% more Carignan than the 2014 Spe'y I tried with Alex and, Gomez says there will be more in the 2016 Spe'y and maybe even a single varietal in the future. This wine has great substance without feeling big. The aromas leap from the glass, filling your nose with scents of blackberry pie and the flavors of dark summer fruit sprinkled with spicy pepper entice your palate. Perfectly balanced with acidity and soft tannins. The finish is surprisingly long and gratifying. As for barrel time, 25% spent 18 months in new French oak and 75% went into neutral French oak for 18 months.
Kitá's 2017 Syrah has a nose that is hard to forget. Gomez captures it more vividly in her notes than I was able to do in my notes, as I was too busy being smitten with this Syrah. She writes that the wine is "brooding with aromatics of blueberries, boysenberries, clove, allspice, white pepper, and vanilla." (You understand why I wasn't writing?) This wine has so many layers of flavors that I am reminded of a gâteau de crêpes (a French cake that seems to have a thousand layers of crepes). Regarding barrel time, 30% spent 18 months in new French oak and 70% went into neutral French oak for 18 months. Suffice to say that wine is full-bodied, well-structured, and well-balanced and that we carried home a few bottles.
The 2015 Cabernet Sauvignon, like the 2014 vintage I loved on my first visit to this winery. It is a seamless experience from start to long finish. Integrated scents of black berries, tobacco, forest floor, and vanilla on the nose transition to black cherries and a dash of bell pepper on the palate. By this time, the long finish is not unexpected. The tannins are tamed and suggest it can age for a long time to come. New French oak barrels took 40% of the wine for 18 months and neutral French oak took 60% of the wine for 18 months.
Today, Kitá grows 20 different grape varieties at Camp 4, a far cry from the three varieties Gomez began with in her inaugural year. In addition to the wines described above, Kitá produces a non-vintage Red Table wine and will soon launch a 2016 single varietal Roussanne sparkling wine. Their annual production is about 1500 to 2000 cases. The kudos and accolades continue to roll in, vintage after vintage.
I suspect that the Santa Ynez Band of Chumash Indian tribe is very happy that they — who admittedly knew nothing about winemaking — entrusted fellow Chumash Native American Tara Gomez – who had an impressive resumé but no general management experience – to have a go at the three tons of grapes from their newly acquired vineyard. Gomez is happy, too, and there are a lot of Kitá fans who are very happy.
Camins 2 Dreams Winery
This small winery, located in Lompoc not far from Kita Winery, is the culmination of the dreams of Gomez and Taribó. The name underscores the joint efforts of these two women. "Camins" is a Catalunyan word, representing Taribó's heritage and the phrase, roughly translated, means "The Path that Led Us to Our Dreams."
In the pamphlet for the winery, they elaborate:
We are a team of two winemakers, wife and wife, whose paths first crossed through our work in the wine industry. Our friendship grew through wine and travels, which also sparked our love. Our journey of friendship, love and wine now continues as together we found our dream winery, Camins 2 Dreams.
Taribó grew up in Spain and developed an interest in wine at a very young age. She has a Bachelor's degree in Chemistry from the University of Barcelona, a Bachelor of Science degree in Enology from the University of Rovira and Virgili, and a Master's degree in Enology, Viticullture, and Marketing of Wine and winemaking experience that includes Castell d'Encus in the Pyrenees Mountains.
In 2017, Gomez and Taribó founded the winery with the goal of making natural wines. In Europe – especially Spain, Denmark, the UK and, definitely, in France — natural wines have an established following and consumption is expected to skyrocket. In the United States, there is growing interest in discovering natural wines and domestic consumption expected to continue to rise. In certain pockets of the U.S., winemakers and growers are particularly interested in producing such wines. Santa Barbara appears to be one of them.
What is Natural wine? Right now, there is no agreed upon definition of "natural" wine (so there is no certification for such wines). In many ways, these wines represent more of a philosophy or a concept of winemaking. In fact, a specific definition is antithetical to some natural wine makers.
Loosely defined, such wines are made from hand-picked and organically grown grapes (certification is not necessary) that are vinified with "minimal intervention."
But we can get a little more specific so that you understand what is so exciting about this venture. It is what happens in the cellar that moves what would just be labeled organic wine into the natural wine category. "Minimal intervention in the cellar" refers to, most importantly, no additives such as foreign yeasts and sugars and, perhaps most significantly, minimal or no added sulfites. In addition, there can be no adjustments (e.g., acidification or de-acidification, no blocked malolactic fermentation) and minimal or no processing (e.g., fining or filtration).
Minimal intervention does not mean leaving the grape juice alone to let things happen naturally and then bottling a final product that has a funky nose, cider-like flavors with notes of yeastiness on the palate, unexpected fizz, and zero finish, and expect that a certain group of consumers will like it because you've called it "natural wine."
No, on the contrary. Some wines may be described as such but not the well-made ones. To quote myself from an article I wrote after my foray into the highly regarded natural wine tasting called Raw Wine, "I often found these wines livelier, vibrant, interesting, and, dare I say, more "authentic" than their conventional peers." The natural wines that Gomez and Taribó produce are befitting of this description.
Camins 2 Dreams' first release was in June 2019 and they are already on their way to making natural wine with rousing success. All the grapes are sourced from two vineyards in the Santa Rita Hills appellation in Santa Barbara: Spear Vineyards (organic) and Zotovich (not organic but a well-respected steward of the land). In the cellar, the wines were made with native yeasts, no or minimal filtering, no adjustments, and no sulfites added until bottling.
We were fortunate to be able to try their portfolio of four wines at the end of our Kitá Winery visit. Unfortunately, I didn't take any tasting notes, but I can unequivocally report that we loved each wine and purchased all four.
2018 Grüner Veltliner from Spear Vineyards
2018 Rosé of Syrah from Spear and Zotovich Vineyards
2018 Syrah from Spear Vineyards
2017 Syrah from Zotovich Vineyard
We recently opened the Grüner Veltliner, which was an outstanding example of this variety. We served it with red snapper fish tacos, and it was a synergistic pairing. (I will add an addendum to this article after we have opened the other bottles.)
Gomez and Taribó are on the path to dreams, for sure, with the promise of great personal and professional success. ¡Salud!
Kitá Wines
300 North 12th Street, Unit 1A
Lompoc, CA 93436
(805) 819.1372 winery
info@kitawines.com
Tasting Room Hours
Monday-Wednesday | By Appointment Only
Thursday-Friday | 2:00pm-6:00pm
Saturday | Noon-6:00pm
Sunday | Noon-5:00pm
__________________________________
Camin 2 Dreams Wines
313 North F Street
Lompoc, CA, 93436
(805) 741 7047 winery
Mireia Taribó
(805) 717 1179
mireia@camins2dreams.com
Tasting Room Hours
Friday | 2:00pm-5:00pm
Saturday | Noon-6:00pm
Other days by appointment