WINE PARIS 2020 FROM THE VIEW OF A PROVENCE WINE WRITER
by Susan Manfull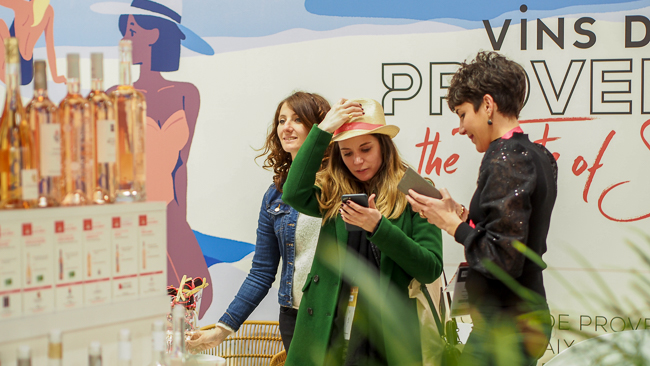 It's a sobering thought that Wine Paris was the last major international wine trade event in 2020. Over two months ago. Virtually every producer with whom I spoke said that the next stop was to be Prowein, scheduled annually for mid-March in Düsseldorf, Germany. It's the world's largest wine trade fair and attendance is basically obligatory for producers of a certain size. So, it was a real blow to the wine industry when Prowein was cancelled due to coronavirus concerns.
The cancellation of AIR PROVENCE, the new and highly anticipated wine salon for the Côtes de Provence appellation that was scheduled for April 6th and 7th, was a real disappointment for Provence rosé producers (as well as buyers and wine writers). Although nowhere near as large or as all-encompassing as Wine Paris or Prowein, this was a huge loss for rosé producers – which make 90% of the wine in this appellation. I hasten to remind the reader that there is but a slim window in which to market rosé since the most recent vintage is typically perceived (accurately or not) to be the best.
Thus, Wine Paris 2020 suddenly became even more important. Born by combining two distinct exhibitions – Vinisud, representing southern climate wines, and VinoVision Paris, representing cool climate wines – this nascent venture has grown quickly into a seamless and vibrant wine salon that, from all accounts, is flourishing. VinExpo also joined the party this year.
The second annual Wine Paris was held in mid-February at Paris Expo Porte de Versailles. Towny and I were among the nearly 30,000 wine professionals who attended this international event, an increase of about 3000 over the inaugural event. About one-third of the attendees were from outside of France. About 126 markets were represented.
The event drew 2800 exhibitors, 2000 more exhibitors than in 2019, 34% of which were new exhibitors. Every wine region in France was represented.
Not surprisingly, I hung out with the winemakers from Provence (the focus of Provence WineZine) and a few from the Southern Rhône, looking for trends, news, and, of course, tasting the latest releases. If only we could have visited all 39 producers on my list.
My Six Take-Aways
The 2019 vintage rosés are excellent.
Towny and I tasted at least 30 Provence rosés, a handful from the Southern Rhône Valley, a few from Languedoc-Roussillon, and about a dozen from the Loire Valley. The rosés we tasted were, overall, excellent and, compared to last year, more consistently so. I will focus on the rosés from the appellations in Provence although I will mention a few appellations in the Southern Rhône.
For Provence, which retains its place as the gold standard among rosé producers, 2019 was a banner year. Weather plays a huge role in determining the quality of a vintage but it is never easy to describe the weather across a region with nine appellations and many micro-climates within each appellation – remember that Côtes de Provence, for example, has five Terroir Designations (aka sub-appellations) — but I shall endeavor.
The spring was wet, the summer was hot and dry, and many areas enjoyed showers just before harvest which, I'm told, plumped up the berries a bit. It was an easy harvest, I heard over and over. The upshot is a great vintage of rosés and whites (and the reds, to be released later, have great promise, too.)
Elizabeth Gabay MW, author of the highly acclaimed Rosé: Understanding the Pink Wine Revolution, attended Wine Paris and, also, recently tasted 183 Provence rosés for Decanter magazine. While she cannot reveal the results of that tasting until late June, she could tell me that "… overall, the quality was outstanding, and it is a tragedy that this year is plagued by coronavirus and tariffs."
The 2019 Provence rosés we tasted at Wine Paris were exceptionally well balanced with bright acidity and just the right amount of fruit. Freshness that pops out but not at the cost of substance. Needless to say, a variety of styles of rosé are produced in Provence: some quite light for the apéro, others more substantial for the dinner table (even one bedecked with white linen, crystal, and silver), and, in between, there are those that can go either way. Rosés in every category rose to their potential; a few surprised me. I light up when I drink what might be called the quintessential Provence rosé, especially those that express minerality (whatever that characteristic may really be) but I am also drawn to well-crafted rosés that diverge from the pack. I found an abundance of both this year. Below are a few examples.
At the Château Léoube (Côtes de Provence) stand, we had a great tasting of the 2019 rosés (all organic) with Jérôme Pernot, Director of Sales and Marketing. Even though they had been bottled as little as ten days earlier and, as Pernot said would not show their potential for six months or so, they are brimming with flavor and personality. The mouthfeel is lovely, and the finish was impressive. The three Château rosés – Rosé de Léoube, Secret de Léoube, and Léoube La Londe — are always among my favorites, but La Londe is a standout. Made from old vine Grenache and Cinsault as well as Syrah and Mourvèdre from near the sea, only 5000 bottles are produced. This wine has a quiet confidence and complexity that is immensely appealing.
Their négociant rosé, called LOVE, has heretofore not been among my favorite rosés although I hasten to add that I was alone in that opinion at a luncheon a couple of years ago when everyone at the banquet table preferred this cuvée over one of the Château rosés. But, the 2019 LOVE is less fruit-forward and, to my palate, the best vintage yet.
At Château Les Valentines (Côtes de Provence), we stopped to meet the producers of one of my favorite rosés, Le Grand Huit Rosé (aka Number 8), organic, from La Londe, and ended up tasting one with which we were not familiar called Le Caprice de Clémentine , a light, easy-drinking rosé that would be a perfect apéro rosé.
Domaine de l'Amaurigue (Côtes de Provence) typically makes three rosés. My favorite, which I got to try this year, is Fleur de l'Amaurigue. Named for the daughter of the owners, Dick and Eugénie de Groot, Fleur is a beautiful blend of Grenache and Cinsault. I have enjoyed this rosé since I first tasted it when I interviewed the very talented winemaker, Jean-Marie Quef, in 2016. This vintage, however, surpasses the previous ones. Sustainable agriculture is practiced.
The 2019 rosé from Coeur Clémentine (Côtes de Provence) is also particularly good this year. Made specifically for Coeur Clémentine at the Puget-Ville Cooperative in the Var, the quality of this vintage is reflected in the glass by the perfect balance of fruit and acidity. (Their brut sparkling rosé made from Grenache is also a treat!)
All three of the rosés that comprise the pink portfolio of Château Barbebelle, in Coteaux Aix-en-Provence, confirmed the excellence of 2019, including the entry level Rosé Fleuris (50% Grenache, 40% Cinsault and 10% Syrah) which I enjoyed much more than previous years. The Madeleine and Héritage cuvées are beautifully crafted and represent immense quality for the price. Grenache (50%), Syrah (25%), and Cinsault (25%) comprise Madeleine and Grenache (40%), Syrah (40%), and Cabernet Sauvignon (20%) make up the Héritage blend. Sustainable agriculture is practiced here.
Château Vignelaure (Coteaux Aix-en-Provence) makes three excellent organic rosés, each perfect for a different occasion. As one moves from Le Page, a blend of Cabernet Sauvignon (60%) and Merlot (40%), to La Source, a blend of Grenache (40%), Cinsault (30%), Syrah (20%) and Cabernet Sauvignon (10%), to the Château cuvée, a blend of Grenache (40%), Syrah (30%), Cabernet Sauvignon (20%) and Vermentino (10%), the wines become increasingly complex. Across the line-up, these rosés are worthy of your attention.
In the Southern Rhône Valley, we observed the same exceptional vintage. At the "Rosés de Terroirs" stand where several different appellations were represented from France (and one from Italy), we focused on Tavel and tasted Château de Trinquevedel, Château d'Aquéria, Domaine Amido, and Château la Genestière. Rosés from Tavel generally lean toward having more body, tannins, red cherry notes, and a very distinctive color that the Syndicat Viticole de l'Appellation Tavel describes as a "deep luminous pink." (I can't do any better than that.) In addition, there was remarkable freshness and balance of fruit and acidity.
Two Southern Rhône standouts we tasted, both organic, come from Château de Montfrin. Aurore de Fleurieu, sales manager whose father owns the Château and makes the wine, explained that the property is located in the "extreme eastern part of Languedoc and the southern part of the Rhône valley, about 20 minutes from the Pont du Gard" (and, hence, makes wine from grapes grown in several appellations). The easy-drinking Cuvée des Oliviers is a Vin de France (VDF) made of Caladoc, Carignan, and Merlot and the very appealing "à la reverie" rosé, is a Côtes du Rhône rosé made of Syrah and Grenache.
We saw greater diversity of rosés.
It bears mentioning that almost every producer in Provence has a portfolio of rosés that offers a continuum of quality, often including both an entry level rosé and a premium rosé. Seldom seen now is a winery that makes just one rosé. The portfolio approach to the Provence rosé market (arguably) began with Sacha Lichine at Château d'Esclans. It served him well as the staggeringly successful Whispering Angel (a négociant wine) funded the very high-end, small production Château rosés like Garrus and Le Clans that whet the consumers' appetite for expensive, well made rosé. Several years ago, Lichine added an even more entry level négociant rosé, The Palms, to the portfolio and other wineries (such as Château Léoube with LOVE rosé) followed suit. The upshot is something good for everyone's palate and pocketbook, especially this year.
Gabay MW observed at the Decanter tasting of Provence rosés that "individual domaines are showing greater diversity in style and complexity, including some darker rosés." She also noted that there were proportionately very few oaked rosés.
We saw quite a few estates offering "special cuvée" rosés, thus adding more diversity to the property's usual offerings.
Château Margüi, a Coteaux Varois-en-Provence property located in Châteauvert, has long been one of our very favorite estates. In 2017, it became part of the group of Skywalker Vineyards and, since then, has been under renovation (which will soon be complete). The Château just introduced a special cuvée, "Bastide de Margüi 1784," composed of mostly Grenache and some Syrah from the best plots on the property. Three-quarters of the fermented juice is aged in fine French oak barrels. Only 2700 bottles are to be released in late spring. The oak provides a lovely fullness in the mouth without imparting any oak on the palate. I really liked it. It is a gastronomic rosé that demands food to reach its potential and will hold its own, I'm told, with dishes as rich as "langousitnes à la bisque de homard."
The Lampe de Méduse rosé is unequivocally emblematic of Château Sainte Roseline, a Côtes de Provence Cru Classé estate, located in Les-Arcs-sur-Argens. To celebrate the 70th anniversary of this cuvée, French fashion designer Christian Lacroix was asked to dress up the rosé Lampe de Méduse with a little artwork. Acknowledging that the shape of the iconic bottle is reminiscent of a woman's body, the artist chose to honor the "very feminine history" of the Château. Women in the estate's history include Sainte Roseline de Villeneuve, eponym of the estate; La Baronne de Rasque de Laval, the former owner who created the bottle; and Aurélie Bertin, the current owner of the Château. The bottle is beautifully adorned with white lace artwork; the lace symbolizes the "precious work in the vineyard" (that is, the work of "delicacy, of finesse") and the white color represents the "original purity of Saint Roseline which echoes the purity of [the] wines." In an excerpt of Lacroix's own words, he lamented (perhaps with a wink) that, "Like perfect bodies, 'I would have like it naked.'"
Domaine de l'Amaurigue is poised to launch a special edition bottle to mark the 20th anniversary of the first vintage under the ownership of the De Groot family. Called Le Grand de l'Amaurigue — De Groot means Le Grand in French — this rosé will be a limited production of 4000 bottles. I talked to Jean-Marie Quef, winemaker at the domaine, and Fleur de Groot, daughter of Dick and Eugénie de Groot who own the domaine, about this blend of equal parts Grenache and Cinsault from the best and oldest plots on the property. The bespoke bottle suggests elegance and exquisiteness. They tell me the bottle is befitting of the rosé – I can't wait to see (and taste) for myself!
Château les Valentines introduced a special cuvée (2018) at this year's Wine Paris called "Miss Valentine." It is a blend of Grenache (70%) and Syrah (30%) packaged in an adorable bottle with a label clearly designed with the beach in mind (but it was also great for Valentine's Day, too). This bottle elicited so many oohs and awes at the Wine Paris stand that I hesitate to describe it as "short and stocky" but that is exactly what it is. It does not even look like it could hold 750 ml of wine. (But it does.)
Rosé is here to stay.
There is simply no discussion anymore about rosé being a trend; in fact, I feel silly writing here what appears to be so obvious. According to the Observatoire Mondial du Rosé, published in February 2020, the worldwide consumption of rosé has had strong growth for 17 years, with 40% growth evident from 2002 to 2018 (the last year for which statistics are available). Furthermore, the three colors of still wine, combined, did not grow more than 5% in the same 17-year period. In 2018, rosé comprised 11.2 % of the global consumption of still wines. Over 50% of rosé was consumed in two countries – France and the United States – in 2018. (Not surprisingly, being closer to the source, the French drank more.)
France is the largest producer of rosé, with the United States in second place, and Spain in third place.
Within France, Provence produces the most AOC/AOP rosé in France and three appellations account for 96% of the total quantity of this rosé. Specifically, Côtes de Provence accounts for 74% of Provence AOC/AOP production, Coteaux d'Aix-en-Provence makes 16%, and Coteaux Varois en Provence for 10%. When one includes IGP rosé in the count, Languedoc produces the most rosé.
At Wine Paris, it appeared that rosés were represented in every French region. They, in fact, are produced in every region in France, but it is Provence that is the most famous producer.
I regularly query rosé drinkers, wine shop clerks, bar tenders, and students in university classrooms where I speak about their preferences or what their customers' preferences are for rosé. It is almost always "Provence rosé" even though, in the case of consumers, they may not be able to name a single producer (but they know they want "Provence Rosé").
The Conseil Interprofessionnel des Vins de Provence (CIVP) intends to keep Provence as the most famous producer of rosé as well as the region that sets the gold standard for the world's rosé producers. With more and more rosés infringing on their shelf space in wine stores and supermarkets and attracting the attention of sommeliers, this responsibility keeps CIVP busy. I met with Valérie Lelong, who is responsible for marketing and export communication at CIVP, and asked her how Provence will maintain its reputation.
Education and awareness are the most important avenues, she said. To that end, they organize tasting and educational events for trade professional, journalists, wine directors, sommeliers, and other hospitality sorts in key markets. For example, from 2009 through 2016, Provence in the City tasting events rolled into major cities and hubs around the United States and later in emerging markets. Several dozen producers brought their rosés (and a few whites and reds) for the target groups to taste and get to know. Sometimes food-pairing events were included. These gatherings were later replaced with smaller scale events for more targeted markets.
AIR PROVENCE, scheduled for early April in Côtes de Provence, seemed to me to hark back to the Provence in the City salons – only in Provence and including trips to vineyards, master classes, and dinners. In mid-February, when I spoke with Lelong, 115 exhibitors were scheduled to be there and about 800 visitors had already registered, a third of which were from abroad. As mentioned above, this important event had to be canceled.
Part of the CIVP's role in marketing and promoting the wines of the three top rosé producing appellations (which is but one of four responsibilities) is to protect the phrase, "Provence Style." In an effort to gain some advantage in the competitive rosé market where Provence is at the top, producers from other regions around the world append that phrase to their labels. Lelong said that that practice happens frequently and that even "Côtes de Provence" is illegally used.
Competition can, of course, play a very positive role in the market. In my correspondence with Gabay MW, she makes that cogent point. She emphasized that other areas of the world are producing some exciting rosé. "Austria is very exciting, parts of Italy, especially the south, increasingly good stuff in Spain. However, I don't see these as a threat [but] more as helping to raise the quality image of this category.
Provence is not just rosé.
Wine Paris proved (again) that Provence is not just rosé. According to Lelong, in the three appellations that form CIVP, 6% of production is red wine and 4% is white wine. There are, in fact, an inordinate number of outstanding reds and whites given such small productions of each. I'm over the moon about Provence whites and reds, and many will not put a dent in your wallet.
Most Provence whites and reds do not make it out of Provence. Despite their remarkable quality and the fact that many Provence winemakers like to make whites and reds, three intertwined reasons are usually put forth to explain this situation: the production is small, the demand is low, and the marketing efforts are focused on rosé (the cash cow of the region). Competition from their better-known red- and white-producing neighbors (e.g., the Rhône Valley and, increasingly, Languedoc-Roussillon) has been said to keep Provence winemakers doing what they do best: rosé. Finally, the Institut National de l'Origine et de la Qualité (INAO, roughly translated to French Institute of Origin and Quality) regulates which grape varieties can be planted and what proportion of each variety can be planted which, in turn, impacts a vigneron's choice about which colors of AOC/AOP wine can be made. There is greater flexibility when making Indication Geographique Protegee (IGP) wine and even more so with Vin de France (VDF) wines (which is why one sees many more and more IGP and VDF wines in France these days).
In addition to still wine, Provence also makes sparkling wine and dessert wines (e.g., vin cuit, translated as "cooked wine," and late harvest wines), and gin. I mention gin because this one – produced by Stephen and Jeany Cronk who own Mirabeau-en-Provence – is related to wine. The alcohol with which it is made is extracted grape alcohol left from the de-alcoholization process used to produce Mirabeau's relatively new lower alcohol rosé wine.
The French AOC/AOP Wine Classification System is cramping the style of some vignerons.
This is not a new subject, but voices of dissent seemed to pop up more frequently – and forcefully — in my conversations with winemakers at this year's Wine Paris. Increasingly, the region's top wine makers are bucking AOC/AOP classification in order to make the wine they would like to make. That is, to grow the grapes they would like to grow in their vineyard and use the grapes they would like to use – in the proportions they feel will make the best wines — in their blends. They are motivated in part for purely creative reasons, but also to experiment with other grapes in order to be prepared for the possible impact of climate change.
The subject is too big to discuss here but watch for the number of IGP and VDF wines to continue to increase in Provence (and elsewhere in France), especially in the red and white categories. Two winemakers with whom I spoke at Wine Paris quickly come to mind: Château Vignelaure's Phillipe Bru and Château Léoube's Romain Ott.
Château Vignelaure produces three cuvées, each with red, white and rosé blends. Only the three blends that comprise La Source can all be classified AOP/AOC. The entire cuvée called La Page is nonconforming. In the top cuvée , the Château Vignelaure line, the white wine is IGP. That blend veers completely from the AOP/AOC regulations, and is outstanding. We tasted the entire portfolio at Wine Paris and enjoyed each wine, but I have loved that Vignelaure white since its inception in 2013. Its IGP status has never gotten in the way of its commercial success.
This year, Bru released a stunning (2018) Late Harvest Sauvignon Blanc called L'Or de Vignelaure. Naturally, it is classified as an IGP Méditerranée wine. It was sublime.
Over at Château Léoube, in Côtes de Provence, Ott has produced a single varietal cuvée of Cabernet Franc called Léoube Collector since 2011. (Sometimes, Ott considers a soupçon of Merlot or Cabernet Sauvignon.) It is an exceptional red wine and it falls into the Vin de France category because Cabernet Franc is not on the list of permissible grapes for a wine designated as AOP Côtes de Provence. At Wine Paris, we tasted the 2013 — perfectly crafted and full of earthy terroir and untamed tannins – and the 2014 – a lighter, more approachable red wine that will require less aging and will be released in September 2020. Exceptional wines that, for the discerning customer, a VDF status will only add to the intrigue.
Ott also produced a limited edition VDF blend of Sauvignon blanc, Rolle, Ugni blanc, and Sémillon. It is blissful. He called it "Ephémère de Léoube." It was created from a desire "not to remain fixated on traditional Mediterranean grape varieties" and, it seems, an urge to shake things up a bit. "AOC should be open to new varieties," he said. He suggests that the INAO create a policy wherein a small part of one's vineyard be used to experiment with different varieties that could, in turn, be tried in blends in wines.
"We are just limiting ourselves," Ott summed up.
Interest continues to grow in organic, sustainable, biodynamic, and natural wine categories.
As much as 90% of the world's organic wine-growing area is in the European Union, thereby making it the largest producer of organic wine. Italy, France and Spain comprise 79% of organic wine production.
In 2017, 10% of the vines in France were certified organic and 22% of France's vines were in the process of conversion. In 2019, the area of vineyards in France that are either certified organic or in conversion has grown 249% since 2009. It takes three years and four vintages to convert to organic, so the production of organic wine is expected to increase substantially.
Consider that the total still wine market is pretty much flat – in the US, for the first time in 25 years, wine consumption decreased in 2019 – but the organic wine market is expanding. In France, still wine consumption has also decreased (as much as 4% per year in recent years, some sources suggest) but organic wine consumption has grown steadily. Consumption of organic wine appears to be about the same in France and Germany now, but by 2023, France is predicted to move into first place, followed by Germany, the US, and the UK.
The interest in sustainable agriculture and wine production is also growing. We were introduced to a (relatively) new certification from the French Ministry of Agriculture called "Haute Valeur Environmentale" or HVE (High Environmental value, HEV). While introduced in 2001, only in recent years has it attracted the attention of winegrowers engaged in sustainable practices. It recognizes "environmental performance" in four key areas: "biodiversity conservation, plant protection strategy, managed fertilizer use, and water resource management." A logo on the wine bottle means that 95% of the wine is produced from farms certified HVE.
Another certification we learned about is "Terra Vitis." Less demanding that HVE, but also recognized by the French Ministry of Agriculture, this certification seems to be something in between conventional agriculture and organic agriculture.
Finally, another certification sanctioned by the INAO which is part of the French Ministry of Agriculture, is the brand new "Vin Méthode Nature" to be used to identify "natural wines," a category that has heretofore been not only unregulated but largely undefined. Twelve requirements, beginning with having to be made with organic, hand-harvested grapes, must be met to be labeled as such. Interestingly, the issue of the sulphites (always controversial) is dealt with by having two labels: either no added sulphites (sans sulfites ajoutés) or a maximum of 30mg/l (<30mg/l de sulphites ajoutés).

Marc Gérise, sommelier and owner of Ballon 2 Rouge, a wine and spirits store in Saint-Rémy-de-Provence felt that this was an important step toward confirming the legitimacy of natural wines and would especially help smaller natural wine producers who have not yet established a reputation. When these wines are sold in supermarkets or other venues where there is not a knowledgeable caviste, consumers will be more confident purchasing them if there is a "Vin Méthode Nature" sticker affixed to the bottle.
Consumers are certainly driving the current growth in the organic, sustainable, biodynamic and natural wine market — millennials, women, and well-heeled consumers, especially – although other more altruistic goals are also driving producers. Making wine that is free of contaminants from grapes that are free of pesticides, and being good stewards of the planet are more noble goals. And then, of course, there is the goal of making a wine that elicits the greatest pleasure.
Next year's Wine Paris and Vin Expo Paris are scheduled for February 15 through 17, 2021. I look forward to staying in our favorite hotel in Saint Germain where the restaurants are excellent and the Mairie d'Issy metro is a direct line to Paris Expo Porte de Versailles.