Provençal Pairings: Wine with Food

Quelle Surprise!
by David Scott Allen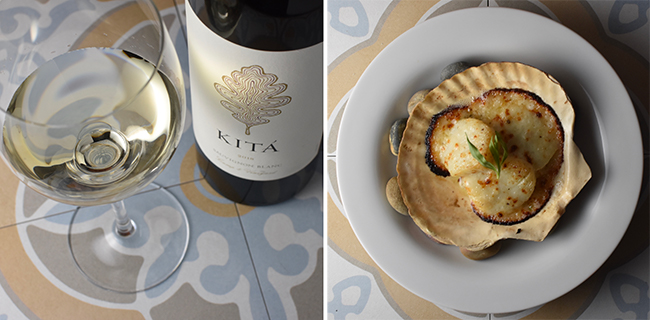 Winery: Kitá
Cuvée: Camp 4 Vineyard
Appellation: Santa Ynez Valley
Type: White
Vintage: 2018
Grape Varieties: 100% Sauvignon Blanc
Alcohol: 14%
Average Retail Price: U.S. $24.00
This post is going to be full of surprises! The first surprise is that the wine is not from Provence. It's not from France. In fact, it's not even from Europe. It is a wine made in the Santa Ynez Valley in California by Tara Gomez, the winemaker at Kitá winery. Tara is a member of the Santa Ynez Band of Chumash Indian tribe, which sponsored her with scholarships to attend California State University Fresno to study Enology. The word Kitá in Samala — the language of the Santa Ynez Chumash — means "our valley oak," and a beautiful oak leaf is proudly displayed on each bottle of her wine. For more about Tara and Kitá, read Susan's article.
The second surprise is that I do not like Sauvignon Blanc. Friend after friend has tried to convince me that I just haven't had the right SB, and one even went so far as to pour a Sancerre without telling me — but there it was: that Sauvignon Blanc grape taste: grassy and sour. No matter what my friends tried to push, I didn't like it. Now, Susan and Towny brought this bottle of Sauvignon Blanc from Kitá to our home not to trick me, but to challenge me. They are well aware that Sauvignon Blanc is one of my least favorite wines, but they thought — like all the others — that they could be the ones to break me. They had tasted it and had a feeling…
It's funny. I know so many people who love Sauvignon Blanc, and find it to be light, refreshing, and the perfect pairing for seafood, especially scallops. But, for some reason, it simply does not work on my palate. Do you have a wine that just doesn't work for you? I know Chardonnay haters, Merlot detractors, White Zinfandel loathers. Isn't that really the fun part of wine tasting? Finding the wines and flavors that match YOUR palate. There is no wrong or right, just personal preference. After all, "One man's trash is another man's treasure." (Yes, of course I am referring to the White Zinfandel.)
I promised them I would serve it with our dinner, and would taste it with an open mind and palate. (Admittedly, I had another bottle of white tucked in the fridge just in case…) We were serving it with a very old-fashioned dish, Coquilles Saint-Jacques. For the recipe, please visit Cocoa & Lavender – I think you'll be pleased to see the new blog design.
The table was set, the candles lit, four shells of Coquilles Saint-Jacques were placed on the table, and the Kitá Sauvignon Blanc was opened. Then it came: the third — and biggest — surprise. I tasted the wine and I loved it. Not just to make Susan and Towny happy, either. It truly knocked my socks off — this is a stunning wine.
Like many Sauvignon Blancs, the color is that of pale straw. But that distinctive light hue is deceptive as this is a full-bodied, round, harmonious wine with aromas of pear, citrus, and acacia. Not present were the vegetal and grassy qualities so often associated with SB. What WAS there were the unexpected flavors of peach, honey, and lemon. This food-friendly wine has a very pleasant minerality, good structure, and is beautifully balance. If you can find it, I recommend it highly.