Two Female Winemakers Light Up Our New Year with Their Rhône-Varietal Sparkling Wines
by Susan Manfull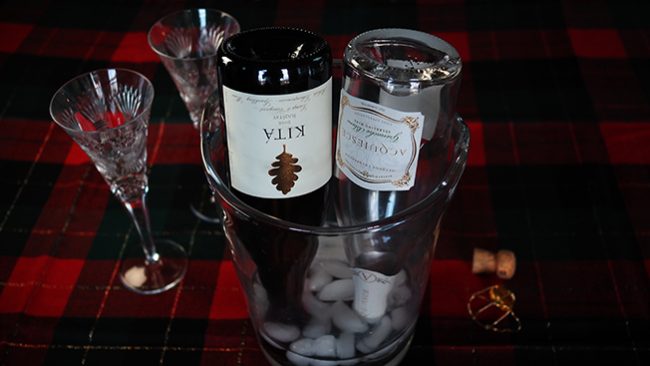 Does drinking good bubbly on New Year's Day foretell a good year? I tend to think so; but to be sure, we popped open two bottles, two super good bottles of sparkling wine exquisitely crafted by female winemakers in California.
One winemaker is in the Santa Ynez Valley, near Santa Barbara in the Central Coast American Viticultural Area (AVA), and the other is in the northern part of the Central Valley, due east of San Francisco Bay in the Lodi AVA. Both are outstanding winemakers (as evidenced by many awards), both are meticulous with a healthy itch to experiment, and both are drawn to Rhône-style wines.
Tara Gomez of Kitá Wines just released her first sparkling wine, Šuqštay, which means "it's bright" in the native Chumash language of Samala. It is 100% Roussanne from the 2016 vintage.
Susan Tipton of Acquiesce Winery recently released her sparkling wine, comprised entirely of Grenache Blanc, and called simply Sparkling Grenache Blanc 2018. This is Tipton's third vintage; she released her first sparkling Grenache Blanc back in 2018 (made with grapes harvested in 2016).
Both Roussanne and Grenache Blanc hail from the South of France in the Rhône Valley (although the latter likely got its start in Spain). They are typically used in blends and are part of the 18 different grapes that may be used in the appellation of Châteauneuf-du-Pape. In fact, the Acquiesce Winery Grenache Blanc grapes come from vines cloned originally from the storied Château de Beaucastel vineyards in Châteauneuf-du-Pape, by way of Tablas Creek Winery in Paso Robles.
These grapes are increasingly planted in California, especially in the Central Coast area, but sparkling versions – anywhere – are quite rare.
Both Gomez and Tipton first ferment their respective juice in stainless steel tanks at low temperatures, thereby preserving the freshness of the fruit. Both employ the méthod champenoise where secondary fermentation takes place in the bottle. The Roussanne sparkling wine was left to age for four years. The Grenache Blanc was aged in bottle 18 months before disgorgement. In the 2016 Šuqštay notes, Gomez wrote that, "At disgorging, a signature final touch was added using a dosage liquor from a 2016 late harvest aged Roussanne…."
Both sparkling wines are carefully crafted with great attention to detail, resulting in exquisite wines exuding finesse, balance, and harmony from start to lasting finish. The bubbles of each are tiny and delicate. Dry, exceptionally drinkable, and open to many food pairings.
The Roussanne is a gorgeous pale golden color and wafts of minerality and freshly baked brioche with glorious notes of honeysuckle, pear, green apple, and toasted almonds. Rich complexity. ABV is 11%.
The Grenache Blanc is a lovely color of glistening pale straw with bright minerality and citrus on the nose. Citrus, especially grapefruit and a wee bit of lime, tart apple, and faint notes of caraway seeds delighted the palate. Vibrant complexity. ABV is 12%.
Both wines are drinking beautifully now. If good bubbly on New Year's Day is indeed a good omen, I am optimistic about 2021. But to be sure the New Year continues to roll out well, I may put both wineries on speed dial.
Both sparkling wines are limited production and available online. See details below about ordering and about visiting the wineries, once COVID risks subside.
If you are interested in learning more about Kita and Acquiesce wineries, I suggest reading following articles:
Acquiesce Winery – IT ALL STARTED WITH A WHITE CHÂTEAUNEUF-DU-PAPE
Acquiesce Winery
22353 N Tretheway Road
Acampo, CA 95220
209.333.6102
Tasting Room Hours
Winter pickup/drive through hours: Open Thursday-Sunday from 11:00 AM – 3:00 PM. Pick-ups must be scheduled.
Kitá Wines
300 North 12th Street, Unit 1A
Lompoc, CA 93436
805.819.1372
Tasting Room Hours
Retail Pick Up Available By Appointment Only – Call for Details