Provençal Pairings: Wine with Food
Together Again
by David Scott Allen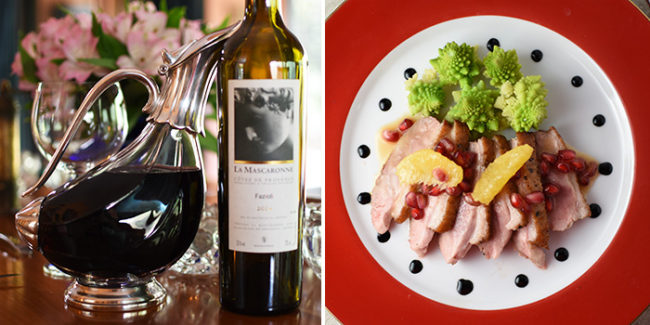 Winery: Château La Mascaronne
Cuvée: Fazioli
Appellation: Côtes de Provence
Type: Red
Vintage: 2014
Grape Varieties: Syrah with Cabernet Sauvignon
Alcohol: 13%
Average Retail Price: France €17.00 U.S. $24.00
It has been literally years since Susan and I shared a meal and a bottle of wine… or some number of bottles of wine, if we are going to be honest. But, in the beginning of December, she and her daughter Alex popped into Tucson for a long weekend of flavorful feasting, viniferous verification, and familiar frivolity. (Gosh, I love double alliteration!) We made up for lost time!
She brought wine. We tasted wine. We bought wine. We drank wine. Et vinum emit. Vinum conati sumus. Nobis emimus vinum. Bibi vinum sumus. I knew my altar boy Latin would come in handy someday…
One of the wines she brought was a 2014 Fazioli from Château La Mascaronne. American former serviceman Tom Bove and his family own La Mascaronne, but it isn't his first foray into the Provence wine business. The first venture for this Indiana-born vintner was no other than Château Miraval, which he later sold to a couple of American actors (2012). In 1999, prior to selling Miraval, Tom found that La Mascaronne was available and, because of its exceptional terroir, purchased the Domaine and has been making great wines there since.
This beautiful blend of Syrah and Cabernet Sauvignon has a terrific nose – immediate hits of cinnamon and clove, with dark red fruit and a soupçon of vanilla. The wine, by all accounts I have read, begs for lamb as its bedfellow, and that makes perfect sense. In fact, at this very minute as I write, I am braising some lamb shanks and I cannot think of a wine I would rather be pairing with it. However, for Susan and Alex, I had been to our Tucson farmers market and purchased some nice, plump duck breasts for the occasion to try a new seasonal recipe: Seared Duck Breasts with a Clementine-Pomegranate Beurre Blanc. The recipe can be found on Cocoa & Lavender.
The smooth, velvety mouthfeel of Fazioli was immediately indicative of the how well the wine would go with the meal. It has a long and generous finish, where the vanilla essence shows up. I couldn't wait to dig into the duck and taste what would happen.
Some might balk at the citrus in this dish, and even Susan admitted after our meal that she had her doubts. But the really great thing about a beurre blanc and wine pairing is this: the acid (wine, citrus) gets reduced and the sugars concentrated, thus adding a depth that pairs perfectly with a wine like Fazioli. The pomegranate seeds, you ask? They pick up on the berries and red fruits already on your palate from the first taste. The garnish for these plates – and Italian crema di balsamica – wasn't just pretty, either. It added to the layered flavors of the dish, pulling a bit of molasses from the wine. Each bite combining the duck, the beurre blanc, and the crema came together eagerly to welcome the wine.
Duck, like lamb, does particularly well with a wine like La Mascaronne's Fazioli. But this wine is much more versatile than that – all variety of roasted meats and poultry will pair beautifully, and pesca– and vegetarians needed worry – this wine will go with most Mediterranean vegetarian fare, and can easily pair with grilled salmon and tuna.
As with many wines I get to taste, I am often left wanting more. This wine is no exception, and one day I hope to meet Tom to thank him for the beauty he has wrought from his vines.