AT CHÂTEAU GASQUI, NATURE IS A COMPANION TO BE TRUSTED NOT DOMINATED
by Susan Manfull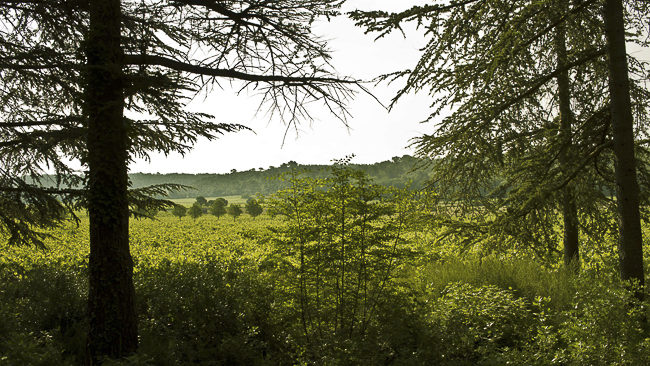 "You have to have confidence in the terroir," winemaker François Miglio emphatically told me. "You have to accompany its natural harmony," he continued, echoing the essence of the biodynamic philosophy he follows, as we sipped wines in all three colors at Château Gasqui one particularly hot summer afternoon over a year ago.
Château Gasqui, a 100-hectare (250-acre) property dating back to Gallo-Roman times, is located in the heart of the Var, near the small village of Gonfaron. It is about 18 kilometers (approximately 11 miles) from the Mediterranean Sea, as the crow flies across the Massif des Maures. The vineyard itself is currently 34 hectares in size, about 300 meters above sea level, and comprised of primarily clay-limestone. About 170,000 bottles are produced annually.
There, on the first day of the 2016 harvest, photographer Pamela O'Neill and I, along with Elizabeth Gabay MW, met Miglio and his wife Marie to taste three wines and hear more about his biodynamic approach to viti- and vini-culture. As it turned out, we tasted quite a few bottles, ate some lemon cake, and whiled away the rest of the afternoon. I have since had the pleasure of chatting with Miglio several other times, each time learning more about his passion for biodynamic winemaking, including organic farming and minimal-intervention winemaking (sometimes called "natural" winemaking).
We were drinking one of Château Gasqui's two cuvées of Côtes de Provence rosé: Roche d'Enfer (2015) rosé. "This is pure juice," Miglio said. The grapes were (organically) grown in certified biodynamic vineyards and hand-harvested; the wine was produced in his gravity-fed cellar without winemaking additives, per Demeter certification specifications. Most significantly, no yeast or sulfites were added and no fining took place.
"It is rare that a rosé is made with natural yeast," Gabay said. Given the time frame of most rosés—released in the spring with one particular large producer sending them off as early as January—it is risky to rely on ambient yeast (e.g., the yeast that is naturally on the grapes or in the cellar). Commercial yeast takes about three weeks to ferment, compared to natural yeast that can take up to eight months.
"The real motivation [to adopt a biodynamic approach] for me," Miglio told us "was no additives, [especially] no yeast." The vast majority of yeasts are flavored.
"If you smell grapefruit or strawberries or white peach, it is likely the yeast," Gabay added.
"With Biodynamic winemaking, there is no make-up."
~François Miglio
Miglio held up his glass of rosé, smiled, and said proudly "This is what Provence rosé tastes like! Because there was nothing else added in!" It was the first rosé he had made without additives; most importantly, with no added sulfites or yeast. "It is pure juice, the first rosé in my life that I have made that is pure juice!" Miglio excitedly told us. "It took 15 years [to reach] this perfection, the truth of nature," he added, clearly proud and with good reason—it is a terrific rosé.
However, Miglio and Gabay hastened to add that some people who taste it don't understand it. The taste is unexpected and people don't know what to do with it, they said. It is not a conventional apéritif rosé so, right out of the glass, it is likely be a surprise for most rosé drinkers. Like other wines often referred to as "natural wines" nowadays, this one feels, well, more "raw," to borrow a term coined by Isabelle Legeron MW, one of the leaders in the natural wine movement.
Miglio turned to music to illustrate the difference between wines with minimal intervention (like his) compared to conventional wines. He reminded us—we were all of a certain age—that the sound of early Beatles recordings "back in 1965" was (more) natural. That is, recordings were made simply, without a lot of studio mixing. Miglio, in making his wine, uses as little manipulation or intervention in the cellar as possible with the upshot being the wines are more faithful to the terroir. Trust the terroir, he says, and if you have taken good care of the vines and the soil in which they grow, the wine will favorably reflect the terroir.
"In accordance with ancienne agronomie grecque, it is traditional to impose science on the soil but in biodynamics, it's the other way—the soil dictates what you are doing," Miglio explained. "It is about balance," emphasized Miglio, who himself has long practiced Taoism, the ancient Chinese philosophy that focuses on balance and living in harmony with the natural order of the universe.
Roche d'Enfer, a blend of mostly Grenache, Syrah, a little Cinsault, and Tibouren with white grapes (e.g., Semillon and Rolle) comprising eight percent (for flower flavor, according to Miglio) is a gastronomic rosé, meaning that it comes alive with food (a characteristic I confirmed at home). It is slightly darker than the average Provence wine—as is often the case with rosés that prefer to accompany food—but it is not a heavy wine.
Notably, the grapes were vinified together (rather than separately and then blended). This approach to winemaking is in line with biodynamic philosophy as the wine is treated as one organism from the beginning. Such an approach requires a certain amount of confidence in all of one's grapes (but Miglio pointed out that, at the end, if it turns out that the wine needs a bit more of one or another of the grape varieties, it is possible to do that).
Miglio was very happy with the balance of fruit and flower flavors that characterize this rosé, features that, for him, define a good rosé. He explained that he includes the small percentage of white grapes to ensure a floral notes on the nose and palate. O'Neill described it as "light with lingering flavor." Gabay, who is a huge fan of this wine, focused on the "amazing acidity" which, of course, contributes to making it a friend to food.
For me, I particularly enjoyed the silky mouthfeel, structure, balance (belying its 14% alcohol), and liveliness of this rosé. Perhaps one might say that this rosé is a wee bit unsophisticated but, for me, I saw personality. I carried a bottle back home across the Atlantic I liked it so much! (The price is a bargain, too, at €9.70 a bottle at the château.)
I brought another rosé back to New England with me and later tasted that one with friends. Château Gasqui Cuvée Silice (2014) is a blend of old Grenache (45%) usually saved for red wines, Syrah (35%), and Cinsault (20%) with 13% alcohol. It is a dark salmon color suggesting that it, like the aforementioned rosé, would benefit from a bite to eat. Indeed it did although, even with food, it was seemed slightly fruit-forward for my tastes; that observation, coupled with its tannins—barely detectable but there—suggest that this rosé might benefit from a couple of years in the cellar. I'd love to see! (€11 a bottle at the château)
Despite Château Gasqui's home in the Var, the existential home of rosé, this estate has long been a red domaine – 50% of production has typically been red, 35% rosé, and 15% white. However, as you will learn below, weather conditions in 2017 caused plans for that vintage to be historically quite different—80% of production will be devoted to rosé, 15% to red, and 5% white, but I'm getting ahead of the story.
Nature's Companion is a Biodynamic Winemaker
Miglio and other practitioners of biodynamic viticulture embrace the philosophy, espoused by Rudolf Steiner in the 1920s and later refined by Maria Thun, that the vineyard is part of a holistic system – "a self-sustaining living organism" of seemingly separate parts that are actually intertwined. Included herein is everything from the micro-organisms in the soil and the tiniest insects, to the moon, stars, and planets.
Miglio spoke at length about his view that biodynamic farming is a philosophy—even a set of spiritual beliefs—before it is a practice of certain techniques. However, certain procedures that reinforce the essential equilibrium and "circle of life" must be adopted, beginning with an organically farmed vineyard and continuing into the winery.
Steiner (1861 – 1925), considered the founder of biodynamics, was an Austrian philosopher, scientist, and spiritualist who wore many hats and dabbled in many fields (notably, what came to be known as Waldorf education). Thun (1922 – 2012), a German farmer and life-long advocate of biodynamic agriculture, refined Steiner's ideas, including the creation of annual calendars for agricultural procedures such as sowing and harvesting (as well as one for the best days to taste wine). Demeter International is the primary certifying body and was created in 1928.
There are basically three main components to biodynamic viticulture. The first is that no chemical fertilizers, pesticides, herbicides or fungicides may be used. That is, the vineyard must be organically managed (although not necessarily organically certified because, recognizing that certifications are expensive, the Demeter biodynamic certification subsumes that certification). The vineyard at Château Gasqui has been organically farmed since it Miglio took the reins in 1991, shortly after it was purchased.
In line with idea that the vineyard is a self-contained and sustainable "circle of life," plants and wildlife are used to combat the problems for which chemical fertilizers and pesticides are typically used. Animal husbandry often goes hand-in-hand with biodynamic farming, ensuring an ample supply of manure for the vines. Insects and spiders are encouraged among the vines in the hopes that an equilibrium between predator and prey can be established. Plant life among the vines is also welcomed in a concerted effort to reinforce the same equilibrium. Gabay told us that she visited Gasqui one May and, although found herself covered in insects, she recognized the beauty of the flowers thriving between the vines, reminiscent of a medieval painting of flowers, complete with hares running in and out.
A second component of biodynamic agriculture, although not part of the Demeter certification, is that all significant vineyard activities (e.g., soil preparation, planting, pruning, harvesting) are done in accordance with the influence on earth by the moon, stars and planets. Miglio acknowledged that many people think it is a little crazy to plan one's harvest around the lunar calendar (and its Root, Flower, Leaf, and Fruit days), but he feels strongly philosophically that it makes sense, and says he has seen the evidence.
Early on, right after he adopted a biodynamic approach, Miglio did some research of his own to determine whether it made a difference if grapes were harvested on a "Fruit Day" or not. In fact, there was five percent more juice on Fruit Days, he told us.
"People accept that the moon has influence on tides, but they don't accept that it has influence on viticulture. If it has pull on the waves, why not on the vineyard?" he mused. This point really struck home with me, and I now remind others who express skepticism that they probably wouldn't find sailors worth their salt rolling their eyes about planning their vessel's launch based on tide charts. (I would be remiss, my own feelings notwithstanding, if I didn't report that there is little scientific data to support a signicant lunar influence on crops.)
Respecting the lunar calendar, however, is not always realistically possible. Miglio said, "I try to respect this rhythm and if you have five hectares, you can work just on Fruit Days; but if you have 35 hectares, it's impossible."
The third component, called "Preparations 500-508," refers to nine preparations made from cow manure, quartz, and medicinal plants such as chamomile, nettles, yarrow, and dandelion, to mention a few of the herbs used. These are applied in a solid form (i.e., compost) or as sprays. Probably the procedure that stops most people in their tracks is "Preparation 500," the one in which cow horns are filled with cow manure and buried in October to remain in the ground throughout the dormant season. The horn is later dug up (with some amount of fanfare), mixed with water, and sprayed on the soil.
"It's a message to the soil to give harmony," Miglio told us, adding that with Steiner, "It is important to understand that fifty percent is symbolic and fifty percent is real." He later suggested that such procedures probably help one focus.
"I have an oenological background," Miglio, who has an oenological diploma from Montpellier, reflected. He explained that when he began working, he looked at viticulture and viniculture in terms of discrete parts and techniques to treat each part, much like a medical doctor would treat a patient versus how a naturopathic physician would approach the whole patient.
"This place has changed my mind," he said, shaking his head. "It's another world, completely different. After fifteen years of biodynamic winemaking, the wines have changed my mind."
"It is very difficult to accept…because how do you explain this?" he continued, clearly moved.
Significant changes Miglio has seen observed in the vineyard include a change in the color of the soil. "It was a pale, bleached color before we became biodynamic and, now, it is darker [reflecting] life in the soil," Miglio told me. The vineyard is full of insects and spiders (which his wife and Gabay attested to), signifying, Miglio believes, an equilibrium between pests and prey ultimately beneficial to his vines and their fruit. Most importantly, Miglio continues to be bowled over by the quality of the grapes which, in 2015, the latest vintage at the time, "is the best in 25 years" (as we would soon discover for ourselves).
Being biodynamic doesn't stop at the cellar door. Biodynamic winemaking necessitates much less intervention than conventional wine, certainly; but also less intervention than organic certification allows. For example, cultured yeast and malolactic bacteria are prohibited; acidity and sugar adjustments are prohibited; and sulfite levels cannot exceed 100 parts per million. In addition, it is important to note that all grape waste is turned into compost and returned to the vineyard, reinforcing the view that the winery is part of the whole system of which humans are also beneficiaries and contributors to maintaining the self-contained holistic system.
According to Miglio and Gabay, there are currently about 500 certified biodynamic producers in France and as much as twice that number that are biodynamic without the biodynamic certification. In the department of the Var, where Château Gasqui is located, there is only one other certified biodynamic wine producer but in France, the number is growing quickly; sources suggest a 10 % to 15% over the last decade and as much as a 20% annual increase in the past few years. France has the largest number of biodynamic vineyards, followed by Italy, and then the U.S. This year, the first International Biodynamic Wine Conference in the United States will take place in May in San Francisco.
Château Gasqui has been farmed organically since it was purchased by the current owner in 1990 and biodynamically since 2005 when Miglio proposed the idea to the owner of converting to biodynamic agriculture and winemaking, after meeting Alsatian winemaker Eric Rominger whose eponymous domain near Colmar had recently gone through a biodynamic conversion. At the time Château Gasqui was purchased, it had been abandoned leaving both the buildings and the three hectares of vines in ruins. The bad news with beginning as such is that resurrecting the winery and vines is considerably expensive. The good news is that introducing organic and later biodynamic agriculture is much easier. The vineyard was certified biodynamic in 2009
"I thought it would be a good way for Gasqui and for the future, for humanity," Miglio explained.
Today, Miglio is clearly part of the holistic system at Château Gasqui. After the tasting, when we walked through the vineyard, he moved facilely through the vines as if they had long been his home. There was a calmness about him that intermingled with his passion as he spoke about his work in the vineyard and in the cellar.
Still later, we visited his "waiting room" in the cellar. Borrowing a concept from Nicolas Joly, a Loire winemaker and pioneer in biodynamic winemaking, Miglio said that he often retreats to this area of the cellar where, like a father in maternity ward who waits for his baby to be born, he waits for his grapes to be ready and his wines to mature. "I sit in the cellar, reflect, meditate, and be in touch," Miglio told us. "The majority of time, the happy baby will just pop out," he said. But, of course, not always and, then, one must trust in nature.
Our tasting
Château Gasqui is a predominantly red producer. Generally, 50% of production is devoted to red; 35% to rosé; and 15% to white. After the Château Gasqui Roche d'Enfer (2015) rosé that began our tasting, as mentioned above, we moved to three reds representing the top cuvées in the portfolio and tasted them in ascending order, followed by the singular white of the three cuvées in the upper end of the portfolio.
Grand Réserve (2015) Rouge. Although the latest vintage of this cuvée (available on the market) comes from the 2007 harvest, we were treated to a tasting of the 2015 vintage. It is still in the oak foudre, unfiltered and resting on the sediment, having spent only two of the many months it is likely to be in the barrels, but Miglio wanted us to try it now anyway (I am thrilled to say). Not surprising since Miglio had already told us that this Grenache (which makes up 85% of the blend with the remaining 15% being Syrah, vinified together) is the best Grenache he had ever made. After just six months, Miglio recognized how exceptional it was; in the past, this cuvée has needed two years to mature as such and develop its personality. (Has the adoption of biodynamics played a role in this wine's maturation?)
The Grenache is from 50 year-old vines that have not seen fertilizer since 2002—"the vines don't expect it," Miglio said—and had not been irrigated—a practice Miglio likens to giving them heroin—in as many years. This wine, like the aforementioned rosé, is "pure juice," meaning, in this case, no additives (including sulfites). Also, very interesting, the yield here is 60 hl/ha, which Miglio attributes to biodynamic practices (especially his lack of fertilization and irrigation, and minimal pruning practices).
Miglio's wife Marie describes this wine as a "deep, dark sexy wine," a description with which we all concurred. No one would guess it was just a year old. I don't know what the price will be when it is released but, if the currently available vintage is any indication, it will be a bargain. Gabay pointed out its similarity to "a very good Zinfandel with zippy fresh, intense fruit flavors," an observation I, as a Zinfandel fan, definitely agreed with.
I had the pleasure of having the 2007 vintage of the same wine when I returned home. It was exceptionally good: full of luscious, rich dark fruit flavors with a sprinkling of pepper on the nose and the palate. Lots of terroir. Layers of flavor in a well-structured and balanced body that can support its 14.5% alcohol, confirming the value of 36 months resting in oak foudre, and of not selling the wine until it is ready. Miglio doesn't have a fixed time he keeps the wine in élevage; rather, he sells it when it is ready. It paired brilliantly with our prime rib roast dinner. The price is €19 a bottle (not available in the U.S.). Note that this wine is not certified biodynamic; 2009 was the first year that the wines were certified biodynamic.)
Point G (2007) Rouge. This lovely red wine derives its name from its primary grape (it is 90% Grenache) as well as its origin (Château Gasqui in Gonfarron) and the first name of one of the owners (Genevieve). According to Miglio, 2007 was a great year for red wine in Provence—this wine certainly confirms that observation. Beyond this vintage not yet having biodynamic certification (that came in 2009), I confess I don't have a lot of tasting notes for this wine—although lots of "ooohs" and "awws" emanate from the recording—because our conversation shifted to how truly wonderful Miglio's red wines are in general, this wine definitely included. This wine is priced around €25 (and is not available in the U.S.).
Gabay pointed out that a red wine as exceptional as this one refutes the fallacy that Provence only makes rosé. In fact, the region has made excellent red wines for years. Gabay made the important point that the oft-cited figure of 90% to describe the production of rosé in Provence suggests that everyone is making mostly rosé; indeed, the cooperatives and big producers are making 100% rosé. However, Gabay said data she recently collected revealed that "many small volume wineries are making 50%, 60%, 70% red wine but because their overall volume is small, it doesn't have an impact on the big, big producers." That is, the huge producers statistically shift the balance to make it look like everyone is making rosé.
Furthermore, very little red wine is exported and that that is exported is generally not the best, leading consumers to mistakenly believe that Provence red wine is not good. "They don't see the good reds…they see what comes in on the back of rosé and [the rest] stays here and is drunk," Gabay said.
CORPS & ÂME (2011) Rouge. This top-tier and small-production wine is aptly named "Body & Soul," a name that captures all that goes into making this wine. It is only produced in vintages when the grapes have reached a level of quality deemed high enough for this cuvée; thus, only five previous vintages have included CORPS & ÂME: 2001, 2003, 2004, 2006, and 2007. This 2011 vintage is the first certified biodynamically produced wine from this line.
It is cinquante-cinquante (fifty-fifty) Syrah and Grenache, vinified together in tank and then aged in big barrels (foudre) for one year while waiting for new (lightly toasted) oak barrels called barriques (225 liters) to be made to hold the wine while it ages another two years. I was fascinated to learn that each year that this wine is made, the barrels are especially made for the vintage. Miglio explained that, early on, a good client pleaded with him to let this cuvée spend more time in wood (and promised that he would buy it all if Miglio didn't like the more oaked wine!). Miglio found a barrel maker who specializes in matching the wood to the wine and liked the result. Now, every year CORPS & ÂME Rouge is made, the barrel maker comes to the estate and spends the day tasting the tank vinified wine, along with food and a lot of chatting with Miglio. On that basis, he then selects the perfect oak to make the barrels that will best complement that year's wine. That is, every year the barrel is different, depending on the vintage. Ten barrels are made (producing about just 3,000 bottles).
This is a long process but it is in line with biodynamic philosophy that you combine the grapes from the very beginning—in the holistic spirit of one organism. And, each vintage is treated uniquely—one follows the wine rather than imposes on the wine.
This is a luscious wine with a symphony of richly textured dark red fruit liberally seasoned with spicy black pepper, well-structured and remarkably balanced with its 14.5% alcohol. Lots of earthiness. The oak, remarkably, seems to make its presence known more through the texture and body of the wine than in its taste. It sells for €35 a bottle at the estate (and is not available in the U.S.).
CORPS & ÂME (2012) Blanc de Blancs. This exceptionally appealing blend of Sémillon, Rolle, and Clairet is the debut of white wine in this premiere line. The grapes were fermented (all together) in demi-muid new oak barrels on the sentiment, then aged for two years, and filtered just before bottling. This was a very small production (2000 bottles) and half of that went to Tokyo (as "they seem to be crazy for it"). The 2013 vintage is still in barrel and I am going to ask Miglio to put my name on a few of those bottles that don't go to Japan.
It is a very unusual Provence white wine. First, it is a rarity to find a 2012 white wine in Provence (at least one as wonderful as this wine!). Second, it is not a light, fruity white wine; in contrast, descriptive phrases like intriguing, creamy mouthfeel, faint notes of tobacco on the nose, great complexity, and long finish are a few of the notes I took. Third, it is a divine match with lemon cake!
Although Miglio is reluctant to call this cuvée a "vin naturel" even though it, like his other biodynamic wines, meets the criteria most people now accept–there is no official definition of natural wine–I think he would not object to its inclusion on my list of recommendations for exceptional natural white wines. (That is, if you can find a bottle!)
The 2017 Harvest
This was a tough year for most producers in this part of Provence. The vines suffered immensely from the frost in April 2017, one of the worst in the region's history. Miglio reported that production was decimated as much as 80%. Then, came the very hot and very dry summer, a subject that dominated the interviews I had with winemakers last fall.
As a result, the yield was very low but the quality was exceptional. Miglio went so far as to report that, in terms of quality, it was one of his best harvests to date. He attributes 15 years of biodynamic production as key to withstanding the summer heat and drought. The CORPS & ÂME production will be the least impacted because of the location of the plot and the age of the vines. Syrah was hit pretty hard, he said, so the blends may be a bit Grenache dominant. Finally, the typically red wine dominant production will change to one dominated by rosé (as much as 80%), the red at 15%, and white at 5%. I hasten to add that Miglio's longtime focus on red wine means that he has a big cellar full of red!
"It is what it is," Miglio philosophically said in a telephone call this past fall. As a winemaker wholeheartedly committed to biodynamic production, he said, "The vines took a vacation for a year and will come back next year!" I imagined him shrugging a bit as he spoke these words. I suspect he spent some extra time in the waiting room in the cellar last year.
Notes:
CHÂTEAU GASQUI
Route de Flassans
83590 GONFARON
TÉL : 06 03 31 06 00 • FAX : 04 94 78 27 16
E-Mail: entrecieletterre@chateau-gasqui.fr