Provençal Pairings: Wine with Food

A Twenty-Nineteen Treat
by David Scott Allen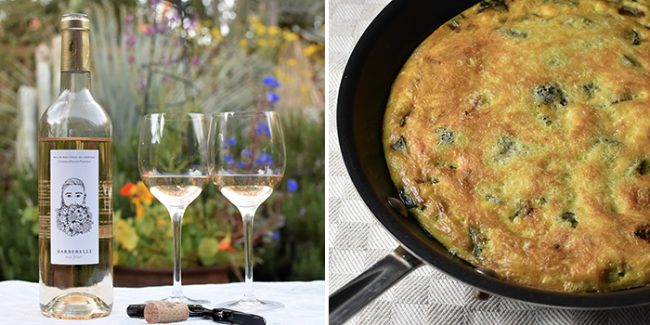 Winery: Château Barbebelle
Cuvée: Fleuri
Appellation: Coteaux d'Aix-en-Provence
Type: Rosé
Vintage: 2019
Grape Varieties: 50% Grenache, 40% Cinsault, 10% Syrah
Alcohol: 13%
Average Retail Price: France €8.50 – U.S. $18.00
Elizabeth David's book, An Omelette and A Glass of Wine, gave me an idea: pair this week's rosé with a simple frittata. Nothing fancy. Sometimes the simplest combinations are the best. Let me just say that it was, indeed, a good idea. I made a very simple frittata, using the onion tops of fresh spring onions, and paired it with the 2019 Château Barbebelle Rosé Fleuri, one of the best rosés of the year. You can find the recipe on Cocoa & Lavender.
2019 was a banner year for rosés from Provence and, sadly, most of us missed out on them because, well… 2020. Where did 2020 go? (Please don't answer — let me live in my denial, pretending that I simply pulled a Rip Van Winkle and slept for a year.) Lucky for me — and all of us — Fleuri (especially the 2019) is still available.
This wine is rated as one of the best rosés in the 2019 Decanter Magazine tasting of 178 Provence Rosés, and I have to say that it is incredible. The color is a beautiful pale salmon — it looks beautiful and light in the glass. On the nose, I detected aromas of strawberry, apricot jam, and banana. Do you know how some rosés don't have a really present nose? Well Fleuri does — it's truly beguiling. I could not wait to "dig in."
On the palate, I tasted white peach, pear, a hint of raspberry, jasmine, and light honey. The mouthfeel is really soft and creamy, and it was fantastic with the frittata. (Also good to note that it paired perfectly with a Moroccan chicken!) The finish was long and very nice.
While it is still available, find a source for this 2019 gem and grab a few bottles. I want to assure you that you won't regret it. It is a wine that will go well with many different meals — from a simple cheese board to all variety of grilled fish, seafood, poultry and more — and it can handle some spice!
The food we pair with wine never needs to be fancy; it needs to be good. And, remember, the best wine in the world can be paired with a burger or — dare I say — a frittata?
Editor's Note:
Château Barbebelle (2019) Rosé Fleuri is available for purchase online at the Urban Wine Club for $20.00 with FREE SHIPPING within the continental US.