Save the Date: Sharing Wine and Food at the Table to Benefit The Alex Manfull Memorial Fund
by Susan Manfull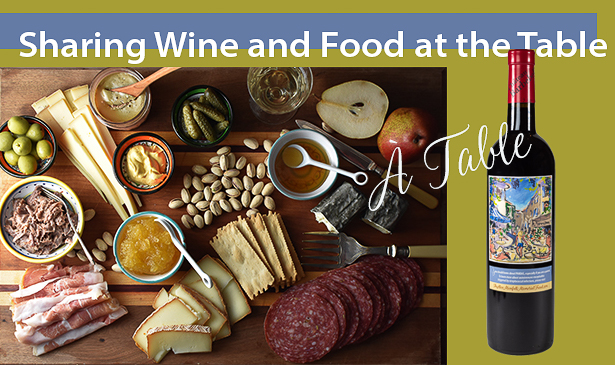 Sharing Wine & Food at the Table
Thursday, April 1st 7:00 p.m. (ET)
Zhuzh up your cheese and charcuterie board to pair with
Château Barbebelle
Cuvée Madeleine Rouge and benefit
The Alex Manfull Memorial Fund Supporting Research, Education, and Treatment of PANDAS
.
Please join Susan and William "Towny" Manfull, founders of The Alex Manfull Memorial Fund, and David Scott Allen, editor of
Cocoa & Lavender
, at the
Urban Wine Club
for a fun and informative webinar about an excellent (2017) French red wine from Château Barbebelle in Provence. This Cuvée Madeleine Rouge (2017) – aka "Alex's wine — was specially made to raise awareness about PANDAS, a neurological disorder triggered by Streptococcus that is also referred to as basal ganglia encephalitis.
This awareness campaign is called À Table! (French for "come to the table!"). The goal is to bring people "to the table" to share wine, food, and conversation about PANDAS and a related neurological disorder called PANS.
Our guests at the table will be discussing the recent Health Care legislation passed in Massachusetts and how it will benefit those with PANDAS/PANS. They are Sheilah M. Gauch, LICSW, M.Ed., Principal of Dearborn Academy, and Jennifer Vitelli, MBA, Co-Executive Director of The JBC PANS & PANDAS Foundation and Founding Member of New England PANS/PANDAS Association, who (with a team of citizens!) worked tirelessly with legislators to pass this bill.
There is no cost to attend but we encourage you to buy the wine to taste along with us.
In the kitchen, David will begin by popping some no knead bread into the oven and, while that is baking, he will demonstrate how easy it is to make the bread. Then, he will create a cheese and charcuterie board that will pair with Alex's wine and show us how to zhuzh it up with things you probably have around the house. The nice thing about a charcuterie board is that it doesn't need to be complicated or have fancy ingredients. It simply needs to have items that pair well with the wine being served. Together, Susan, Towny, and David will talk about the best cheeses, meats, and accoutrements to go with Alex's wine.
Sign up for this webinar,
"Sharing Wine and Food at the Table to Benefit The Alex Manfull Memorial Fund"
by clicking
HERE
. There is no cost to attend but do order (or pick up) a bottle of Alex's wine — let's see what you taste as we sip together!
Proceeds from the sales of the wine will be donated to The Alex Manfull Memorial Fund. Order online by Monday, March 22nd for delivery by this webinar. Cost is $35.00/bottle + FREE SHIPPING or $30.00/bottle in The Cork Stop store.