Provençal Pairings: Wine with Food

Happy New Year!
by David Scott Allen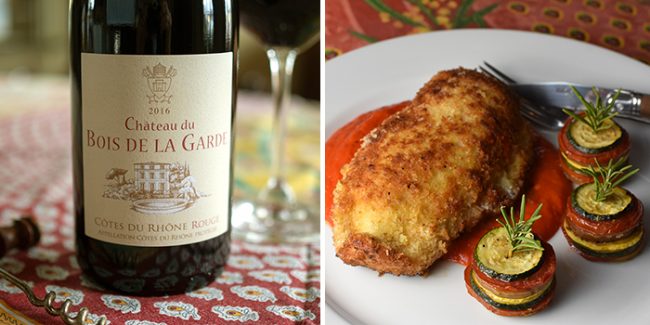 Winery: Vignobles Mousset Barrot
Cuvée: Côtes-du-Rhône
Appellation: Château du Bois de la Garde
Type: Red
Vintage: 2016
Grape Varieties: Syrah, Grenache, Carignan, Cinsault, Counoise, Mourvèdre
Alcohol: 14%
Average Retail Price: U.S. $17, France (from the winery) €8
Superstition (call it tradition if you wish) suggests that we start the New Year on the right foot. What they actually mean by "right foot" is the correct foot. And, anyone who has marched (marching band, military parade, or — heck — the Macy's Parade) knows that you start on the left foot. So let's make sure we enter 2021 on our left feet, okay? I'm not sure I believe in all these superstitions but I will try anything to make sure 2021 gets a good start and continues on an upward trajectory.
Another way to make sure your year starts — and continues — well is to choose good food, wine, and (we hope) company each time you sit down to the table. Honestly, that is what has gotten me through 2020, even if the dinner parties were virtual. Like the dinner party that featured herbed chèvre-stuffed chicken breasts with bell pepper sauce and a very nice Château du Bois de la Garde Côtes du Rhône. The recipe for the chicken (and vegetable stacks) can be found on Cocoa & Lavender.
Our dinner party was not only with Susan and Towny across the country, but also with mutual friends across our northern boarder in Canada – Carolyne and Andrew. Carolyne is the creator and editor of Perfectly Provence, a Provence food, lifestyle and Mediterranean living magazine. It is a wonderful source for all things Provençal, and I know that, in addition to Susan and me, you will recognize many of the contributors. If you haven't visited Carolyne's site, I strongly recommend you do!
The Château du Bois de la Garde was consumed chez nous; I believe Carolyne and Andrew also had a Côtes du Rhône, while Susan and Towny broke ranks and sipped a white (a Sauvignon Blanc, if my memory serves me correctly). Each home reported a favorable pairing.
I found the pairing to be really good with the Mediterranean flavors I chose for the recipe: fresh chèvre, herbs, and bell peppers. The chicken was done schnitzel-style. All the different components of the dish played well off this Côtes du Rhône; if you can't find the Bois de la Garde, any good CdR will probably work well.
I knew I was going to like this particular wine from the start — once we had decanted it, the aroma of cherry, blackberry, and resin captured my attention. It's color is somewhere between garnet and ruby, and it has a great mouthfeel with notes of dark fruits, leather, pine, and a wisp of smoke. Again, for this dish, its medium body was just perfect for the flavor profile, and the finish nice and long.
Love the wine and will see about getting more.
Again, Happy New Year — may it be filled with peace, love, and good health.