Provençal Pairings: Wine with Food

Le Pique-Nique
by David Scott Allen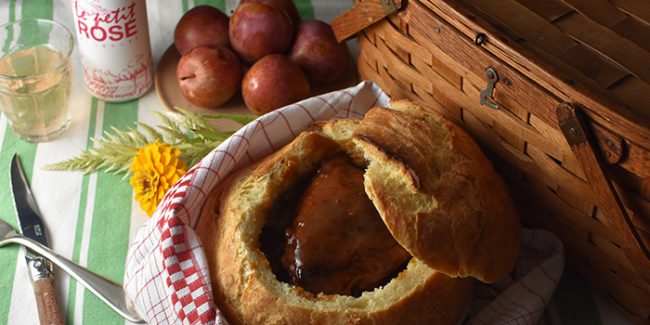 Winery: Château Léoube
Cuvée: Le Pétit Rosé
Appellation: Côtes de Provence
Type: Rosé
Vintage: 2020
Grape Varieties: 50% Grenache, 50% Cinsault
Alcohol: 13%
Average Retail Price: France €5.00 per can (at the Château), UK £5.99 per can, and in the U.S. cans will be available soon through Garagiste.com
It's the end of the summer — the warmth of the sun is waning, the leaves on the trees are crisping at their edges, and you want to get in every possible outdoor experience before the winds pick up, the temperatures plunge, and the snow starts flying. Yes, a picnic seems like just the thing.
This week, we are headed on un pique-nique of literary proportions. Literally, it's literary. I made Alice B. Toklas' Roast Chicken, placed it in a bread boule, and wrapped it in tea towels to take on the road. Is it her recipe? Did she take it on a picnic? Who knows. What I do know is that it is good and you should make it whether for your picnic or dining room table. You can find the recipe on Cocoa & Lavender.
The wine I chose to bring along on our picnic is a superb summer sipper … in a can. Yes, you read that right. Wine. In. A. Can. Introducing: Le Pétit Rosé by Château Léoube. A quartet of 25cl (8.45oz) cans of pink perfection, in a tidy little carrier. They are ideal for picnicking as they are not breakable, and they have a flip top (because the corkscrew is the one thing I always forget… or break). But beyond — and behind — these summery conveniences, is a well-crafted wine perfect for any picnic or dinner table.
This pale pink wine has floral overtones, aromas of red berries, and a sweet, vanilla-scented marshmallow note. Sipped on its own I get the strawberry, citrus (grapefruit), and caramel (from the marshmallow?) but also the very distinct flavor and mouthfeel of anise. That herbal touch really stole my heart with this wine.
With the picnic — chicken roasted with orange, port wine, cream, and a splash of soy — the wine held up to all the ingredients and the flavors of strawberry and peach came through beautifully. It was a really nice pairing.
I have learned one thing about wine (okay, I have learned many things, but this is a good one) — don't make assumptions. A can of wine can be good — even great — whereas a bottle can just as easily disappoint. Think of the maker, the terroir, the vines… trust in the winemaker you know, and you won't be let down regardless of the container.
_____________
Editor's Note: We are grateful to Jérôme Pernot of Château Léoube who made certain these cans arrived in the U.S. in time for this article and the last weeks of summer picnics! Thank you Jérôme!