GERARD ISIRDI'S WONDERFUL ART EXHIBITION AT CHÂTEAU BARBEBELLE CLOSES SOON
by Susan Manfull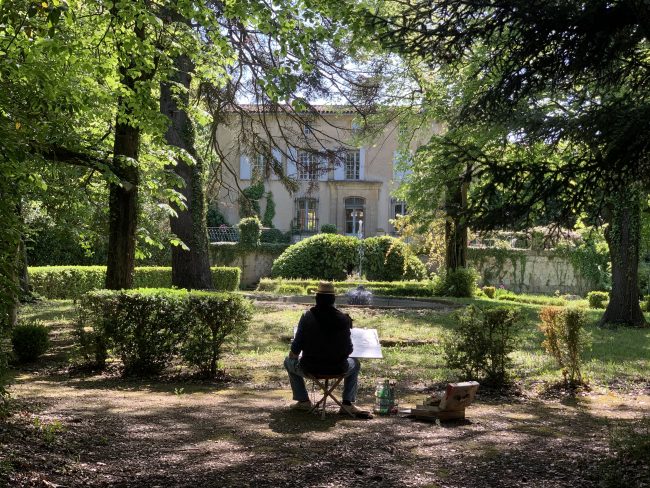 Provence is abuzz this time of year with fabulous offerings of art, music, opera, film, wine tastings, and the usual fêtes that move from village to village. We traveled from New England to Provence last month specifically for this show by French painter Gérard Isirdi at Château Barbebelle in Rognes, not far from Aix-en-Provence.
Pairing art and wine is not unusual. Not far from Château Barbebelle is Château La Coste, famous for the imposing work of artists and architects that dot the vineyards. Château de Mille, a work of art itself, is wrapping up extensive renovation by the new owners who plan to include exhibitions of art, among other events, in a newly created beautiful space. A little further away is Château Vignelaure, renowned for its ageable red wines and outstanding collection of art – including one of my very favorite photographs by Henri Cartier-Bresson that always stops me in my tracks — and, further still, La Commanderie de Peyrassol, the early 13th-century estate of Knights Templar fame that, today, includes award-winning wines and a growing sculpture park (one of the largest in France). Much further, near Saint-Tropez, is Château Saint-Maur where temporary art exhibitions are a regular feature, such as the Marc Ferrero exhibition I covered five years ago and this summer's exhibition which includes a "sculpture park" and interior show.
Pairing art and wine with philanthropy is unusual, but what a win-win combination. Such is the case with the small but sensational Gérard Isirdi exhibition at Château Barbebelle that is helping to raise awareness of post-infectious neuroimmune diseases such as PANDAS and benefiting, in part, a fund my husband and I set up to raise money for research, awareness, and education about this horrendous disease. PANDAS, a neuroimmune disease triggered by a Group A streptococcal infection, took the life of our 26-year-old daughter, Alexandra Manfull, three years ago.
The seeds for this collaboration, in many ways, were planted in 2019 when we approached Madeleine Premmereur, Director of Château Barbebelle, and her team and then, Gérard and his wife Christine Isirdi about a project we hoped to do to raise awareness about PANDAS. Spoiler alert: they all said "oui, mais oui" and, thus, it was their big hearts and philanthropic approaches to life that brought the winemaker and the artist together and by which this show was conceived.
My husband and I are indefatigably working to raise awareness in the U.S. and, we hope, in other parts of the globe. In the U.S., awareness of this devastating disease is nowhere near adequate. If more doctors had been aware of this disease – triggered, in a small number of people, by Streptococcus – I unequivocally believe our daughter would still be alive today. In France, awareness of PANDAS and its companion disease, PANS, is particularly low; because our family has spent so much time in Provence – especially in Lourmarin, the village where Isirdi's studio is located – it is very important to us to raise awareness in this part of the world. Alex loved Provence – and Lourmarin, in particular – where she learned to speak French fluently (and with a Provençal accent) and where she often said she felt most herself.
Alex met Gérard and Christine on our native voyage to Provence in 1998. We were immediately drawn to his colorful images of village life, especially as it revolves around the café scene, notably Café Gaby where Isirdi would often sit and paint. On most mornings, our day would begin at Gaby's, where we would watch the morning come to life with cafés creme and croissants (that we would pick up from Riquier's boulangerie a few doors down because, at that time, Gaby did not offer croissants). One morning, we three stopped in Isirdi's atelier, also just a few doors down from Café Gaby, to see if we could meet the artist we often observed painting at the café. Alex, a budding artist herself, and Gérard took an immediate liking to one another, like kindred spirits, and the rest is history though not one that any of us ever imagined.
We had the pleasure of meeting Madeleine Herbeau Premmereur in 2017 (just before she added Premmereur to her name). We were introduced by good friend Jacques Navarre, a former wine importer, who brought the château's Madeleine cuvée rose into New Hampshire. But we already knew Château Barbebelle because the estate is located on D543 (a.k.a. the "Route d'Apt"), the narrow road we take to Lourmarin from the Marseille Airport in Marignane (or from the Aix-en-Provence TGV (high-speed) railway station). There is a stretch of that route between Éguilles and Rognes where a half dozen wineries are located, all in the AOP Coteaux d'Aix-en-Provence. In early 2018, Madeleine visited our home in New Hampshire.
Back to 2019, what did we ask Premmereur and Isirdi? We somehow worked up the courage to ask Madeleine if she would allocate a certain number of bottles of her cuvée Madeleine Rouge for a special label that, we hoped, would raise awareness about PANDAS. We then asked Isirdi if he would create the artwork for the label. At that point, the winemaker and artist did not know one another (although they lived just 20 kilometers apart and knew of each other's work). The idea was that the wine bottle would go to the table to accompany meals and the beautiful label would attract the attention of those at the table and stimulate conversation and awareness about PANDAS.
These special bottles went on sale one year ago in the States and in France. The response has been very positive. The initial import sold out immediately. Sales from a second and larger order have also been brisk and, despite being unable to execute our original plans of bringing people to the table – À Table! – our awareness campaign has been very strong. In France, at De la Cuisine Au 20, the wine and épicerie shop in Lourmarin where the wine is exclusively sold outside Château Barbebelle, sales have also been very good, according to owner Hervé Giustiniani who recently made a significant contribution to The Alex Manfull Fund for Brain Research from the sales of this wine in his store.
Fast forward to 2021 and the current art exhibition, Premmereur approached Isirdi with her idea for an exhibition of his artwork at the Château and asked us if we would attend the opening on July 24th to talk about PANDAS.
"After COVID, one of my objectives was to organize events to draw people to the estate," Madeleine explained to me in a mid-July visit to the Château. "I like the paintings by Gérard a lot … I only had Gerard in mind for an exhibition," she added.
"We are not a famous estate," Madeleine continued, humbly. "But the caveau is beautiful and I thought the exhibition would show well."
So, in the early spring –– with fingers crossed that COVID restrictions would lift and public gatherings would return — Madeleine invited Gérard to come to Château Barbebelle to paint en plein air and then to exhibit his work in the caveau of her Château. According to Gérard's wife Christine, who is the manager of the Isirdi gallery, "Gérard said he would think about it and just an hour later, called Madeleine back and, with great enthusiasm, accepted the invitation."
In April and May, the "Jeep studio" made regular trips south from Lourmarin to Château Barbebelle, about 20 kilometers (12 miles). Of course, all of France was still in some version of a lockdown due to COVID which generally restricted travel to a 10-kilometer radius of home (in order to stop the spread of the virus). Because painting is Gérard 's professional activity, he was exempt from that travel restriction. Still, like everyone else in France, he had to carry his main "Attestation de Déplacement Dérogatoire" – a fresh one everyday– plus an additional attestation referred to as the "Justificatif de Déplacement Professionnnel" relevant to his work. If stopped by the gendarmes, everyone in France understood the importance of being able to produce this documentation. Painting in the middle of a vineyard — alone or in the company of his wife — certainly seemed a COVID-safe environment!
Christine laughed as she remembered how cold it was when Gérard began this project: "It was very cold at times, and rained, and one time the wind was so strong that his canvas was blown across the field!"
Since the lockdown entailed the closure of all nonessential businesses, Christine was not tied to the gallery and could go with Gérard on these en plein air outings (with appropriate attestations). She would pack a picnic lunch for them but they both chuckled that Gérard may have gotten a little too used to that. And, she added, that he often ended up with crumbs in his palette!
"Yes," Gérard acknowledged, laughing. "You're hungry but the lighting is good, and you don't want to lose it, and the weather is good…[so] you end up with crumbs in your palette!"
The upshot of these sessions in the vines was four gorgeous paintings of various views of Château Barbebelle. Those gouache sur papier paintings plus eight huile sur toile paintings — dramatic and textured landscape scenes of vines near the base of Mont Sainte Victoire, vines in the fall, and vines in the spring; a moody portrait of a bastide; and several still-life oil paintings of an autumn harvest as well vibrant floral arrangements — comprise this soulful exhibition. The essence of this corner of Provence, including the region's famous lighting and colors, is brilliantly captured in an impressionist style. All paintings are available for sale.
Towny and I attended the vernissage ("opening" in English) on July 24, a picture-perfect Provençal evening that attracted upwards of 75 people of various nationalities with ages representing a continuum of at least 80 years. Some were drawn by Gérard's artwork, others by the wine, and others to support our efforts. Few knew anything about PANDAS or any other post-infectious neuroimmune disease before they arrived.
A convivial atmosphere swept over the crowd. People sipped wine, nibbled on hors d'oeuvres, chatted and admired the artwork. Many slipped down to the pasture to meet the new Shetland pony christened "Let's go!"
Tuula Rampont, founder of the popular blog, Belle Provence Travels, and France correspondent for International Living, told me "[The vernissage] was a delightful way to come together for such an important cause. It was a beautiful evening for celebrating the talents of Gérard Isirdi, savoring some 5-star wines, and fostering awareness about PANDAS. We learned so much, and it was wonderful to see the coming together of different cultures in a shared love of our beguiling region of Provence."
Midway through the evening, Gérard spoke to the crowd as we gathered in the caveau. He brought many of those listening to tears when he spoke of his friendship with us:
Il y a 20 ans Towny et Susan ont poussé pour la première fois la porte de notre atelier-galerie à Lourmarin, accompagnés de leur fille unique Alexandra.
Ils aimèrent tant la région qu'ils achetèrent une maison. Ils inscrivirent Alex àl'école du village afin de lui faire apprendre le français. Ils passèrent en famille le temps d'une année scolaire en Provence, et n'eurent de cesse de revenir ensuite tous les trois, nous visitant àchacun de leurs séjours.
Alex dessinait des chats. Elle faisait de courtes bandes dessinées d'une merveilleuse naïveté. Son besoin d'expression débordait de ses grands yeux de ciel. Elle devint une jeune femme épanouie, créative, remplie de beautéet de gentillesse.
Hélas ! Elle a été fauchée au plus bel âge de la vie.
On voudrait tous agir contre la fatalité… Trouver une lumière pour sortir de la nuit. Avec beaucoup d'amour et de courage, le miracle peut s'accomplir… C'est ce qu'ont réussi Susan et Towny : Alex est devenue un symbole de la lutte contre le PANDAS, maladie qui l'a emportée.
Towny delivered the next talk. He said, in part:
My heart swells with emotion as I look out and see all of you here this evening. This is how we will defeat this disease.
When Alex was finally formally diagnosed with PANDAS, exactly three years ago this month, she was elated because she finally had answers for her various symptoms and why, as she put it, she wasn't the same person she had always been. She said she was going to tell the world about this horrible disease because she didn't want anyone else to go through what she had been through.
Sadly, she is not here to tell you about PANDAS and PANS. So, Susan and I will tell you.
Towny went on the describe PANDAS, stressing that it is a disease of the brain. Alex had brain damage in the basal ganglia region of the brain. We donated her brain to the brain bank of Georgetown University Medical Center where, until a few weeks ago it was thought to be the only brain in the world with PANDAS/PANS. Tragically, there are now two brains.
After encouraging everyone to spread the word about what PANDAS is – and that taking "Alex's bottle" to the table is an effective way to do it – he thanked everyone for coming and especially Madeleine and her team and Gérard and Christine. He summed up:
Alex loved Provence and we are confident she would be happy that we are spreading the word in France as well as in the United States.
Madeleine wrapped up the talks, expressing her hope that the reason that brought us all together that evening would raise awareness about PANDAS and she gave a heartfelt thank you to all for coming to the vernissage.
Lis Steeden, owner of Le Petit Figuier, a nearby Bed and Breakfast, was already a big fan of Barbebelle wine and Isirdi's artwork. She said she very much enjoyed the whole evening that included "seeing old friends and meeting new people, tasting the Barbebelle wines, and enjoying the wonderful paintings by Isirdi but it was the talks, especially Towny's informative presentation to make people aware of PANDAS that she will remember."
Elizabeth Gabay, Master of Wine and co-author (with Ben Bernheim) of the recently released online Guide to the Roses of Southern France, said, "The talks were extremely moving and many of us were just a little tearful. Being able to talk with others for the rest of the evening about Alex, about PANDAS, about life in Lourmarin was good and we all bought bottles – if not for us to drink but to share with friends the movement to increase awareness. We were all very touched to have been invited to the event and to have had the opportunity to support you."
Both Madeleine and Gérard were very pleased with the vernissage. Christine wrote to me soon after the event: 'This opening was exceptional thanks to the spiritual communion of all its participants around Alex and the art she loved so much. We were carried by your energy and your strength in the fight which is rightly dear to you. Everyone has learned about this terrible disease, and many have symbolically wanted to participate with a donation."
As I looked around at everyone at the vernissage, my heart swelled twice its size and I couldn't help but wonder again if the events that led up to this evening were completely random or determined by some underlying hidden force. Mere chance or meaningful coincidence? Serendipity or synchronicity? Since Alex's death, I find myself faced with these questions more than ever. Whatever brought us all together, the spirit of the evening certainly buoyed our spirits and our hope for a better future for those with PANDAS and PANS.
I'm told that the second vernissage that took place the evening of Saturday, August 14, was also a success. With approximately 50 people in attendance on an evening that the temperatures hovered around 40°C (104°F), that is impressive.
This exhibition of Gérard Isirdi's artwork will run through August 29, 2021. Entrance is free. Hours are Monday through Saturday 9:30 a.m. to 12:30 p.m. and 4:30 to 6:30 p.m. Sundays and Holidays from 10:30 a.m. to 6:30 p.m.
Madeleine and Gérard will donate a portion of sales of Alex's wine and exhibit posters, respectively, to The Alex Manfull Fund for Brain Research at the Georgetown University Medical Center where Alex's brain has been made available for research. (The first researcher to obtain tissue is in Europe.)
If you would like to contribute to The Alex Manfull Fund for Brain Research, please visit thealexmanfullfund.org
For more information about post-infectious neuroimmune disorders such as PANDAS and PANS and resources in Europe, please visit EXPAND, The European Immuno-neuropsychiatric Association. In the US, please visit PANDAS Network, PANDAS Physician Network, or ASPIRE.