Provençal Pairings: Wine with Food

'Tis the Season
by David Scott Allen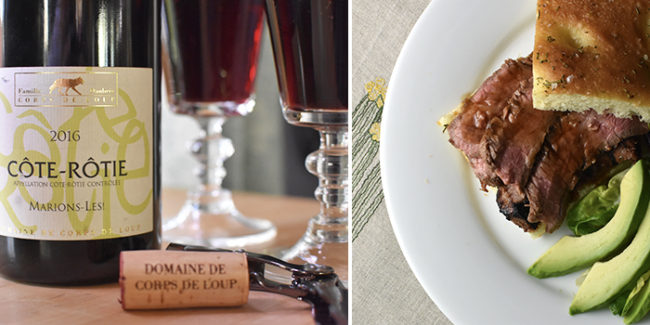 Winery: Domaine de Corps de Loup
Cuvée: Marions-Les!
Appellation: Côte-Rôtie, Northern Rhône
Type: Red
Vintage: 2016
Grape Varieties: 80% Syrah, 20% Viognier
Alcohol: 12.5%
Average Retail Price: France €34
No, not that season! It's grilling season. And I have to say that Rhône wines are pretty perfect for pairing with grilled meats, poultry, seafood, vegetables, and fruits. Why is that, I wonder?
I don't want to get into the science side of things. For one, I am not really qualified. Really, this is about Provence in the summer. The ease, romance, beauty, and flavor. Summer food with summer wines. Sigh.
I find that grilling brings out the inherent sweetness in all the above-mentioned foods. Even without any marinade, sugars concentrate when proteins are grilled to make everything taste just a bit sweeter. And then we add marinades and barbecue sauces, which are often rife with sugar and honey, the sweetness is accentuated.
This week, I paired a 2016 Côte-Rôtie with one of my family favorites – grilled steak sandwiches. For the recipe(s), head over to Cocoa & Lavender. For the wine, read on.
Côte-Rôtie wines are new to me. I have to admit that I have been a bit pressed as of late, and wasn't thinking clearly when I popped the cork. Normally, I look into the wine a bit further, but this time I looked only far enough to see that it was a Syrah, and knew that it was good with grilled meats. I planned my menu and never thought another thing about the wine.
Until I popped the cork, that is, and poured a glass to check the nose. The first sniff had me running back to the bottle to look at the blend. Nothing there, so I went online. Once I discovered that this was a blend and not 100% Syrah, I muttered, as the French often do, "Ça explique tout!"
While they are comprised primarily of Syrah, this particular wine from Domaine de Corps de Loup adds 20% Viognier, the maximum amount allowed to be considered a Côte-Rôtie. But I didn't know this when I first checked the bouquet. Tart cherry and… citrus? And not just citrus, lemon! This was not what I expected but I proceeded to taste – and that tart cherry and lemon followed on the palate. Additionally, I detected red currant and black pepper.
To me, for a wine this complex, it comes across as very simple and light – the Viognier brings it around a corner to something very summery and refreshing. It paired nicely with the steak – which was marinated in a paprika-laden mixture with Dijon mustard, herbs and a touch of sugar – and kept its refreshing nature throughout the meal.
Given our very hot weather (I think we peaked at 109°F that day) and the 65°F serving temperature recommended by the estate (on their website), I thought the wine might benefit from a few minutes on ice, so I tried that with the remainder the next day. Five minutes of chilling did make it even more refreshing for a hot summer day.
One thing for sure, this is definitely a food wine, not one to sip on its own. It really comes into its own with the right food. I think I could have added more sugar – or honey, agave syrup, etc. – to the marinade and it might have increased my enjoyment of the wine. That said, it is a very nice wine and I look forward for trying other Côte-Rôties, and perhaps next time a 100% Syrah, just for argument's sake.