TAKING THE SLOW ROUTE ALONG THE RHÔNE FROM LYON TO LOURMARIN – PART ONE
by Susan Manfull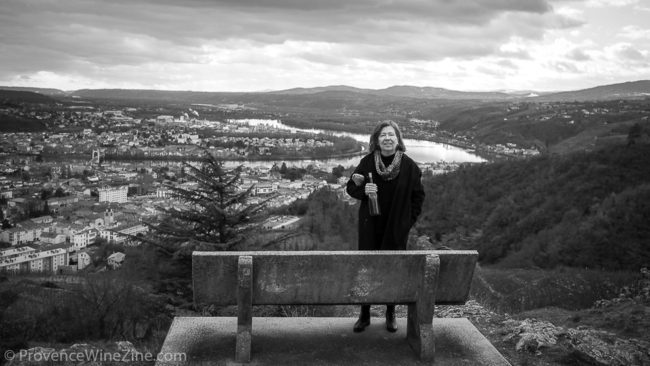 Part One of Three
Earlier this year, long before sweltering heat descended on Europe, Towny and I escaped the frigid temperatures of New England and went to France. The night before we left, we found ourselves in one of New Hampshire's last grande dame hotels, Wentworth by the Sea, seated at the table with Madeleine Herbeau of Château Barbebelle in Provence and Amélie Barrot of Mousset-Barrot properties — Château des Fines Roches, Château Jas de Bressy, and Château du Bois de la Garde — all in the Southern Rhône Valley. Part of New Hampshire's annual Winter Wine Festival, this intimate dinner was hosted by our good friend Jacques Navarre, founder and proprietor of Top Terroir, importer of fine French wines in New Hampshire, including several cuvées produced by Herbeau and Barrot.
Most of our wine trips don't have the benefit of such a fortuitous prelude. But there we were, on our side of the Atlantic, enjoying an exceptional four-course dinner in the company of two of our favorite vigneronnes.
Chef Bill Barcikowshi's meticulous attention to detail in each of his courses contributed to the culinary pleasure of each one but particularly notable was the synergy he created with his food and wine pairings. A standout was the first course – Seared Sea Scallop with Pineapple Blini, Buttered Bok Choy, Lime Salt, and Honeycomb – which was a perfect match for the Châteauneuf du Pape blanc (2015) from Château Jas de Bressy.
The conversation flowed like the wine while plate after plate came and went. Both vintners are part of multi-generational families in winemaking in the South of France — Herbeau is 4th generation and Barrot is 3rd generation — and both are relatively young and female in an industry long dominated by men so there was a lot to talk about.
By the time we reached dessert – Apricot Lemon Tart with Almond Sable, Red Currant Coulis, Crème Fraiche Chantilly and Fresh Berries – wonderfully paired with Château Barbebelle (2017) Heritage Rosé, we were pleasantly sated, and had arranged to visit Herbeau in Rognes (again — we have visited her many times now) and Amélie Barrot in Châteauneuf du Pape.
Lyon
We departed for Lyon the next day. Other than the rendezvous with Herbeau and Barrot, our itinerary was open. We would follow our noses, making our way along the Rhône River at a leisurely pace, stopping at wineries and restaurants as the spirit moved us. We had four days to get to Lourmarin, a paltry amount of time to visit all the wineries we would have liked to visit or to dine in as many restaurants as we would have liked but, in striking contrast to other wine trips, we did not want to be running breathlessly from one place to the next. Rather, this was a time to catch our breath.
Lyon is not the typical point of entry for our home base in Lourmarin — we have always arrived in Marseille or Aix-en-Provence with the occasional exception being Nice — but we were inspired by an earlier article the late Jerry Clark wrote about traveling from Lyon to Avignon and, because our daughter Alex, 26 years old, died in August of 2018, we were compelled to take a different route from those we had taken with her, who was almost always with us on our Provence trips. We have some old friends in Lyon, and we thought it would be nice to see them, too.
Lyon is France's third largest city, with a population hovering around half a million. It is cosmopolitan, sophisticated, filled with gorgeous architecture, known for a good music scene, takes great pride in its world-renowned gastronomy and, is blessed with proximity to the regions of Beaujolais to the northeast and the Rhône Valley to the south, thus providing easy access to exceptional wine. (In fact, Lyon has 20 Michelin-starred restaurants: Sixteen restaurants with one star, three restaurants with two stars, and one with three stars.)
It is oozing with history, dating back to the Roman period when, in 43 BC, Lucius Munatius Plancus founded Colonia Copia Claudia Augusta Lugdunum, which would become Lyon. Probably owing in large part to the confluence of two rivers – the Rhône and the Saône – Lugdunum became the capital of the Roman province of Gallia and remained a significant city in the Roman Empire for hundreds of years.
Our friends live in the posh 6th arrondissement, where the famous Parc de la Tête d'Or (the largest city park in France) and lovely Boulevard des Belges, lined with mansions dating from the late 19th through the mid-20th century and reflecting the varied styles of architecture from that period, are just a short walk away. Vieux Lyon is a longer walk — across both the Rhône and the Saône Rivers. Nooks and crannies filled with culinary delights — gourmet restaurants, bistros, cheese shops, charcuteries, bakeries, pastry shops — reward the walker at every turn. The lovely Église de la Rédemption graced our view from their window.
I wish we had allotted more time to enjoy such an elegant city that we had not seen for 30 years. However, the open road beckoned and we were soon tooling down the Route Nationale 7 (N7) toward the Rhône Valley.
Our first stop was Vienne, about 20 miles south of Lyon, where there is an excellent tourist bureau and, in the city and nearby in Sainte-Colombe, are some very impressive Roman ruins. The Temple of Augustus & Livie in Vienne and a recently excavated area on the other side of the Rhône, often referred to by archeologists as a "small Pompeii," are worth a detour. Julius Caesar came through here in 47 BC before Lugdunum was founded. There is evidence amongst the ruins that, unsurprisingly, wine was an important trade back then, too, as many amphorae have been unearthed as well as mosaics depicting luscious banquet scenes of Bacchus and his drunken companions and, of course, more serene scenes of bunches of grapes hanging from the vines. With maps in hand, we were soon on our way.
In the Northern Rhône, the star is indisputably Syrah. Here, Syrah reaches its potential. I learned that Syrah is a cross of a white grape, Mondeuse blanche, and a red grape, Dureza (a grape related to Pinot noir) and that this natural-occurring cross probably happened in the Rhône-Alps area of eastern France. Other grapes include Viognier, Marsanne, and Roussanne.
Grown on the striking steep hills that rise from the Rhône river, facing south, the vines have the benefit of lots of warm sunlight which compensates for the harsh winters. The climate is continental and, compared to the Mediterranean climate of its neighbor Provence, the winter months are cold. It was snowing when we were there. In the hot summer months, the Mistral wind helps to cool the vines as well as the cool nights. The northern-most soil is composed mostly of granite and schist with some clay, increasing as one moves southward. Well-drained would be an understatement as there is always the fear that the soil will slide downward in the areas where the vines are not terraced. (It does.) Some of the dry-stone terraces — called "chaillées" in this area where, in the local dialect, the word means "rocky," — date back to Roman times.
In the Northern Rhône, we visited mostly small family-owned wineries. We were unable to get to the larger, also family-owned, properties owned by M. Chapoutier and E. Guigal. It is worth noting that this area also provides the resources for some well known négociants (Tardieu-Laurent comes to mind) who buy fermented juice for élevage and to bottle under their own label.
Côte-Rôtie
Côte-Rôtie is the first of the seven appellations of the Northern Rhône. Literally translated as "roasted hillside," it is immediately apparent that these vines have the benefit of strong sun. They also enjoy cool nights and the cooling (and drying) effect of the Mistral wind.
The vines are an amazing sight, seemingly climbing straight up to heaven, and the wines from these grapes taste like they come from heaven. The height reaches as much as 330 meters or (1100 feet) with a gradient more than 60 degrees in places, facing southward. I cannot imagine picking grapes on these steep slopes.
Two slopes, said to be named after a feudal lord, dominate the appellation — Côte Brune and Côte Blonde — each distinguished by the soil composition. The northern "brown slope" is marked by darker soil made of crumbly clay and iron-rich schist. The other hill, in the south, has lighter soil composed of granite and schist.
The appellation is small, with vines covering 310 hectares (about 770 acres), and, according to regulations, 490 hectares is the limit. All AOP wines from this appellation are red, made from Syrah but Viognier may comprise up to 20% of a co-fermented cuvée (5% is usually the limit).
Domaine de Corps de Loup in the town of Tupin-et-Semons was our first stop. Records apparently indicate that grapes have been growing on the land that comprises this domain since 827 AD although the current owners, the Daubrée family, took ownership nearly 3,000 years later in 1991. They produce AOP wines from their vineyards in Côte-Rôtie (9 hectares) and Condrieu (.5 hectares) as well as Saint Joseph and at least one IGP négociant wine (e.g., Viognier).
It was great to have a glass of Condrieu (2017) back in my hand. This appellation – dedicated entirely to Viognier — is quite small and the yield is very low, leading to an overall very low production of their flagship wine which results in precious little on the export market. We went to two other tasting rooms in Condrieu with a greater focus on the namesake wine, so I will write more on this lovely wine then.
We tasted a very nice Côte-Rôtie Corps de Loup cuvée of (100%) Syrah (2016) which pleased the palate with dark berry and dried apricot flavors seasoned with black pepper. Well-balanced, nicely structured, and impressive finish make this Syrah very appealing. It was interesting to compare the Marions-Les! (2016), a cuvée that includes (the maximum) 20% Viognier which serves to tone down Syrah's power and add the sensation of a wee bit of sweetness. I immediately thought of David Scott Allen's Duck with Clementine-Pomegranate Beurre Blanc which I put forth as an exquisite match for this wine. The final wine in the tasting was an old-vine Syrah (2016) called "Paradis;" like the other Corps de Loup Syrahs, this wine is made from grapes grown on Côte Brune with southern exposure. It is an elegant wine with more concentrated flavors and softer tannins than the other Syrahs and one that would benefit from ageing at least 10 years.
Condrieu
Condrieu is a tiny white wine appellation established in 1940. Seven villages, about 75 wineries, and around 170 hectares (420 acres) of vines comprise this appellation where about 50,000 cases of wine are produced annually. All are 100% Viognier, the only grape permitted in this appellation.
The vineyards are located on a 20-kilometer (12-mile) stretch alongside the Rhône River, where it bends just south of Côte-Rôtie. In fact, the name Condrieu comes from the French phrase coin de ruisseau which means "corner of the stream."
"The most extraordinary thing about the story of Viognier is how very nearly and how very recently it almost shriveled to extinction," Jancis Robinson wrote on her blog. She continued, "When I wrote Vines, Grapes & Wines in 1985 (for publication in 1986) I was able to identify records of just 32 ha (80 acres) of [Viognier] planted in the entire world."
The appellation nearly withered away. In 1960, about seven years after , namesake of the world famous domaine, took over the small (1 hectare) family vineyard in 1953, there were 7 hectares of Viognier in the AOC, which, according to a Decanter article (May 23, 2017) by Yohan Castaing, may have been the "only commercially-planted Viognier left in the world at the time." Today, there are ten times that amount of land covered by Viognier vines in Condrieu. Georges Vernay is generally agreed to be the man who saved Condrieu.
By the time the 21st century rolled around, interest in Viognier had exploded. In the last 15 years or so, vineyards of Viognier can be found in Italy, Spain, Switzerland, Greece, Chile, Argentina, South Africa, New Zealand as well as continued growth in plantings in other parts of France (especially the Southern Rhône), the U.S. (especially California and Virginia), and Australia. In California alone) there are around 1200 hectares (3000 acres) of Viognier. (One of my very favorite Viogniers hails from Lodi, California and is produced by Acquiesce Winery.)
I met my first Condrieu in Lourmarin; I was visiting the Tardieu-Laurent cellars for a barrel tasting with Bastien Tardieu, lead oenologist for this renowned Rhône Valley négociant firm founded by his father Michel Tardieu and (former partner) Dominique Laurent. It was a (2013) Condrieu, bottled just a few days earlier. It was aged, Tardieu said, for 10 months in new oak barrels. It retailed, at the time about three years ago, for about €31 (in France). It was love at first sip. I have coveted Condrieu ever since.
We began with Domaine Gerard in Condrieu. Xavier Gerard, proprietor and winemaker, told us he would be happy to meet us after our visit with Domaine de Corps de Loup which, he said, wasn't too far from his cellar. We agreed upon 5:30. I should have known that we would never make it there by then; all my interviewing experience has made patently clear that talking and tasting wine takes longer than anyone ever imagines. We also did not enter into our calculations that about 4:30 p.m. in the winter months it turns pitch black in the hills of Northern Rhône and that the road up the Côte Chatillon would be just what one should expect in Condrieu: steep, winding, and about as wide as my dining room table. We passed the turn off for Gerard's house at least a dozen times. I called Gerard well after the appointed time (the service wasn't great up in these hills either) and he said he would still welcome us. We arrived long past the agreed upon time, bedraggled and embarrassed, at what turned out to be his family home and, still, Gerard was the consummate host.
We descended the stairs to the cellar — filled to capacity with barrels galore in various sizes, stainless steel tanks of several small sizes, and bottles — and began what was one of the wildest tastings I've ever had, propelled by Gerard's passion and brilliant attention to detail in the vineyards as well as the cellar. My notes suffered but it was fascinating to learn, up close and personal, what goes on in the cellar to produce Gerard's outstanding Côte-Rôtie and Condrieu wines and to glean a little history … and even learn which wine may pair with asparagus!
Did I mention that we were some 260 meters (850 feet) above the Rhône River? We returned the next day to see the commanding view of the mighty Rhône and the surrounding vineyards, about nine hectares of which belonged to Domain Gerard.
Gerard officially took the reins from his father in 2012 although he told us he had worked alongside his father for what seemed like his whole life, and the idea that he would follow in his foot steps was quite natural. He had already purchased his own vineyard two days before he turned 21 years old. His current portfolio includes one Viognier, two Condrieu cuvées, one Saint Joseph cuvée, two Côte-Rôtie cuvées, and soon a late-harvest wine from his Côte-Rôtie vines.
Before we got our bearings, Gerard was atop the ladder, seemingly twirling his "voleur à vin" before drawing each sample. He was clearly at home in his tiny cellar, from which significant and award-winning wines are emerging. We grew more and more delighted with each sip.
I first became acquainted with Domaine Gerard when we organized a Viognier and Condrieu tasting in 2016 and at the recommendation of a very knowledgeable wine shop employee in New York City (and seeing the "Rosenthal Wine Merchant" label), included a bottle of IGP Collines Rhodaniennes 100% Viognier wine (2012). It is produced from vines just outside the appellation of Condrieu. This bottle, under his father's watch, had a very appealing floral and honey nose, a pleasant mouthfeel with accents of citrus and minerality that continued through the finish. My sense is that the younger Gerard prefers a little more minerality with more subtle floral and fruit notes, a preference I share.
We tasted his Condrieu La Côte Châtillon (2018) from a 500-liter barrel (where half of the wine spends a year while the other half rests in 225-liter barrels). This cuvée benefits from two pickings to ensure the right balance of acidity and fruit. My notes reveal something about pears and wild flowers on the nose, but it is the balance of fruit, minerality and acidity that is circled and starred. Gerard told us that the 2018 harvest was "really good" with "great maturity." If this tasting was any indication, I understand his excitement.
Later, Gerard opened a bottle of La Côte Châtillon from the 2017 vintage and, since we were so enthralled with the wine, I failed to take any notes. So, we bought one to take home, which we opened, with friends, just as I was writing this paragraph.
Win Rhoades, a good friend with a long history in the wine business, including founding and, until recently, running Portsmouth's South Street and Vine wine shop, summed up his tasting as "one of the best white wines I have ever had." We all agreed that its complexity – layers upon layers of complexity – is seldom matched, and that the finish goes on and on. The aromatic nose manifested as apple blossoms with a fresh earthiness to floral notes of pineapple, pear, and peach.
"Enormously full in the mouth," Rhoades said, adding he tasted apricots while Towny and I tasted mangoes. The alcohol is 14.5% and, at first, we thought it might tip in favor of alcohol but later thought not. We all agreed that each sip demanded another and that we would be happy to taste it again (as soon as possible). This is a wine that will likely improve (if that is possible) over the next couple of years.
We also had the pleasure of tasting his Côte-Rôtie cuvées, both from the barrel and the bottle. The flagship Côte-Rôtie (2017) is an assemblage from several parcels which promises to be at least as lovely as the 2016 bottle he later opened at his table upstairs. Out of the barrel, we noted faint minerality mingling with dark berries, black pepper, tobacco, and other savory tastes.
The other Côte-Rôtie cuvée "Landonne" is a very small production, owing to the tiny plot of vines he owns on the Landonne parcel, and is only produced when the quality of the vintage supports it. Only a few hundred bottles are made. We tasted the 2017 vintage from the barrel, two-thirds of the way through its three years of aging. Already, the dark fruits were ravishing and, seasoned with pepper and other alluring tastes, promised to be terrific in the bottle (and when, ideally, aged a little longer).
Upstairs at the kitchen table, Gerard opened a 2016 Côte-Rôtie. Dark, rich, and enticing, it would be a perfect mate for wild game and Gerard said that they are recently had it with a venison stew. It is an immensely appealing wine for drinking now but the tannins suggest a few years more – as much as 20 years, according to Gerard – will enable this wine to reach its full potential.
Gerard capped off the tasting with a real treat: a 2000 Côte-Rôtie from his father's tenure as the top vigneron. Its fruit and acidity held up well, making for an exceptionally good wine that was certain to get better as it opened up that evening.
The next time we visit Domaine Gerard, it will be in a new facility with all the modern amenities a rising star vigneron should have, including gravity-fed technology. It won't have the view and may not have the same convivial atmosphere, but as long as the wine sings like it does now, his fans will be content.
In Parts Two and Three, we make one more stop in Condrieu and then cross the Rhône to Tain l'Hermitage for a quick stop before heading toward the Southern Rhône. In the southern part of the valley, we spend a day in Châteauneuf-du-Pape and then drive further south, via Cairanne, to Lourmarin.