Provençal Pairings: Wine with Food

Regroup(er)ing
by David Scott Allen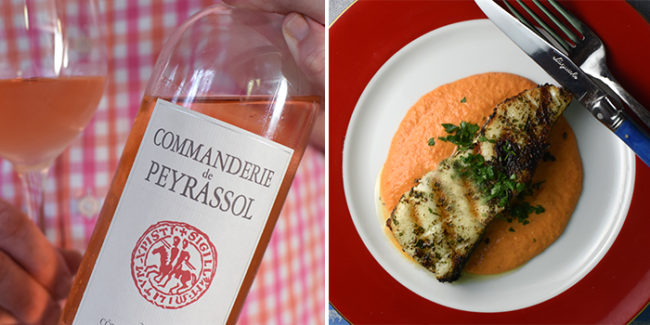 Winery: Château Peyrassol
Cuvée: Commanderie de Peyrassol
Appellation: Côtes de Provence
Type: Rosé
Vintage: 2016
Grape Varieties: 46% Cinsault, 27% Syrah, 22% Grenache, 5% Ugni Blanc
Alcohol: 12.5%
Average Retail Price: United States $19
I know you. You spend significant time planning your menus and your wine pairings. Maybe not every day, but at least for special occasions. I certainly do, and this weekend was no exception.
I was planning an anniversary dinner for us. I bought a nice rosé (shocking, eh?) from Feast (www.eatatfeast.com), one of my go-to sources in Tucson for nice, unusual, and well-priced wines. Sometimes I plan the wine around the meal, sometimes the meal around the wine. This was a case of the latter.
The rosé — Commanderie de Peyrassol — is from Château Peyrassol, about 30 miles northwest of Saint Tropez. With its proximity to the Mediterranean (well, it's not exactly on the water), I planned to make fish for dinner, grilled grouper to be exact. In fact, I had visited my fishmonger earlier in the week just to make sure he would have it on hand. He said, and I quote, "We get grouper in every day."
He lied. But it was too late for me to change our plans. What was I going to do? I must admit to being whiny at the counter… "But you promised!!" (I am laughing now….) So, in reference to my title, I had to do some regroup(er)ing.
I ended up choosing Chilean sea bass which I marinated briefly in herbs and olive oil, then grilled and served it with Romesco sauce. Well, more a Romesco-esque sauce. I took a recipe for the traditional Catalan sauce and redesigned and rebuilt it, because I wanted to make sure it wasn't too intense for the wine — or the fish. Head over to Cocoa & Lavender to get the recipe.
The color of the wine is a rose petal with a blush of peach. The nose is bright, with notes of lemon and peach. Tasting the wine before food, it had a very pleasant mouthfeel and nice salinity. The 5% Ugni Blanc in the blend brought forward a hint of green apple among some light red fruits.
I opened this for apéro, knowing we'd have plenty left for dinner, and tasted it with a blue cheese and an unctuous spread of Italian lardo. I knew before I even tried it that the cheese would not pair well. Not awful, mind you, just not an "aha!" moment. The lardo, however, was absolutely perfect with the wine accentuating the softness on the palate, the salinity, and beautiful red fruits. This wine seems to love its fat!
This bode well for our dinner as the fish is very buttery and the sauce a creamy emulsion stemming from good-quality olive oil. I was right. The fish and it's sauce paired beautifully with the Commanderie de Peyrassol. The acidity of the citrus and green apple balanced well with the unctuous fish and sauce, and fruit flavors came forward in the most appealing way. To be honest, I didn't detect much of a finish, but that did not stop me from enjoying every last drop. It is a very well-balanced and drinkable wine. For the price point, this wine is a very good buy.