SOMETHING NEW IS FERMENTING IN THE LUBERON: THE FIRST HARVEST AT DOMAINE MASLAURIS
by Susan Manfull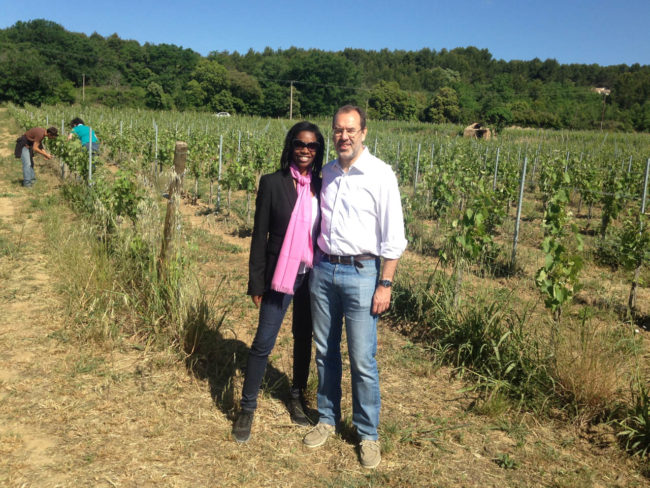 This is the story of one couple's meandering path to the first harvest of their own vines.
Do you ever wonder, as I often do, how people come to do what they are doing? How did an American jazz and gospel singer/former attorney and her French attorney/wine aficionado husband come to own a winery just outside a small village named Lauris in the southern part of Parc Naturel Regional du Luberon in Provence? In fact, they had to build the winery. It was a circuitous path, not without a few bouchons, to Domaine MasLauris—we are in Provence—but none of that matters right now because, five-and-a-half years after purchasing the vines and a run-down house, the grapes of their first harvest are on their way to becoming red, white, and rosé wines.
"When I was eight years old, I wrote an essay about what I wanted to do when I grew up," said Margeaux Lampley, co-owner of the winery with husband Didier Théophile. "My mother found it recently," she chuckled. "I had written that I would live in France, be a dancer—at the time, I was a dancer—a doctor and a musician."
Born in New York City but raised in Oakland, California—where she was when she wrote those prescient words—Lampley now lives in Paris, France where she is an internationally acclaimed musician. She is also a retired attorney—she was pre-med in college but opted for law school– and, with Théophile, owns Domaine MasLauris, a 10-hectare property in the Côtes du Luberon appellation on the southeastern edge of the Rhône wine region.
This American-Franco couple was in the midst of their first harvest when photographer Pamela O'Neill and I visited in early September, but Lampley took some time to share their story with us. We missed Théophile by a day as he was in Paris where he continues his very successful antitrust and competition law practice with the international law firm of Darrois Villey Maillot Brochier (when he's not teaching competition law at the Strasbourg University).
Lampley's first foray into French life came in her junior year at the University of California, Los Angeles when she took a year abroad in Paris, an experience that confirmed her aspirations recorded over a decade earlier in the aforementioned essay. "I knew immediately I loved it here," she recalled feeling.
"I finished my degree, took a year off, and was singing and dancing when my parents told me I had better get a real job," Lampley continued, "so, I applied to law school." With a letter of acceptance from Columbia, Lampley moved to New York City where she attended classes by day and danced by night. "I knew I wanted to get back to France." That wish came true when she accepted a job at a Wall Street law firm and was transferred to Paris.
In the meantime, before she moved to Paris, Lampley met Théophile in New York City while he was on vacation. Fast forward, they both practiced law in Paris, eventually married, and had one daughter who is, now, in boarding school in England and getting ready to apply to college. Lampley, realizing that being a lawyer was not what she wanted to do, left that profession and went back to music. Théophile, realizing that wine was a passion he had long kept simmering on a back burner, decided he wanted to pursue that interest more. They already owned a vacation home in Gordes, the chic village that clings to the hillside on the north side of the Luberon, so they thought they might purchase just a few vines nearby.
Click on the map to enlarge it and see where Domaine MasLauris is located with reference to Gordes as well as Lourmarin, and Cabrières d'Aigues, villages mentioned later in the article.
In France, buying agricultural land is not without challenges and sometimes practically impossible. I have learned over the years that one obstacle, in this part of Provence at least, is that the locals are very protective of the land, not wanting to yield up the property to "outsiders." This informal protective network is supported by a French non-profit organization called SAFER that operates under the supervision of the Ministries of Agriculture and Finance. According to the official website for SAFER (short for Sociétés d'aménagement foncier et d'établissement rural), the main tasks of this organization are to: increase agriculture and forest areas; protect the environment, landscapes, and natural resources; support the growth of the local economy; and encourage young farmers. This sounds great, but what can and often does happen is not beneficial to the seller financially nor to the originally intended buyer who often loses the opportunity to purchase the land.
The local notaire is required to notify SAFER when an agricultural land sale is in transaction and SAFER, in turn, can temporarily halt the sale so that they can determine whether there is a local farmer who wishes to buy the property. SAFER establishes a "market" price (inevitably much lower than the one initially agreed upon by the parties who were in the middle of the original transaction) and notifies neighboring farmers of the property for sale (at the typically lower price). Thus, sales of agricultural land can be stalled for long periods and even preempted (read terminated) by SAFER in deference to neighboring farmers.
I am familiar with a sale that was pre-empted by SAFER not too long ago and not far from Gordes. A significant plot of vines, set to be purchased by a nearby winery went south when SAFER made the land available to neighboring farmers at a lower price, one of whom snapped it up. The seller lost the originally negotiated price—a much larger sum of money—and the winery was unable to expand.
Lampley and Théophile, despite having their own network of supportive locals—including Christian Ruffinato, of Domaine Ruffinato who is also Mayor of Ménerbes and, and other established winemakers—were outsiders and unable to find a small vineyard near Gordes. But, while in the search of some vines, Théophile met a few other people who would be instrumental in the purchase of Domaine MasLauris.
One of those people was Michel Tardieu, internationally renowned Rhône négociant, proprietor of Tardieu-Laurent, a wine business he and former partner Dominique Laurent founded in 1994. His cave and offices are located in Lourmarin, just 5 kilometers (about 3 miles) north of Lauris. Tardieu lives in Lauris and learned of a vineyard and rundown house for sale.
In the spring of 2011, on a very rainy day, Lampley recalls, she and her husband visited the property. There was no place to make wine, no cave, no chai, and it came with a dilapidated house. But, there was a vineyard (of sorts) and a sweeping view of the south side of the Luberon. Although they were not in the market for a house, habitable or not, they took it. And hoped that the property, which included the rundown house, would not be appealing as a SAFER offering.
Not surprisingly to anyone who has renovated or built property in Provence, it took over a year to secure the sundry permits to renovate the house. Having renovated three homes in Lourmarin, I can speculate where the obstacles may have laid. Since the property is located within the Parc Naturel Regional du Luberon, any kind of construction is subject to the strict requirements, close monitoring, and long tentacles of the government body overseeing Regional Parks. And, in any village in Provence, the Maire (the mayor) can weigh in on issues of property renovation. Both legal authorities, understandably, are tasked with preventing overbuilding and maintaining a certain aestheticism. Building the vinification center would take even longer. Ditto for replacing the majority of the vines, which were "old and tired," and bringing them to maturity.


Lampley and Théophile were familiar with challenges (read headaches) of renovating properties in Provence. They had read A Year in Provence…oh, heck, in Gordes, they had hired one of the same tilers Mayle had hired, with similar results (or lack thereof). Lampley told us that they scheduled the man to lay the tiles in July, a rather dicey time to have work done.
"As you know, in August, everyone in France goes on vacation but you may not know that, in July, contractors say 'oh, it's so close to August' so not much work is done.'" This understanding notwithstanding, Lampley scheduled the tiling work for July so that it would be ready for the arrival of 10 guests in August. I suppose not wholly unexpected, Lampley was sent scrambling to find someone else when she received an email from the tiler just before the work was to be done, informing her that he could no longer do the work because of "psychological reasons."
In the case of the Lauris house, after drawing up the architectural plans, based on the footprint of the house, they were informed "the house is too big for you…there are only three of you." Somehow, they overcame that issue (but lord knows how one could plan for additional children or, say, an older parent moving in).
Later, when the family was away on vacation, daring to relax because the house was almost finished, they received a call informing them that the pool could not be built. Since the house and would-be location for the pool was nowhere near other homes and nearly everyone in the area has a pool, the reasoning for the last-minute reversal was unclear. But, they were able to have a water basin.
Building the vinification center was not without challenges either. "We wanted part of it to be underground but that did not go well," Lampley said. "And, we wanted it to be a little bit larger" but that proposal was denied. Curiously, there is a much larger winemaking facility nearby but, they were told that it can't be easily seen (although neither can this estate's, as far as I could see!). Still sparkling it is so new, the MasLauris facility is clearly in keeping with their goals of "modernity and state-of-the-art equipment." Function appeared to dominate beauty—always a good sign at a winery—although I found its sparseness quite appealing when we stood in the entrance and talked.
While the structures were slowing rising, Théophile was busy building a team. In addition to Michel Tardieu, whose integral role is the consultant oenologist, François Aurouze and Laurence Pichot from Vignoble Conseil, a consulting firm dedicated to complying with regulations, obtaining permits, and other agricultural subjects of a technical nature (e.g., new organic treatments), were brought in early on. In spring 2014, Aurélien Le Tellier, who has a Brevet de Technicien Supérieur (BTS) diploma in winemaking, began working as Responsable de l'Exploitation and, under the direction of Tardieu, oversees the day-to-day workings of the vines, winemaking facility, and harvest.
The house was finished in 2014. Its open-concept, minimalist design and furnishings coupled with the older stone walls that were left in place where possible, make for a sensational setting. The expansive view of the garrigue-covered landscape leading to the hills on the other side of the Durance River (including, of course, the water basin) instills a peaceful feeling that, with any luck, will take all the challenges the couple has faced along their circuitous path and weave them into good stories, the ones that enrich the fabric of one's life. Perhaps the succor of some good wine from their own cave at Domaine MasLauris will help this process.
The vinification facility was completed in time for the 2015 harvest although the grapes from the vineyard were not mature enough for winemaking. So, in order to have a trial run with the new winemaking equipment, they bought grapes from Domaine de Vaudois in Cabrières d'Aigues, located about 18 kilometers (11 miles) away and owned by consultant François Aurouze.
The vines that were planted are grafts of old vines that survived Phylloxera. Grapes include Syrah, Grenache noir, Mourvèdre, Cinsault, Roussane, Grenache blanc, Rolle (aka Vermentino), and Viognier. All harvests are manual and begin around 5 :00 a.m.
We had the pleasure of tasting Les Terres de MasLauris rosé (2015) AOP Luberon. This blend of Syrah (40%), Grenache (50%), and Vermentino (10%) is exceptionally nice: fresh and bright, citrus on the palate with a very pleasant acidity suggesting it would do well as an apéritif and perhaps even better with food. About 5,000 bottles were produced, all of which were sold.
The red wine, Les Terres de MasLauris rouge (2015) AOP Luberon, a cépage of Grenache (60%) and Syrah (40%), is aged, in part, in oak and, in part, in cement. It had just been bottled so we did not taste it. About 6,500 bottles were produced and, in fact, this vintage should be released right around the same time this article is released. (A note to friends in Lourmarin: check it out !)
When we visited in September, it was indeed an exciting time, as evidenced by all the broad smiles. Le Tellier was particularly excited about the latest vintage because he helped to plant many of these grapes. "My babies," he said.
Just a couple weeks earlier, the vineyard received their organic certification. They were in the midst of the first harvest of their own grapes and were just beginning to ferment grapes for their first white wine, which will be a blend of Rolle and Grenache Blanc with a "tiny bit" of Viognier and Roussane. In addition to the aforementioned white wine, the 2016 harvest will provide the grapes—Grenache, Cinsault and a little Syrah—for a rosé wine (bien sur). The grapes for both the white and the rosé wines will fermented and aged (separately) in stainless steel.
There will be two red wines. One will be a single varietal of Serine, a rather obscure ancient grape said to be a distant cousin of Syrah, that in recent years, has attracted more and more fans in the northern Rhône Valley, especially in Côte-Rôtie. There is very little in the literature in print or online (and that that is there is conflicting, even whether or not the first 'e' has an accent). Space prohibits a longer discussion here, but when this wine is released, perhaps as late as 2018, look for an update on this currently little known variety of Syrah. The other red will likely be a blend of Cabernet Sauvignon and Syrah. These grapes will come from another Luberon vineyard, likely from Michel Rocher's highly regarded Domaine Ad Fines in Menerbes (as the vignerons at MasLauris wait for their grapes to further mature). Red grapes are fermented and aged separately, part in oak and part in cement.
I hope to snag a few bottles of the 2015 red when I am back in the Luberon. In addition to the Domaine, it will be available at Les Caves du Château in Lourmarin, a couple of stores in Lauris, and in a few restaurants in Paris. Look for "Les Terres de MasLauris" on the label. (When all of the wines are produced from estate grapes, they will switch to a Domaine MasLauris label.) None in the United States yet although I have my fingers crossed for the near future.
Lampley and Théophile still live in Paris, with no plans to move south as both currently have professional careers that keep them content and tethered to the City of Light more than any place else. Théophile travels within Europe frequently for work and Lampley will begin seven-month European tour with "Gospel pour 100 Voix" (Gospel for 100 Voices). From home in Paris, though, the high-speed train—the Train à Grande Vitesse or TGV—takes just 3 hours to the Aix-en-Provence station and then 45 minutes by car to Lauris. They sold their Gordes vacation home, so their destination in the South of France is Lauris. Happily, if my last email from Lampley is any indication: "We are just getting back from another great weekend in Lauris!"
Notes:
Domaine MasLauris
Les Grès, FR-84360, Lauris
To arrange a visit, please call +33 (0) 6 79 80 03 35
To learn more about Margeaux Lampley as a jazz and gospel performer, as well as hear more of her recordings, and check out her concert dates, visit: http://www.margeauxlampley.com/en/ She is currently teaching children about jazz using Michael Jackson songs in a program called Jazz et Goutée (Jazz and Taste) in which children and their parents hear two short concerts with "snack" in between; for more information about these events (in Paris), visit: http://www.sunset-sunside.com/2016/10/artiste/2360/4106/ Lampley will release a new album devoted to Michael Jackson at the end of the year
Un grand merci to Bradbury Kuett for introducing me to Margeaux Lampley and Domaine MasLauris. Based part-time in the Luberon, he recently began writing a new blog: Une Vue de l'Esprit: Les Carnets du Route de Bradbury Kuett.