Vinisud 2017 Masterclass: Rosé Diversity in Ten Glasses
by Susan Manfull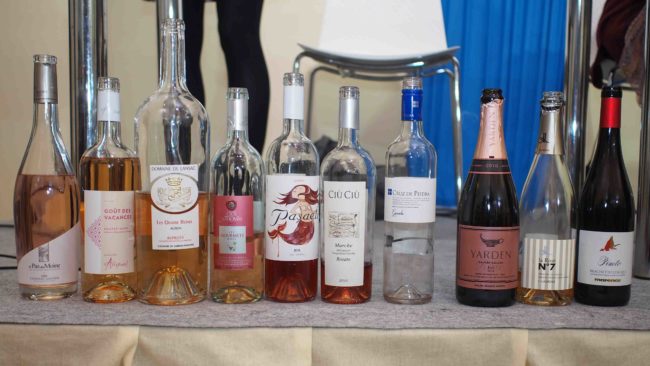 Abandon the notion that rosé is cheap and uncomplicated.
Anyone who still clings to this view would surely have shaken it had he or she attended the masterclass at Vinisud 2017 led by Sarah Abbott MW and Elizabeth Gabay MW. Entitled "The Many Different Styles of Mediterranean Rosé," the line-up of ten rosé wines that we tasted certainly embodied the spirit of this class.
"Lots of people who buy rosé from around the world think of it as a cheap uncomplicated drink," Gabay, who is writing a book about rosé, said at the beginning of the class. "This is what made rosé the success story that it is: You do not need to be somebody with a vast cellar aging rosé; you do not have to be somebody who can talk in a long complicated way about tannins and fruit and oak; and [you do not need to] create a mystique about rosé."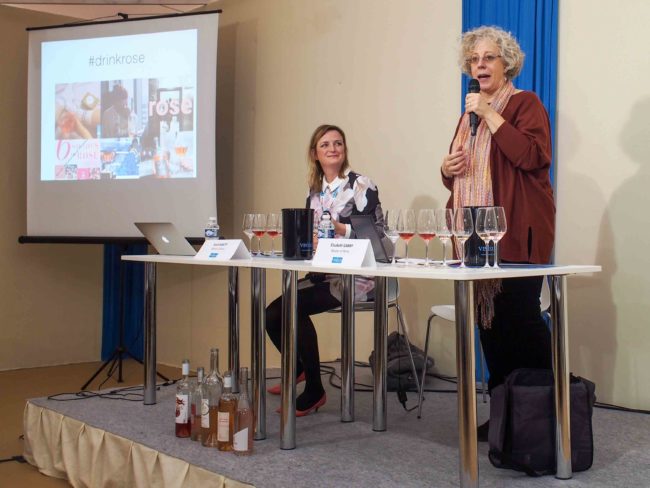 "Rosé appealed to a lot of consumers because it was simple, fresh, and fruity," Gabay continued. "But winemakers being winemakers," she mused, "Well, how many winemakers are happy to stay, year after year, making a wine that nobody wants to talk about?"
Certainly not the producers of the ten wines we tasted in this class. Made in countries as far-flung as Lebanon, Turkey, and Israel as well as in countries more traditionally associated with rosé like France, Spain, and Italy (aka rosado and rosato, respectively, in the latter two countries), these wines reflected a wide range of color, style, and appeal. And, there was lots to say about each wine.
The first wine, Le Pas de Moine (2016) from Château Gassier, was selected (in part, at least) because Gabay felt this rosé is typical of Provence. (I am curious to learn more about Gabay's opinion of this rosé's alleged typicity and look forward to catching up with her about this.) It was a very interesting choice, owing to its relatively high altitude (300 to 400 meters) allowing the vines to reap the benefits of cool temperature to encourage a balance of good acidity and ripe fruit and to its predominant limestone soil at the base of Mont Sainte-Victoire.
The second wine, Gout des Vacances (2015) from Domaine Allemand, was also an excellent choice to expand our palates about Provence rosé. This IGP wine from Hautes Alpes de Provence had even greater altitude than the first wine and its cépage was one I had never tasted. Made from Cabernet Franc and Mollard grapes, its hint of tannin and salinity made it intriguing. With the right food, I think I would find it more appealing.
Domaine Lanasc, in Tarascon at the western edge of Provence, produced the third wine, Cuvée Les 4 Reines (2015), an IGP Alpilles wine. This single varietal Aubun rosé–with a distinctly orange color—continued pushing the boundaries of my rosé experiences.
The fourth rosé, Les Gourmettes (2016) from Clos Saint Thomas in Lebanon, is a very pleasant Provence style blend of Syrah and Cinsault. Abbott pointed out, "The Lebanese wine industry was established under the French protectorate and this is why you see the preponderance of French [grape] varieties." Indeed, this rosé is, as she said, "…made with a nod to French style." In London, Abbott said that this is very popular in trendy Middle Eastern restaurants. Gabay observed that this wine seemed dryer than Provence rosés and encouraged us to compare this wine to the first wines; indeed, as she said, Provence rosés appear to have a "sweeter, riper fruit" (but not more sugar).
Ҫalkarasi (2016), produced by Domaine Pasaeli in Turkey, was in stark contrast to the earlier rosés, as it is quite dark. Ҫalkarasi is a grape indigenous to Turkey. Both Gabay and Abbott made clear that darker rosés suffer from a prejudice that they are sweeter and, therefore, are typically less appealing and even marked down in professional tastings solely on the basis of color. This producer makes two versions: a lighter one for export and a darker one for domestic consumption. It is dark and dry, and quite good.
The sixth wine, a rosato (from Italy), departed from all the other wines in this tasting as it was made using the often-maligned saignée method of "bleeding off" some juice (for rosé) from grapes that are slated for red wine production ("left-over red wine"). One of the common problems with this method (for quality rosé production) is that the grapes are picked (later) for red wine production and may lack the acidity necessary for a good rosé. However, Abbott pointed out that, with Ciu, Ciu rosato (2015), the cépage of Montepulciano and Sangiovese, it works. The fruit, flavor, and weight is preserved in the Montepulciano and the acidity remains in the Sangiovese, resulting in a very nice rosé. (According to Abbott, Sangiovese is one of the grapes the Rosé Research Center is studying to determine whether it would be a good match for the terroir of Provence.)
The seventh wine hails from what was described as a "hostile environment where few people want to live" as it is very cold in the winter and very hot in the summer. Made of Grenache grapes from 100-year-old vines grown at 1000 meters in elevation, the skin-contact is 24 hours resulting Cruz de Piedra Rosado (2016) is, like its predecessor, relatively dark pink. "A fluffy pink," said Gabay, acknowledging her own automatic response to the color. However, it is dry and very nice.
The next two wines were sparkling rosé wines. It should be noted that sparkling wines are a huge driver of growth for Mediterranean wines exports, with a 27% increase in growth from 2013 to 2015; the largest export market, the U.K. saw a 75% increase in the same period.
The eighth wine was a blend of Chardonnay and Pinot Noir called Yarden (2010) produced at Golan Heights Winery in Galilee, Israel which, interestingly, is adjacent to Clos Saint Thomas in Lebanon. This wine region, referred to as the Eastern Mediterranean, is not regulated by any appellation system so it is free to experiment with different grape varieties.
The ninth wine, La Rose N°7, comes from Domaine J. Laurens in the Western Mediterranean and is a Crémant de Limoux. It is a relatively new style, having achieved appellation status in 2007 that allowed them to make pink Crémant de Limoux. Limoux is the second biggest sparkling wine area after Champagne.
Provence is working on an appellation for sparkling rosé. Gabay said that the challenge for this region, renowned for its dry rosé, is to preserve its low sugar content and balanced acidity. The dosage added for the second fermentation has sugar in it. Watch for an article in PWZ on this subject.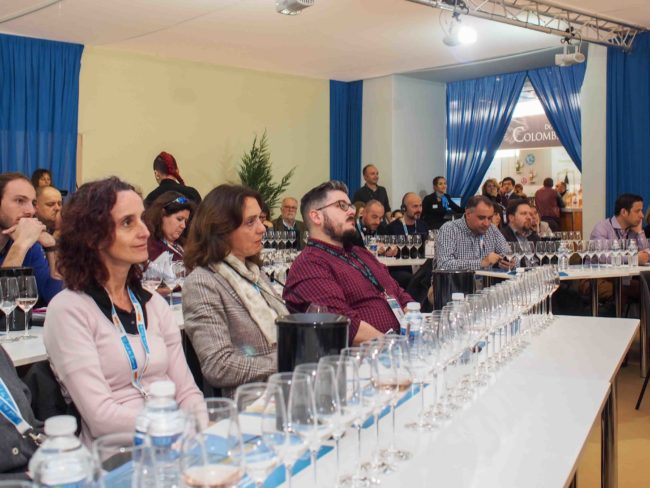 Our last wine before anyone slid under the table, was a sweet rosé wine from Piemont (not considered a Mediterranean wine, but Italy is a Mediterranean country). Pineto (2016) is made by a family producer, Domaine Marenco. It is sweet (125 grams/liter of sugar compared to the 4 grams/liter allowed in most Provence rosés) but, as Abbott said, it is balanced by a certain amount of acidity. "For a long time, this style was desperately unfashionable but is starting to come back," Abbott said.
Gabay concurred that a sweet rosé wine, like any good rosé, must be balanced. In the Pineto, she said that it has "combined the essential elements of rosé: acidity, red fruit, color and sort of sweet-sour flavor that comes through."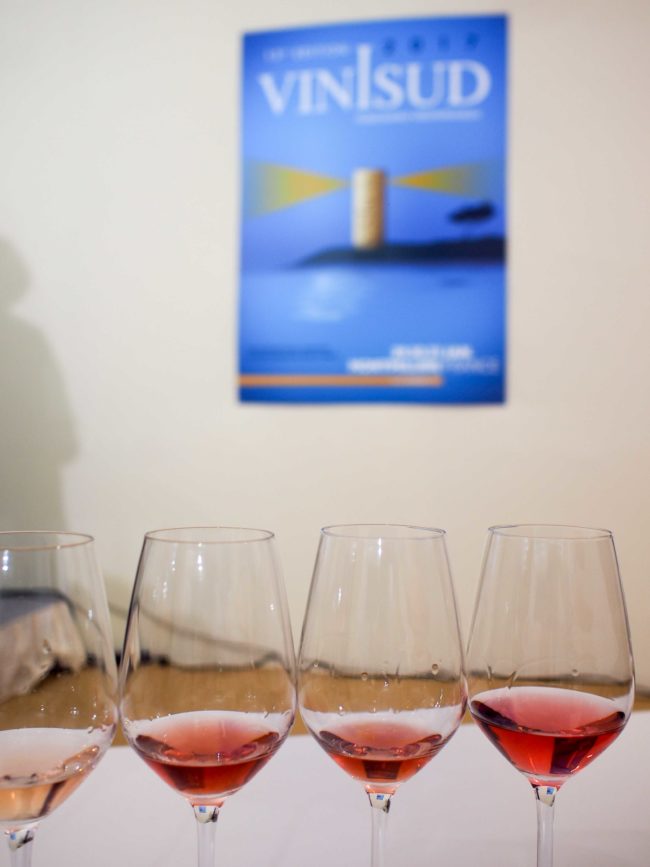 What a tour of the Mediterranean! The array of color, style, and appeal screams out that there is no such thing as "one" rosé, underscoring how ludicrous it is to list just a few rosés on a wine list, adjacent to long lists of reds and whites. One might even ask what defines rosé? What propelled the explosive growth in this category, driven primarily by Provence rosé? Abbott mentioned the role of social media in growing this market, but I think there are many intertwined factors that have driven this market. With such tremendous variety in this tasting of "Mediterranean" rosé, is it even valuable to think about Mediterranean wine as a category of rosé? Abbott said that her quick research suggested that "nobody is looking for Mediterranean wine." The men and women who make rosé should be happy: people are talking.
Notes:
Christy Canterbury MW (USA) who was scheduled to participate on the panel as well, was unable to fly out of New York's JFK airport due to demonstrations against President Trump's immigration orders
Data cited in this article came from material provided by Vinisud. "Wine Intelligence for Adhésion Group," published in November 2016, is one such document in which Wine Intelligence compiled data from various other research groups. "The Wine Consumption Trends of Millennials (21 – 35 year-olds) in 2016: New York City vs London" is a Vinisud study conducted by SOWINE/SSI. The source for data related to Provence rosé is CIVP.