THERE IS SOMETHING BUBBLING
AT CHÂTEAU DE BRIGUE
by Susan Manfull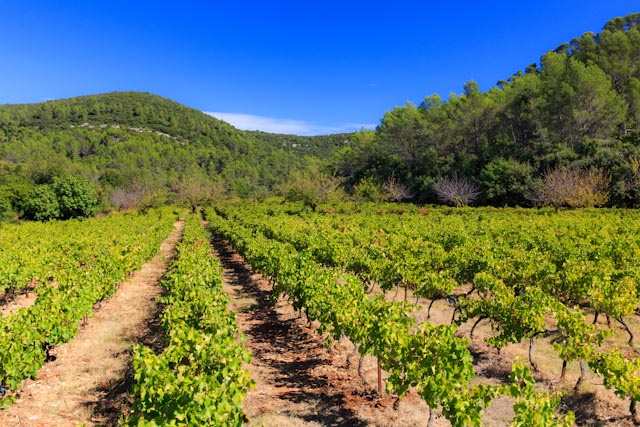 Château de Brigue is one of largest domaines owned by a single family in Provence. Located in the heart of rosé country, the family makes the wine in Le Luc en Provence and tends to 120 hectares (300 acres) of vineyards there and in three other villages spread along the Nationale 7 road. We caught up with Olivier Brun, one of four brothers who comprise the third generation of Bruns to carry on the tradition of wine making, at the vinification center in Le Luc.
I had met Olivier in Boston in the spring at the "Provence in the City" 2014 rosé tasting. There I tasted four rosés and was particularly struck with the Brigue Royal AOC Côtes de Provence 2012. Having heard that their rosé offerings also include an award-winning sparkling rosé (and extra-virgin olive oil), I wanted to visit this Château while in Provence this past June.
I have to confess that photographer Pamela O'Neill and I thought we had taken a wrong turn somewhere when we seemed to be heading to the center of town to find Château de Brigue. Where were the vineyards? Where were the 2000 olive trees?
"Out in the country," Olivier laughed, as apparently we were not the first visitors to feel discombobulated upon arrival!
In place of the vineyards and olive grove was a sprawling collection of buildings housing the tasting room and a large vinification center with the latest technology to monitor the wine making process from the harvest through the bottling and to continue to develop new products (like the new cuvée, Blanc demi-doux Elixir de Brigue, just released this year).
Château de Brigue came to life in 1970 when Olivier's grandfather, Roger Brun, purchased vineyards in Le Luc en Provence—where they had graced the property for over 200 years—and later in Le Cannet des Maures and Cabasse. Olivier's father Fernand Brun, an agricultural engineer, took over the family business in 1986. According to Olivier, his father had experimented with terroir and vines and was instrumental in matching grape varietals with the four different parcels of their land (considering soil, sun, and microclimate) to maximize each grape's potential. Fernand and his wife, Martine, bought the vineyards in Gonfaron in the 1980s. In 2000, the brothers—Jean-Michel, Frédéric, Christian and Olivier—took the reins.
Over the years, there has been a significant shift in the proportion of red, white, and rosé production. Olivier explained that when his grandfather sat at the helm, production was predominately red (90%) with the remaining 10% being white. When his parents oversaw the Château, production was about fifty-fifty with just a little rosé. Today, with Olivier and his three brothers in charge, 90% of production is rosé with the remaining 10% divided between red and white.
According to my count, the domaine currently produces six still rosés (four of which are AOC Côtes de Provence under the Château de Brigue label and two of which are Vin de Pays under the Domaine de Brigue label) and one sparkling rosé. Pam and I wanted to try the sparkling rosé!
Anyone who is reading this post undoubtedly knows that Provence rosé, the "gold standard" of the world's dry rosés, has seen astronomical growth in popularity—between 2001 and 2012, exports of Provence rosés to all countries rosé 130%. In 2013, exports of Provence rosés to the U.S., alone, grew 40%.
Now, sparkling rosés from Provence are getting some traction. We are told they are popping up in trendy clubs along the Côtes d'Azur and that there is growing interest in creating a new "appellation" for sparkling rosé in Côtes de Provence. Olivier first told us about this movement and expressed great excitement about the possibility (sentiments that were also echoed by proprietors of other Châteaux we visited).
"Everyone is interested," said Olivier, "but we need [to increase] the volume, quality, and market" to move forward. He added that they must also solidify the group of winemakers who want to do it because, as PWZ's The Wine Snoop Report made clear, the process entails "a lot of paperwork."
"It's not new in Provence—my grandfather made it," added Olivier. "We do not use the 'Méthode Champenoise,'" Olivier explained. "Instead of adding sugar [for the second fermentation], reserved [previously frozen] grape juice is added." It is a much more natural process.
It would be called something like "Côtes de Provence, Méthode Traditionnelle." Right now, it is forbidden to put "Provence" on the bottle.
Bulles de Brigue, the sparkling rosé from Château de Brigue, was introduced in 2009 and, in 2010, it garnered at Silver Medal at the Effervescent du Monde competition, an international contest of the best sparkling wines.
The cuvée we tasted was a blend of Mourvèdre (60%), Cabernet Sauvignon (30%) and Syrah (10%) and aged for nine months. The color was a pretty pinkish salmon. The bubbles are tiny but seemingly everywhere! Delicate in its mouthfeel, it is fruit forward with red berry and citrus in the mouth, and a decent finish that brought to mind strawberries. (Sorry that I didn't record anything about its nose…probably too busy attending to the bubbles and pretty color to take any more notes!).
It was a real pleasure (and if it hadn't been so early, I would have accepted the offer of another taste!). Unfortunately, only 2500 bottles were filled and none were shipped to the U.S. It's worth a stop in their tasting room to try some.
We topped off our visit with a taste of extra-virgin olive oil, which was exceptionally fruity and flavorful. Olivier recommended a pairing that we would never have thought of. But being overwhelmed with curiosity, we went right back to our apartment in Lourmarin and tried it. It was an exquisite match that I will share with you in next week's The Modern Trobadors post. (You'll never guess what it is!)
In talking to Olivier and his father, it was readily apparent that Château de Brigue is a great source of pride for these two generations. With savoir faire passed on from earlier generations, the four brothers have introduced more modern technology leading to an increasing impressive line-up of rosé, red and white wines, including the sparkling rosé we tasted and the semi-sweet white I will write about in a later PWZ post.
Being a Vigneron Indépendant de France is also something that Olivier was particularly proud of. According to him, there are only 490 independent vintners in Provence. One of the main stipulations of membership is that only the vintner's grapes can be used for wine making. Knowing that only the grapes from his vineyards, tended to by his father and grandfather since 1970, are in the bottles that are filled at Château de Brigue is immensely gratifying for Olivier.
---
NOTES:
Address:
Château de Brigue
2 Place Pasteur 83340
Le Luc, FRANCE
Tel:
00 33 (0)4 94 60 74 38
Email: info@chateaudebrigue.com
www.chateaudebrigue.com
Open hours:
Monday to Friday
8:00am to Noon and 2:00pm to 6:00pm
GPS Coordinates : N 43°23.550' E 6°18.723