INVITE SOME ROSÉS TO DINNER THIS HOLIDAY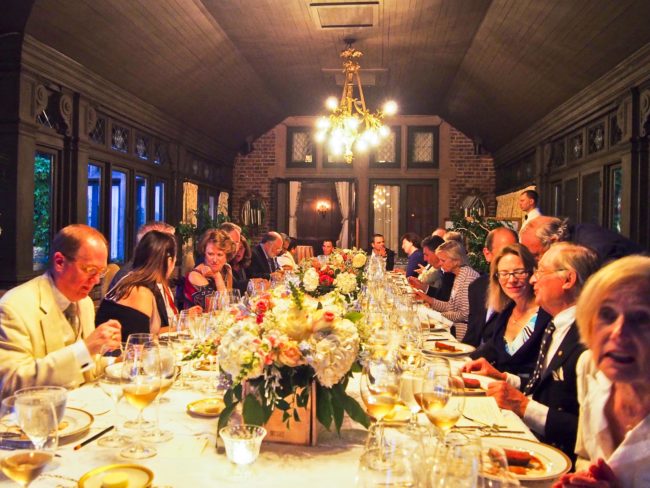 Last May, I had the great pleasure of attending the biannual "Tasting Supper" at Blantyre, the luxurious Tudor-style manor tucked into 117 forested acres of the Berkshires, in Lenox, Massachusetts. Part of the posh Relais & Châteaux collection of luxury properties, it's not surprising that our seven-course meal was exquisite in every way. (Proprietor Ann Fitzpatrick Brown would not have it any other way.) It is etched into my memory for the beautifully prepared and served plates, the scintillating tastes inherent in every single bite, and the perfectly paired wines—all of which were rosés from Sacha Lichine's Château d'Esclans in Provence.
All rosés? Yes, dear readers, all rosés: a different cuvée or vintage of Château d'Esclans' rosé accompanied each course of Executive Chef Arnaud Cotar's gastronomic meal (except for the final dessert and cheese course). And, the experience was dazzling.
Of course, these were not just any rosés. Part of what might be called "prestige" or "ultra-premium" rosés, an emerging category distinctly different from other pink wines, they are inspired and meticulously-crafted dry rosés from Provence. They are finely structured rosés, more savory than fruity, with enough acidity to balance their fruit, enough substance to balance their freshness. They are able to stand up to the haute-cuisine previously reserved for reds and whites.
Rosés like those found in Lichine's renowned portfolio—as well as those of other relatively new players like Château Leoube, Château Saint-Maur Cru Classé, Château Sainte Marguerite, Château Sainte Roseline Cru Classé, Château Coussin, and Rhone's Chêne Bleu—have joined the ranks of a tiny group of highly regarded estates such as Domaines Ott, Domaine Tempier, Château Pibarnon, Château Simone that have long produced exceptional rosés.
Prestige rosés have changed the way we look at this color of wine. Once relegated to pool-sides, cafés, and summer, these wines have made it to white-linen covered tables laden with silver—as we found this spring at Blantyre—and, now, to our holiday tables this winter.
I harken back to that unforgettable supper now, in the December, because it is the inspiration for our New Year's Eve dinner. I want to capture the festivity of that evening as we wrap up the old year and ring in the new one. I've never had a holiday dinner in which rosé flowed throughout all the courses. But, why not?
In the decade or so since the Tasting Suppers at Blantyre began, a still rosé had never graced the table. This is an award-winning restaurant with a cellar, replete with 12,000 bottles of wine, that continues to be awarded the prestigious Wine Spectator Grand Award (as it was again this year). Christelle Cotar, Wine Director, and Luc Chevalier, Sommelier, oversee everything having to do with wine at Blantyre.
This is a scene where old vintages of Paul Pontallier's Château Margaux are more likely to be dusted off for the suppers, or little gems like a 2004 Chevalier-Montrachet Grand Cru made under the watchful eye of Pierre Morey at Domaine Leflaive might be opened, or four bottles of Axel Heinz's famously rare Super Tuscan Masseto—2008, 2003, 2002, and 1997—could be popped open to wow the guests, or perhaps some (by comparison, ordinary but excellent) Oregon Pinot Noir made by Michael Etzel at Beaux Frères. The occasional pink champagne has been poured, such as in 2008 when a Krug Rosé made the table in a flight with an extraordinary 1995 "Clos d'Ambonnay" Blanc de Noirs. No still rosés, though, not even the most expensive still rosé in the world.
Peter Holt, who, beginning in the mid-1970s, was the Sommelier and Wine Director for Anthony's Pier Four in Boston (when it was in its heyday), was brought in as a wine consultant, especially for the Tasting Suppers, shortly after they began. He was at the helm at Anthony's when a young Boston University student named Sacha Lichine, known only as the son of Alexis Lichine (aka the "Pope of Wine"), joined the staff in the 1980s.
"Back then, nobody would have ever dreamed that rosé would be served at a gastronomic meal," Holt told me. "Unheard of," he added. Lichine, whose father owned Château Prieuré-Lichine in Bordeaux, would no doubt concur. (I didn't ask him when we talked at the supper.) But, that was all before Lichine sold his father's Bordeaux property (in 1999) and headed to Provence "to try to make rosé into a 'real' wine," as he told the group that evening at Blantyre, That he did.
Since 2006, with the purchase of Château d'Esclans, Lichine has led the vanguard of the prestige rosés coming out of Provence. They cannot be squeezed into the typical rosé mold. They are categorically different. They are made from grapes that come from the best plots, the oldest vines, have lower yields, and are fastidiously selected and handled; the cuvée is always small; and the vinification is much more diligently accomplished, often including elaborate cooling systems, malolactic fermentation, oak-aging, bâtonnage, and other procedures not normally associated with rosé winemaking. There is not a race to release these rosés by the first spring after bottling and they may in fact be released close to a year later. They may benefit from aging, a rarity in rosé wine.
Whispering Angel (2014), the entry level rosé that is considered "the most popular rosé" in the US, kicked off the supper that evening at Blantyre. An array of canapés such as smoked blue fish blini with American caviar, rabbit rillettes served on toast, crab and citrus tarts, and gougères were passed as we chatted. The rosé flowed from double magnums, encouraging us to forget that we'd just come in from a cold, grey, and damp afternoon. As I have written in many earlier posts, Whispering Angel is one of my go-to rosés—always a treat, but particularly so when served from large format bottles. It is a blend of Grenache, Rolle, Cinsault, Syrah, and Tibouren.
In ascending order, the next three rosés are made from estate grapes: Rock Angel, Les Clans, and Garrus. Although there are many factors that have driven the prestige rosé market (read this PWZ article for a summary of this subject), Les Clans and Garrus—particularly the latter, considered the most expensive rosé in the world—are surely primarily responsible because they raised the bar and proved the demand was there.
Rock Angel (2014), formerly called Château d'Esclans, is among my very favorites. A crisp, refreshing, flavorful, and complex blend of Grenache, Rolle, and a wee bit of Tibouren, it costs a little more than entry-level Whispering Angel but packs many more layers of taste into the bottle. Although aged, in part, in oak, it is distinctly different from the more esteemed cuvées, Les Clans and Garrus, which are made from Grenache (80%) and Rolle (20%) and totally aged in oak for 10 to 12 months. Les Clans and Garrus are divine rosés, both of which I have discussed at length in earlier posts (e.g., read this PWZ article). We tasted the 2012 and 2013 vintages (the 2014s were still aging). All were double magnums.
These prestige rosés have the substance, structure, and acidity to stand up to the powerful flavors inherent in some of the foods served at the Tasting Supper and yet they do not overwhelm the more subtle flavors found in some of the plates at the supper. Such rosés have the flexibility to accompany a diverse array of dishes.
The red wines that would have traditionally accompanied the last two plates might have been too heavy for the overall effect desired by the chef in this tasting menu. Chef Cotar told me that he strives for "local, seasonal, and simple" and for diners to be able to "taste all the different flavors." With these goals in mind and a varied array of tasting plates, prestige rosés seem the perfect choice.

Dessert, cheese, and lively discussion after the supper. Photos by W.T. Manfull
I caught up with Executive Chef Arnaud Cotar after the event and, although he probably would have preferred to collapse in the privacy of his own home, he agreed to talk with me. What a treat to chat with the man behind the fabulous culinary creations we had just enjoyed. Born in France "in the kitchen sink," Cotar told me that he grew up in the restaurant business, alongside his parents. As early as seven years old, he was working with his father, honing his culinary skills. His formal culinary training began in Tours, France and later included work in several Relais & Châteaux properties in France and England before coming to Blantyre in 2000 as Sous Chef to Chef Christopher Brooks (who, in 2009, was promoted to Grand Chef status from Relais et Châteaux and, now after a brief absence, is back as Blantyre's General Manager). In 2011, when Brooks departed, Cotar was promoted to Executive Chef. Chef Cotar's food, as intimated above, was some of the best I have ever had.
Chef Cotar works alongside his wife, Christelle Cotar, the Wine Director. She also has worked at Blantyre for fifteen years. They have two young children.
It was a magical evening, the 2015 Tasting Supper at Blantyre. The ambience, the food, the rosé wines were in perfect harmony. Even the most skeptical folks around the table agreed that the singular pink-colored palette of wine was a significant part of the sensational ensemble. In the last decade, a few Provence rosés have earned their place in haute-cuisine. In 2015, more than any other time, they are popping up on tables around the US long past Labor Day. They are simply too good to limit to summer. Invite some rosés to dinner this winter. You'll be thrilled you did.
Notes:
If only we had some sparkling from Provence. Over 60 winemakers and co-ops make sparkling rosé, but, generally, in quantities too limited to leave France. Château de Brigue, in Le Luc, produces a sparkling rosé called Bulles de Brigue and Château Léoube, in Bormes-les-Mimosas, produces one called Sparkling de Léoube. I have thoroughly enjoyed both…but that's another PWZ story.
Blantyre

(413) 637-3556
(844) 881-0104