DOMAINE RICHEAUME: TAKING THE ROAD LESS TRAVELED
by Susan Manfull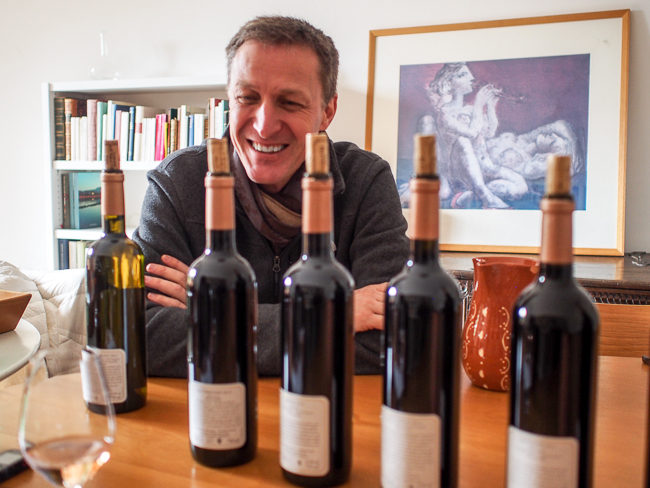 Sylvain Hoesch was not going to be a winemaker. "No," he answered, rather emphatically for a man who seemed to have such a quiet demeanor. "I was sure I was going to do something else."
Hoesch grew up on Domaine Richeaume, the 65-hectare (160-acre) estate his parents bought in 1972 when Hoesch's father Henning decided to abandon his canon law professorship at Yale to pursue his dream of living a life centered on "old agricultural methods." Or, so the story goes. Once the couple laid eyes on this property, I imagine it was not difficult to pack up and move to Provence.
Located at the base of Mont Sainte Victoire, in the heart of Cezanne's Provence, young Hoesch's playground was a stunning setting of vines and garrigue-covered red hills, dotted with trees, that stretch right into the most famous mountain in the region. It took my breath away as we drove onto the property along a tiny road, lined on one side with olive trees and the other with cypress trees that seemed to touch the silver-colored winter sky. There, the countryside undoubtedly instilled a love of nature in Hoesch that he was later unable to shake.
When Hoesch finished college, he was convinced he did not want to follow in his father's footsteps which, by then, led directly to the family's successful winemaking business. He wanted to pursue law instead. However, upon completion of law school at age 26, he felt pulled by the desire to be outside, in the countryside, and took what he refers to as a "small course in winemaking." For his internship, he headed to internationally-acclaimed Ridge Winery, tucked into the Santa Cruz Mountains in California, and he discovered his calling was, in fact, where his life began: in the vineyard. After a stint at Penfolds in Australia as well, Hoesch returned home to Domaine Richeaume to work with his father. He never practiced law.
Meanwhile, the elder Hoesch, imbued with belief that "nature is the best economic manager," adopted a holistic approach to farming that included organic and sustainable viticulture and natural wine production. Although he first needed to learn the mechanics of how to make the wine (from obliging neighbors), he was quickly recognized as a pioneer in "ecological farming" and a talented vigneron. By 1978, he had built a modern vinification center with gravity-fed transport of grapes and low-energy producing methods that would eventually include electricity created by solar cells and temperature control regulated by a rooftop tank filled with water from the property.
Regionally popular varieties (e.g., Grenache) dominated Domaine Richeaume when the Hoeschs purchased the estate. The senior Hoesch added vines traditionally grown in Bordeaux—he was one of the first to plant Cabernet Sauvignon in Provence—and vines closely associated with the Rhône Valley (e.g., Syrah), suggesting the Hoesch family had always had an affinity for full-bodied red wines. Like most producers up through the 1980s in Provence, the estate production consisted of 40% to 50% red, followed by rosé, and then white wines.
The younger Hoesch returned from Ridge around 1997 when, as he put it, "They [the regional leadership] had 'decided' that Provence would be rosé." Indeed, the seeds for the explosive growth of Provence rosé had been planted. Two years later, in 1999, The Rosé Research Center in nearby Vidauban was created and, in 2002, the Conseil Interprofessionnel des Vins de Provence (CIVP) was founded. Sacha Lichine purchased Château d'Esclans in 2006, Whispering Angel was released shortly after that, and the Provence wine industry was indelibly altered from Henning Hoesch's arrival.
Sylvain Hoesch took the reins from his father when he returned from Ridge. His experience at the highly respected California winery seemed to have had a profound impact on the young man who had planned to be a lawyer. "It really opened my eyes," he said.
The Hoeschs, in contrast to the rest of Provence, began to focus almost exclusively on red wine. They continued to make small batches of white but did not make a rosé cuvée until just recently. Ridge does not have a rosé wine in its portfolio (although a rosé is made on occasion but not sold off premises).
"I was never a fan of rosé," Hoesch told me of his personal palate. "It's a wine, but not a great one, in [any] artistic way."
That said, Hoesch's (2015) rosé is exquisite, a blend of 71% Grenache and 29% Syrah (25 hl/ha), aged for eight months in stainless steel tanks and briefly in new oak. Its excellence notwithstanding, red dominates production (and once we tasted the reds, we understood why).
Ridge is known for their terroir-driven wines, a characteristic that, even with ambient yeasts, applies more readily to red than rosé wine due primarily to the minimal skin contact time entailed in rosé winemaking. Hoesch brought this terroir-driven focus home and strives to produce wines that reflect the terroir of the overall domaine but also the individual plots within the property.
Over the years, Hoesch has identified about 30 different blocks of vines on the property, each determined by grape variety as well as terroir-related factors, particularly soil. Each of these blocks is harvested separately, fermented in tanks separately, and aged in barrels separately. Hoesch uses new and used barrels typically from four coopers—François Freres, Taransaud, Boutes, Nadalié—and, as of this year, has begun to use stainless steel tanks, too, to ensure a good balance of the purity of the wine and the oak. More recently, Hoesch has begun experimenting with using larger barrels for Grenache and smaller barrels for Syrah, Merlot, and Cabernet Sauvignon. Wines stay in these barrels between 14 and 24 months with the goal of "integrating the oak into the wine" (rather than "the wine integrated into the oak.") There are no rules, Hoesch said, as they are still experimenting.
"Only at the end do we decide what to blend and sometimes we do pure wine out of one block," Hoesch said. "It is better because for each block, you can ferment exactly as you want for the wine," he said, adding that he changes every year.
It should be clear to even the most casual reader that Hoesch is a detail-oriented winemaker—exceptional winemakers usually are—who knows exactly what he wants his wines to be (when they are bottled and 20 years hence). When the contrast between his vision for Richeaume wines and what he was legally able to do within the Côtes de Provence appellation system became too great, Hoesch resigned from the appellation in favor of a "second tier" classification–subject to fewer regulations–called Indication Geographique Protégée (IGP).
Formerly called Vin de Pays (VDP), these wines vary significantly in quality; however, there is a growing trend in France among top winemakers to opt for this classification because, like Hoesch, these winemakers prefer the creativity afforded by less rigid regulation. Perhaps Hoesch's winemaking experience at Ridge underscored how much more freedom winemakers in the U.S. have in crafting their wines (e.g., sourcing grapes, which varieties of grapes may be used and in what percentage, and methods of production) and he saw what the potential could be at Domaine Richeaume.
Hoesch incorporated Ridge's inclusion of the cépage on his labels which is atypical in France where the appellation is thought to be sufficient. "Why my colleagues don't do this, I don't know," Hoesch said, shrugging his shoulders. Many consumers, including myself, wish they would!
For Domaine Richeaume, "quality before quantity" is a core principle. To that end, the typical yields are as low as 20 hl/ha (through meticulous green harvesting) compared to the 55 hl/ha allowed in the Côtes de Provence appellation. The annual production is around 60,000 bottles for the 29 hectares of vines: red wine comprises 90% of production and white wine is around 10% unless rosé is made which would account for about 3% (cutting into the white wine numbers).
The domaine's proximity to Mont Sainte Victoire offers some respite from the famously fierce Mistral wind, while the vines can still benefit from its drying effects (reducing the possibility of infestations taking hold). The Sainte-Baume Mountains to the south offer protection from the sea, further contributing to the area's continental microclimate. Clay and limestone compose the soil which acquires its gorgeous red hue from significant levels of iron oxide.
Finally, Domaine Richeaume is an organic vineyard—since its purchase by the Hoesch family over 40 years ago—and it is the beneficiary of sustainable agriculture. (The flock of 100 sheep are a testament to his commitment to this approach.) And that good spirit doesn't stop at the cellar door: the sustainability philosophy continues inside and the wine is made with minimal intervention. In addition, in a recent conversation with Hoesch, he told me that he is leaning more and more toward a biodynamic approach to both viti- and viniculture (although, thus far, he stops short of the manure-stuffed cow horn burial). With the help of a biodynamic consultant named Pascal Lenzi, Hoesch is now following the biodynamic calendar as closely as he is able in both the vineyard and the cellar. I'll learn more when I see him again next week to taste the latest releases. (Notably, he asked me to come on a "Fruit" day!)
OUR TASTING (February 2017)
Domaine Richeaume Rosé (2015). Made from Grenache and Syrah, this rosé is a lovely pale salmon color that greets the taster with a pleasantly, refreshing fruit nose, especially reminiscent of citrus. I was struck by its round mouth (no doubt due to its brief time in new oak barrels after 8 months in stainless steel tanks), well-structured full body, and nice acidity. I would love to have this rosé with a bowl of bouillabaisse or platter of paella. (Organic, 13.9% alcohol, €15)
Columelle Blanc (2014). Inspired by the wines of Burgundy, this is a terrific white wine, half of which consists of Clairette and the rest fairly evenly divided among Sauvignon Blanc, Viognier, and Rolle, that will sweep you off your feet. Its wonderfully aromatic nose reminds me of fresh vanilla-infused pears with a dash of the essence of white flowers. Its full mouth belies in its 12 months in oak. The finish comes all too soon but actually is long and quite inviting. (Organic, 14.10% alcohol, €35)
Tradition Rouge (2014). A remarkable mélange of grape varieties—about a third Syrah, a quarter Merlot, a fifth Cabernet Sauvignon, some Grenache, and a dash of Tempranillo—from old vines are aged in oak about 16 months to create an aromatic nose of mature black fruit with a little spiciness. On the palate there is freshness coupled with minerality, a dash of tobacco, and black fruit that carries through to the lingering finish. The tannins are clearly present but tame, the structure and balance are apparent, and layers of flavor are revealed as one continues to enjoy this wine. Hoesch suggests this wine can benefit from aging for as much as 20 years. (Organic, 14.5% alcohol, €20)
Grenache (2014). When it's this good, why add another grape variety? This immensely elegant single-variety Grenache from old vines is a powerhouse of red fruit beginning with its aromatic nose seguing onto the palate where black pepper and spiciness join the party until a lovely finish wrap up the fun. Seldom is Grenache as responsive to a winemaker's hand. The balance of perfectly ripened fruit and acidity is exactly right. (Organic, 14.5%, €25)
Syrah (2014). This is a blend of different blocks of Syrah, creating a cuvée that demonstrates the heights to which Syrah can soar in Provence, a region where Syrah is easily over ripened. The finish is remarkable. I really liked this wine (which probably explains the brevity of my notes!). (Organic, 13.5% alcohol, €40)
Columelle Rouge (2014) Syrah dominates this cuvée with Cabernet Sauvignon (42%) and a dash of Merlot (4%). Reminescent of a Bordeaux blend, this wine is well-structured with intriguing complexity and very pleasant tannins. Rich dark spicy fruit on the nose, a little dark chocolate joining the dark fruit on the palate, and a finish one hopes will not end quickly. Hoesch feels this wine, still young, will come into its own in a few more years. (Organic, 14.08 % alcohol, €40)
Terrasses Rouge (2012). Named for the terraces on which the vines grow, this is a single varietal Syrah from one block of vines. Ripened perfectly, aged for 24 months in new oak and one year in tanks, this is a wine that transcends what I thought was possible with Syrah in Provence. Often jammy to my palate, the fruit in this dark cuvée is perfectly balanced with acidity, and highlighted with subtle notes of pepper, dark chocolate, and rich, mature red fruits, making this Syrah a stand-out among its peers. (Organic, 14.5% alcohol, €60)
Although Domaine Richeaume wines have graced the shelves of stores in the U.S. in the past, don't look for them right now. However, I remain confident that importers will soon see the wisdom of bringing more Provence red wines into our country along with their orders of rosé. Currently, Germany is the domaine's largest market, with strong interest from Italy, and Spain. Japan and Canada (Alberta and British Columbia) are also good markets. With rosé dominating the export market as well as the attention of those marketing wines from Provence, Hoesch says it is hard to garner interest in red wine too, sentiments shared by other winemakers (of red wine) from Provence. There are many winemakers in Provence who are passionate about their reds even though their production centers on rosé.
The consumption of rosé has recently fallen slightly in France although the production continues to increase, a situation that is sustainable only if the export market continues to demand so much pink wine. Other countries continue to jump on the rosé bandwagon which may eventually steal some of Provence's market share. Hoesch is hoping that rosé may have piqued the export market's interest in wines of other colors from Provence.
Hoesch is excited about the 2017 vintage. In a recent telephone conversation, he described 2017 as other winemakers in Provence have: hot, dry, and challenging. Nonetheless, he said it was thanks to exceptionally talented vignerons in the cellar that the harvest looks very promising. Interestingly, the renegade winemaker was especially excited about the latest rosé; it will be bottled in February but I will get a sneak peak next week. As much as I love rosé, though, it is the reds and whites I am really excited to try.
Notes:
Domaine Richeaume en Provence