Provençal Pairings: Wine with Food
Deception
by David Scott Allen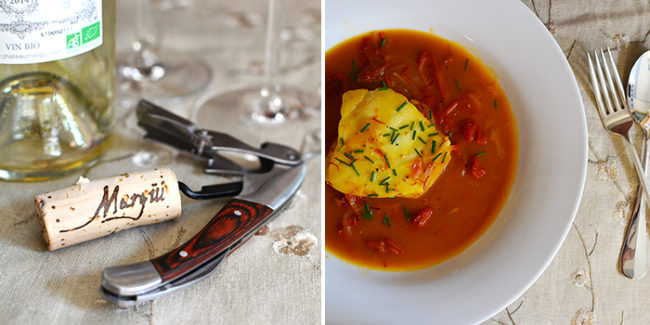 Winery: Château Margüi
Cuvée: L'Or des Pierres
Appellation: Côteaux Varois en Provence
Type: White
Vintage: 2014
Grape Varieties: 90% Rolle (Vermentino), 10% Ugni Blanc
Alcohol content: 13.5%
Average Retail Price: $20
Susan brought back this bottle for me from her most recent trip to Provence. A little something to thank me for being a part of the Provence WineZine family. Honestly, I am so lucky to be part of this endeavor, as I am constantly learning about wines, pairings, and my own palate.
The sad news (or good news, depending on how you look at it) is that it is hard to find in the U.S. (not impossible, though), so you will probably need to go to France to get yourself a bottle of this wine. You're welcome.
I approached this wine pairing with some trepidation. I was looking for a wine to pair with my Sea Bass Poached in Saffron-Tomato Broth. Bold, complex flavors in this dish begged a bold, complex wine. Susan said she felt the L'Or des Pierres would be a good match for the flavors I described, and my online research confirmed this.
However, when I looked at the wine, its color was so light that I could not imagine it would have the body to hold up to the saffron, tomatoes, and shrimp broth.
As much as I have learned, in my two years of writing this column, that a beautiful label can herald a beautiful wine, I have also learned that appearances can be deceiving. And deceiving this wine is!
The color is that of flax – I am reminded of Debussy's La Fille Aux Cheveux De Lin (Girl With The Flaxen Hair). It looks like a Sauvignon Blanc that has been cut 50% with water. But it is less on the green side, and more on the golden – golden like the stones for which it is named. Oh, is it beautiful in a glass! It almost seems to glow.
With pear on the nose and also in the first taste, it gets more complex with each sip. Honey and citrus – grapefruit – come forward, and the velvety texture of the soup accentuates the mineral mouth feel of this cunning wine. It has a beautiful balance of acidity, fruit, honey and flintiness. It is just what I sought – bold and complex, and perfect for this dish.
I saved some of the wine (we call that self control) and enjoyed it with a mushroom risotto – also a nice pairing. This is a great seafood wine, but can also be served with chicken and duck, and with cheese and fruits.