Whispering Angel Flows at Yellowstone Park Foundation Young Patrons Event in New York City
by Susan Manfull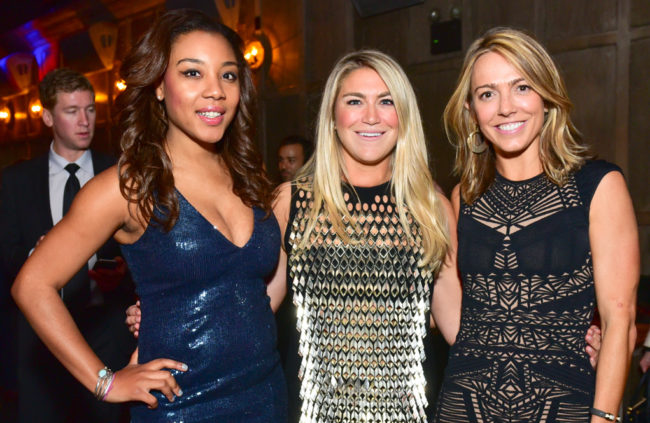 Château d'Esclans' Whispering Angel flowed freely Thursday evening at Avenue, the posh Manhattan nighttime venue frequented by the likes of Leonardo DiCaprio, Rihanna, and Cuba Gooding, Jr. Over 300 of New York City's young movers and shakers gathered to raise funds in support of the Yellowstone Park Foundation (YPF).
The Young Patrons, a relatively new segment of YPF—composed of 20 philanthropists, ranging in age from 21 to 40—hosted this second annual event to benefit initiatives that "protect, preserve, and enhance the natural and cultural resources and the visitor experience" of the nation's first national park. A similar event was held in San Francisco in May.
Arielle Patrick, one of three hosts for the New York fundraiser—along with Jackie Rooney and Alice Ryan— explained that the impetus for launching Young Patrons was to combine the fundraising tools of the younger generation with those of older generations. According to Patrick, Young Patrons is the "brain child" of Rooney who recognized the critical need to engage millennials, and that different and non-traditional channels must be employed to reach them.
According to the millennials I interviewed, a chic venue such as Avenue (as well as Happy Ending where the after-party took place) was part of the draw. Whispering Angel rosé, the perennial favorite of millennials was one of the marquee sponsors of this event. Easily the most popular rosé in the United States—with three times more of the U.S. market share than any other rosé—it was a real crowd-pleaser, from what sources tell me.
As Provence WineZine readers know, Whispering Angel hails from Provence, where nearly 90% of the Appellation d'Origine Protégée (AOP) wines produced in that French region are rosés. Dry and pale, Provence rosés are considered the gold standard by which the rest of the world compares their own rosés. Whispering Angel is the entry level rosé in Sacha Lichine's famous portfolio of four rosés from his winery, Château d'Esclans. The rosés range in price from around $20 for Whispering Angel to $100 for a bottle of Garrus.
The New York metropolitan area is the largest rosé market in the U.S., accounting for almost 20% of all rosé imported. New York City accounts for about 25% of Whispering Angel sales and is so popular in certain parts, it is referred to as "Hamptons' Gatorade." Millennials make up about half of the consumers of this iconic Provence rosé, according to Paul Chevalier, National Fine Wine Director for Shaw-Ross, Château d'Esclans' importer.
So, it is not surprising that the rosé bar—where only Whispering Angel was poured—was packed with not only rosé fans, but also with those who don't typically gravitate to this color wine, especially after Labor Day. "I think everyone was happy that Whispering Angel was flowing in mass quantities," said one guest, Matt Kann. "It's one of my favorites, so that made the evening."
The rosé bar was tucked into a inviting nook upstairs. A wood-paneled room, adorned with antiqued brass fixtures and segmented by the occasional distressed leather couch, it was both intimate and lively and one of the few places in New York City's labyrinth of clubs where actual conversation can take place. Guests had to be directed to it, adding to the novelty and allure of it, noted several people. "It felt exclusive, which made it fun," Kann said, chuckling a bit.
In addition to contributing the Whispering Angel, Château d'Esclans also donated a two-night and three-day stay in the Château, located in La Motte, just north of Saint-Tropez in Provence. The winning bidder and a guest are invited to stay in the Château's luxurious Guest House during the 2017 harvest in mid-September. Having visited the Château myself in the midst of the harvest, I can confirm that guests will be in the thick of the most exciting season in the life of a winemaker.
In a recent conversation with Tom Schreckinger, Communications Director with Château d'Esclans, he said that he and the Château d'Esclans team are excited to host the winning bidders of a philanthropic cause such as Yellowstone and that he is particularly pleased that the winning bidder comes from an event set in New York, where he grew up and later worked (on Madison Avenue) for many years.
The stay at Château d'Esclans racked up the most money in the silent auction, "by a few thousand more than the other [items]" Arielle Patrick told me. Attendance exceeded the goals of the host committee and, if preliminary figures remain accurate, the additional contributions and proceeds from the silent auction coupled with the generosity of the corporate sponsors, portend a very successful fundraiser.
Patrick, who was raised in a family in which philanthropy was always important and integral to being part of a community as well as part of growing one's career, told me that she measures the success of the charity events with which she has been involved in ways beyond the funds raised. "How do you measure success?" she mused aloud.
"For me, it's about engagement," Patrick said. "How do we get to the next generation?"
"Millennials are affluent but have diverse interests," Patrick told me and went on to explain that they are not [automatically] dedicated to a particular cause like older generations who may support a given charity year after year because that's what they or their families have traditionally done. "Millennials can be very cause-driven when they feel connected to a particular charity and one of the best ways to do that is through creative education about the cause," Patrick said. She feels that it is especially important to know that one's contributions can have an impact. Thus, her definition of the success of a fundraiser is multi-faceted, including but not based solely on funds raised.
"I hope to lay the foundation to secure a highly engaged group for the long-term. Lots of people gave me their business cards and asked 'How do I get involved?'" Patrick said, her excitement radiating from the telephone.
Host committee member Spencer Zakarin, echoing Patrick's sentiments, told me, "People like having a cause and like to give back." He described Yellowstone as a cause that is more "off the beaten path" of typical New York philanthropic events. With its ethos in nature, wildlife, and the outdoors, Zakarin wondered if the Yellowstone Park Foundation fostered more enthusiasm in the crowd. "When a cause is uplifting, it feels more appropriate to have a really good time," Zakarin said.
Another guest, Alex Taaffe, added, "Apart from having friends who were involved with this event, I attended because I am a huge supporter of the National Park system." Taaffe recently spent a vacation in another National Park, Yosemite, which no doubt added to his enthusiasm.
Whispering Angel, the quintessential light-hearted and fun rosé, undoubtedly contributed to the conviviality of the evening. As noted by several people I interviewed, drinking rosé by the pool or at the beach on a hot summer day is the typical scene one envisions when sipping this popular wine but they found themselves happily cozying up to the rosé bar.
"I thoroughly enjoyed drinking rosé that night—indoors, in the meatpacking district, in November," Taaffe said with a note of pleasant surprise.
As a year-round rosé drinker—as well as the Editor and Publisher of Provence WineZine—I am happy to hear of people continuing to push the boundaries of the outmoded rosé calendar still followed by most folks in the U.S. The Conseil Interprofessionnel des Vins de Provence (CIVP, known as the Provence Wine Counsel in the U.S.) as well as Chevalier and every winemaker I know, endeavor to spread the word that rosé has evolved into a serious category of wine, one that warrants consideration in January almost as much as it does in June and that the growing category of gastronomic rosés merits a chance to come to your dinner table.
In the meantime, let's toast to Yellowstone and to all our glorious National Parks as they celebrate the 100th birthday of National Park Service.
Notes:
For more information about Yellowstone Park Foundation Young Patrons, visit their Facebook page www.facebook.com/yellowstoneyp/. For more information about Yellowstone Park Foundation, visit their website: www.YPF.org.