CHÂTEAU PEYRASSOL: THE MARC OF SUCCESS
by Susan Manfull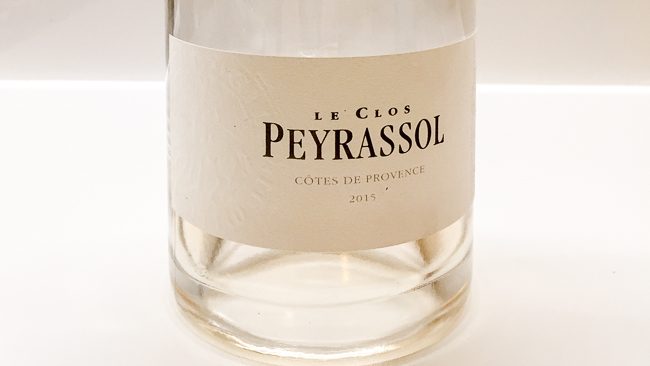 We had a blizzard last week. Winds were whipping across our house and, at times, it seemed through our early 18th-century home. The day-long storm dumped about a foot of snow by the time it was all over. Temperatures were way below freezing (hovering around 8°F/-13°C during the day) for several days before this historically late snow storm. Several inches of snow still blanket the ground but, as I write this post, the sky has evolved from various shades of grey into a baby blue with gorgeous pink and purple tinted clouds, the kind Maxfield Parrish might have painted in the last years of his life here in New Hampshire. It's not your traditional rosé weather (although I confess to opening more than a few bottles nonetheless…they chill well in the snow, requiring just a few minutes to reach the perfect temperature).
As we huddled around the table after dinner on several of these cold nights, one particular Provence domaine was on my mind and in many of our conversations: Commanderie de Peyrassol, a huge splendorous property that snuggles up to the Massif des Maures just outside the village of Flassans-sur-Issole, between Brignoles and Le Luc in the Var. Peyrassol is renowned for their classic rosés (though their reds and whites are also excellent). It was not their rosé, however, that was the subject of our discussions during this relentless spell of fierce winter weather: it was their marc fueling our talk and warming our souls.
Long time readers of Provence WineZine know I love a good marc. (By the way, marc is pronounced "mahr" and rhymes with car, especially as a Bostonian would say "car.") I wrote about marc de Provence from Cave Aureto and from Domaines Ott in an earlier article entitled, "Marc: A Spirit for People Who Like it Rough." Indeed, some marcs are so rough that many folks would relegate this pomace brandy to the moonshine category. Pas moi!
Eau de vie de marc (its full name) is distilled from what is left over after pressing the grapes used in wine production—the skins, pulp, seeds, and sometimes stems collectively called pomace—and then aged in oak barrels, as long as 10 years, giving the spirit its typically orange-ish caramel color. The most famous marcs hail from Burgundy, but I am pretty smitten with those from Provence.
Last summer, I visited the Commanderie de Peyrassol, also called Château Peyrassol, and met with Alban Cacaret, director daily operations at the domaine and the nephew of Philippe Austruy, owner of the property since 2001. On what was surely one of the hottest days of that blazing hot and dry summer, we had a great tour of the cave that culminated in a wonderful tasting in the wine shop located in one of the oldest remaining parts of the former Templar property. (Templar documents suggest wine has been made from vines on this land since the early 13th century.)
There, among many bottles of wine in a long line across a narrow shelf, stood a slightly taller, very thin stylish black bottle with a matte finish and an elegant label. The many different bottles (that were actually the subject of our discussion at that moment) reflect the large number of cuvées produced at Peyrassol as well as from the three other vineyards Austury owns (in Bordeaux; Tuscany, Italy; and Douro, Portugal). Amidst all the bottles vying for my attention, my eyes fell on one for which, from my distance, I could barely make out the letters on the lovely label. Moving closer, I saw the classic Garamond font that spelled out: Vieux Marc de Provence. Yep, I bought it.
Almost exclusively served as a digestif, marc is a delicious way to consummate a long dinner, following dessert or along with strong cheeses (like Époisses, a particularly potent cheese that spends the last days of its life awash in daily baths of marc de Bourgogne). Some people prefer it with their espresso…in the morning when it is referred to as a "corrected coffee." Personally, I draw the line at 2:00 a.m. and cork the bottle. Many people, after just a whiff, would never let it cross their lips and, if they do try it, look at me as if I've just tried to light their throats on fire. I feign disappointment that the marc is not to their liking but I am secretly pleased because I have a limited supply and Marc de Provence is not easy to come by in the States or, in fact, anywhere including its home where no more than two dozen wineries make it.
The Vieux Marc de Provence from Château Peyrassol is a beautiful amber color with an immensely fragrant nose evoking caramelized apples ("like a tarte tatin," my husband says) and subtle hints of tobacco. Its medium body is elegant, filling with the mouth with a buttery caramel taste that co-mingles with a mild smokiness. The very pleasant finish lingers, gradually fading away, leaving one reaching for the glass for the next sip. This marc was aged in barrels for at least three years, per regulation of "vieux" marc. The ABV is 40% (a few degrees less than the average ABV). Clearly, it is not a beverage for the faint of heart. (It goes for about €28.00/bottle in the tasting room.)
With Monday heralding the arrival of spring— the snow-covered ground here in New England and scattered array of marc glasses notwithstanding—I find myself thinking of the 2016 Château Peyrassol rosés that will soon find a place on my table. I am particularly curious because I visited Peyrassol during the harvest, met winemaker Wladimir Holobinka, and even had the pleasure of tasting tank samples of juice from freshly harvested Sauvignon blanc grapes just beginning to ferment in the tank.
The harvest began five days before I, accompanied by photographer Pamela O'Neill, visited Château Peyrassol on September 6 and it would continue, as it turned out, until October 12th, the longest harvest Cacaret and his uncle have ever had. "It was a little bit crazy," Cacaret told me in a recent telephone conversation, adding "it was very complicated but, if you wait and don't panic, it will be okay." He explained that, at one point, they had started the harvest but when the grapes were analyzed, the results revealed that they were not mature enough. "So we had to stop and wait and then we had to hurry," he laughed.
As I alluded above, 2016 was an especially difficult summer at Château Peyrassol (and in Provence, in general) due to high temperatures and minimal precipitation until September. Not even the nights cooled down, as they usually do, curtailing any machine harvesting that, in typical years would typically start around 3:00 a.m. (to help keep the grapes, especially for rosés, cool). Normally, early September nights dip down to 8° to 10° C/46° to 50° F, but when I visited, Cacaret told me that the previous night was 27.5°/82° F. According to Cacaret, 2016 yields might be "a little bit less" than the previous year but no significant differences. The oldest vines (with deeper root systems) fared best and the organic approaches to viticulture benefited all of the stressed vines. Cacaret assured me that the 2016 vintage will not be disappointing!
Under the best of circumstances, it is a long harvest, Cacaret explained when I was there, because the property consists of about 1000 hectares of land with 100 hectares devoted to vines (providing 13 different varieties of grapes). Underscoring the enormity of the property, Cacaret told me that the circumference of the property is 22 kilometers (almost 14 miles).
The average production at Château Peyrassol is 500,000 bottles per year with rosés accounting for 85% of those bottles, reds 10%, and whites 5%. All are AOP Côtes de Provence. About 100,000 bottles are imported to the U.S. by the highly regarded Rosenthal Wine Merchants, most of which are rosés, including Commanderie de Peyrassol and Château Peyrassol and, this year, a third rosé, Clos Peyrassol will be added to the portfolio. (I am particularly delighted to know I will be able to find the exceptional Le Clos in the States.)
Le Clos Peyrassol sits at the helm of the rosé category. Finesse comes to mind in describing this elegant and exceptionally pale pink rosé. According to my tasting notes (from the day we visited the estate as well as a chilly day in February when I opened another bottle), the 2015 is a blend of equal parts of Cinsault and Tibouren and a dash of Rolle, all free-run juices. The grapes come from a single parcel of predominantly clay and limestone soil, surrounded by a stone wall. Grape varieties are vinified separately in small stainless steel tanks. Le Clos Peyrassol is only made when the caliber of the grapes permits such a classic rosé. The yield is 40 Hl/Ha.
The inviting nose evoked freshness intertwined with notes of subtle red fruits. This medium-bodied wine pleased my palate which prefers rosés not overpowered by fruit; subtle stone fruit flavors are beautifully balanced by lovely acidity and a touch of creaminess, giving way to a long fresh finish with accents of minerality. Layers of flavor make for an interesting wine to accompany food (brilliant with ceviche or another fresh white fish refreshed with citrus and a little spice) or for a perfect aperitif. I shared a bottle with an artist I was interviewing (for another story), thinking we would have a glass but it was so irresistible, we nearly finished the bottle by the time interview was finished. This rosé is worth looking for–a 2016 was produced!–and, if you can resist temptation, put a couple bottles in the cellar! (The cost is €28.90/bottle at the tasting room.)
I have long been a big fan of both Commanderie de Peyrassol and Château Peyrassol rosés, excellent examples of the quintessential Provence rosé. The entry level Commanderie is a blend of mainly Cinsault, Syrah, and Grenache with Mourvèdre and very small amounts of Rolle and Ugni blanc. Like a medley of freshly picked red berries with a dash of minerality, it shouts summer. I enjoyed the 2015 (several times), thoroughly enjoying it each time. The Château cuvée of about half Cinsault, a third Grenache, and the rest Mourvèdre, Rolle, and Syrah is always reviewed very high. Both rosés are produced using temperature-controlled fermentation with each variety kept separate in small stainless steel vats. Priced about half the price of Le Clos (€10.95 and €15.00 a bottle, respectively, at the tasting room), either one would be a great summer wine….or whenever the mood strikes you!
We tasted two white wines on the day we visited. The grapes for both wines are individually vinified in stainless steel vats and the yield is 40 Hl/Ha. The Commanderie de Peyrassol (2015) white is a blend dominated by Rolle (47%) combined with Semillon (36%) and Ugni blanc (17%). As Cacaret said, it is very typically Provence in its refreshing nature. Appealing from start to finish, with a bright flavors wafting from the glass, a little citrus—lemon peel—on the palate following by an upbeat finish. Great for summer apéritif, especially at the price (around €11 a bottle at the estate).
Le Clos Peyrassol (2015) white, a single varietal Rolle, is a very expressive example of one of my favorite grape varieties. There's complexity and power where there was simplicity and fun in the aforementioned Commanderie white. A grassy nose with notes of peaches gives way to more stone fruit, especially peaches, on the palate, and a bright finish. Time seems to unleash the intensity of the flavors, making it even more appealing. (Priced at €30/ bottle at the tasting room.)
Slightly more Syrah than Cabernet Sauvignon from the best vines (at least 45 years old) are blended and aged in oak barrels for 12 months to make this Château Peyrassol (2013) red. The result is a very appealing summer red—medium body with mellow tannins and some complexity—that brings to mind a compote of ripe cherries and plums seasoned with a heavy shake of spicy black pepper. It would go as well with a burger as a rack of lamb seasoned with herbs of Provence.
I eagerly await the arrival of the 2016 vintage. I have a little scoop about the 2016 rosés from a recent conversation with Cacaret. He is very pleased with the lastest vintage—the challenges notwithstanding—and added that he thinks the Commanderie rosé is particularly good, even better—fresher on the palate—than last year. The cepage is different with almost twice as much Cinsault (46%), Syrah (27%), Grenache (22%) and Ugni blanc (5%). The cepage of the Château cuvée is a broader blend of grapes: about the same amount of Cinsault (47%) with Tibouren (15%), Syrah (12%), Rolle (8%), Mourvèdre (6%), Grenache (6%) and Semillon (6%). The grapes that comprise the top cuvée remain the same: Cinsault (47%), Tibouren (45%), and Rolle (8%). I will have the glasses ready!
We left with our bags filled with wine—and marc—and our hearts filled with the pleasures of learning about this estate, reveling in its long history and tasting the wines that come from the same land that produced wines enjoyed by the Templars and the Knights of Malta. We will be back for there are more wines to taste—other cuvées and even other estates—and a permanent collection of contemporary art to see—installed within the cave, among the vines, around the grounds, and in a newly created gallery. There is a restaurant, a hotel, and even 350 hectares of hunting grounds where one can sign up to hunt sanglier and the like. Bacchus and Diana would be happy.
Notes:
Commanderie de Peyrassol
RN 7 – 83340 Flassans-sur-Issole
Tel: +33 (0) 4 94 69 71 02
contact@peyrassol.com
Visiting Chateau de Peyrassol:
Winter (16 October – 14 April): Tasting room is open from 9:00am until 6:00pm Monday to Friday and from 10:00am until 6:00pm on Saturdays. Closed on Sunday.
Summer (15 April – 15 October): Tasting room is open seven days a week from 9:00am until 7:00pm.
Visits to the wine storehouses are organized every day at 11:00am, 2:30pm, and 5:00pm. A wine tasting rounds off this gastronomic and educational tour.