Coteaux Varois en Provence Sponsors Salon du Millésime 2015
The Wine Snoop Report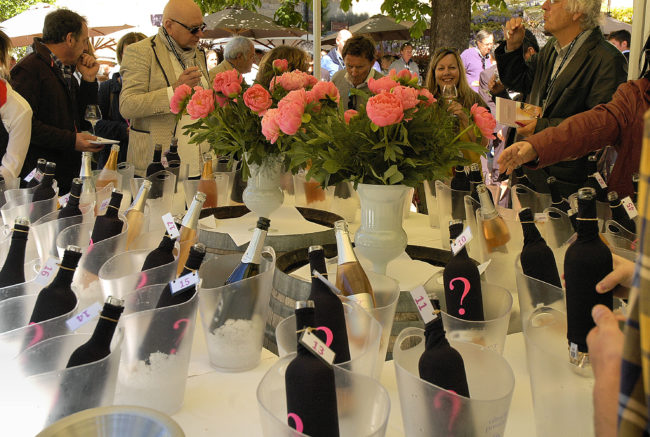 Picture, if you will, a garden flanked by soaring Italian cyprus, a graceful five-star inn built atop a Roman villa, and a vineyard conserving 88 Provençal grape varieties, all on the premises of an 11th-century Benedictine Abbey, classified as an historical monument. Cover it with an azur blue sky and brilliant sunshine and make the temperature a perfect 75 degrees.
This was the backdrop for the Salon du Millésime 2015, sponsored by the Coteaux Varois en Provence wine syndicate to unveil their latest vintage. This annual event, the third week in April, was held at L'Hostellerie de l'Abbaye de La Celle, hosted by Alain Ducasse, its proprietor and chef extraordinaire, who boasts his very own own galaxy of Michelin stars. His team of chefs and servers provided elegant culinary delights to the sommeliers, restaurateurs, wine buyers, and journalists who heeded the invitation to sample the new vintage cuvées furnished by the 46 vintners in attendance.
The third largest appellation in Provence, after the Côtes de Provence and Coteaux d'Aix-en-Provence, the Coteaux Varois en Provence AOP, established in 1993, represents 10% of all the wine produced in the region (as opposed to 75.2% coming from AOP Côtes de Provence). Their higher altitude, calcarous soil, and unique climate provided by surrounding rocky formations, give the wine from its vineyards a unique character. Spanning 28 communities in the department of the Var, grouped around the village of Brignoles, the appellation includes 77 domaines, 10 coopertive caves, and 2 négociant winemakers.
The 2015 growing season was characterized by a rather mild though rainy winter providing an ample supply of ground water to support the vines throughout an unusually hot summer (it was sweltering). With all grape varieties having reached a precocious maturity, harvest began a good 10 to 15 days ahead of schedule. The recolte (harvest) was 8% less than in 2014, which had been a bumper crop, with grapes and vines in excellent condition, foretelling a bright 2015 millésime.
The linen topped tables, shaded by parasols, which lined the perimeter of the garden, heaved with sparkling bottles of red, white, and rosé proffered by each winemaker for guided tastings. At the center of this profusion, one discovered a large table dedicated solely to rosé wine – one bottle from each house – for libre supping. The innovative twist introduced at this year's Salon was that each numbered bottle, chilling in its individual wine bucket, sported a jacket bearing a large pink (what else?) question mark. This blind tasting was a departure from previous years and was designed to encourage unbiased discovery of some of the lesser-known cellars in the region, including some impressive up-and-coming cooperatives.
For me at least, the organizer's intentions were fulfilled, as I was surprised to find that some of my favorite wines in this blind tasting came from unexpected vineyards. While there was not a rosé on the table that I'd refuse to drink, I did find some a bit bland, flabby, or too tart for my taste. The wines I preferred were fresh and zesty yet balanced with a soft round fruitiness such as Domaine de La Pességuière, Domaine Saint Mitre, Château de Fontlade, Domaine de Ramatuelle, Bastide de Blacailloux, Domaine Saint Andrieu, and, from the cooperative in St. Maximin, Cellier de la Sainte-Baume.
The Coteaux Varois en Provence AOP white wines, which only account for 2.5% of total volume, can include Clairette, White Grenache, Semillon, Ugni Blanc, and/or Vermentino (Rolle). A good part of their personality is imparted by the Rolle grape, which at minimum must comprise 30% of the blend, giving the wines a citrus peel freshness and green apple and peachy fruitiness, followed by a touch of salt and bitter almond finish. Given that the whites are the smallest horse in the AOP's stable, I was pleased to find several of the wines that I tasted to be particularly delicious, such as those of Domaine du Loou, Domaine Saint-Julien, Château la Calisse, Château Margüi, and Domaine Saint Mitre. Rumor has it that next year's event will include a blind tasting of white wines.
With 46 masked roses and a corresponding number of stalls with multiple cuvées, it was impossible to sample everything on offer, let alone report here on each of their respective merits. In addition to the challengingly copious selection, in order to protect my reputation from literally teeter tottering, it would have been foolhardy to swallow any of the wines tasted. This, I must confess, resulted in the lion's share of my concentration being diverted to keeping my both my chin and my immediate environment (and a very elegant one at that) dribble free. (I won't even mention the keeping-track-of-my-glass challenge.) In my multi-tasking haze, while very blindly tasting the rosés, I failed to discern the identity of the tall handsome stranger beside me who was blatantly lifting skirts on the wine bottles to discern their identity. I belatedly learned, as the big wigs were corralled for a photo op, that it had been Monsieur Ducasse himself. Rather than the splendid repartee on food and wine and all things French that I had fantasized enjoying with the great man, all I had managed to do was scold him for peeking. I really did.
I can only hope I'll be invited back next year!
Maison des vins Coteaux Varois en Provence
L'Abbaye de La Celle
83170 La Celle
Tél : 33(0)4 94 69 33 18 – Fax : 33(0)4 94 59 04 47
E-mail : coteauxvarois@wanadoo.fr
http://www.coteaux-varois.com/