MARC PERRIN ON THE IMPORTANCE OF TERROIR, FAMILY, AND FUTURE GENERATIONS
by Susan Manfull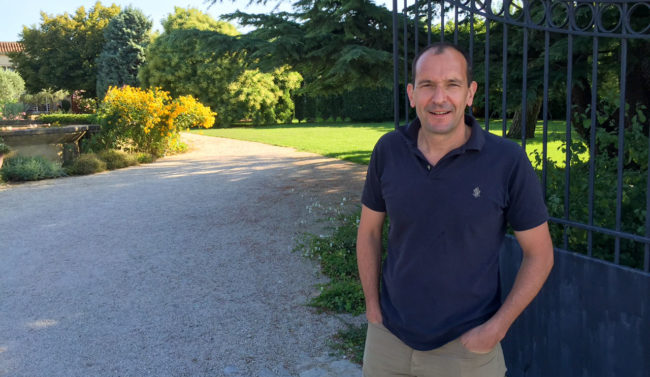 We stood at the edge of his family's vineyard at Château de Beaucastel, one of the most revered estates in Châteauneuf-du-Pape, the most prestigious appellation in the South of France. Located in the flattest part of the Southern Rhône Valley, it is one of the largest estates in that appellation with some 75 hectares of vines there and about 25 more in Côtes-du-Rhône. From the Châteauneuf-du-Pape vines hail some of the finest wines—both red and white—from all of Southern France, consistently boasting near perfect (and perfect) scores and in demand around the world.
Perfectly aligned rows of vines stretched before us, into the horizon, only the occasional olive tree dotting the vast landscape. The vines, untethered in some parcels where the mistral wind whips particularly fiercely across the land, are surrounded by large stones. Called galets roulés, they were smoothed, rounded, and carried to what are now these vineyards by the actions of glaciers and the Rhône River over the course of millions of years.
From this vantage point, Marc Perrin, fifth-generation vigneron on this property, captivated me with the history of the estate and with the integral role that a vigorous organic approach to both viticulture and viniculture has played for well over 50 years and, since 1974, how biodynamics have also guided practices in the vineyard and in the cave.
As I listened to Perrin talk, it felt strangely befitting that our first real conversation in this gorgeous setting should center on organic farming.   It was the subject of organic farming that had first led our paths to cross almost two years earlier when I wrote what turned out to be three articles on Miraval rosé, the most recent of several entrepreneurial endeavors taken on by this distinguished family of entrepreneur winemakers, honing their craft since 1909.  Of course, I am referring to the much-ballyhooed partnership of the Perrin and the Angelina Jolie-Brad Pitt families to make wine at Château Miraval, located in Correns in Provence, about 170 kilometers from Château Beaucastel.  Think what you may about celebrity wines, this one is very good. You may recall this rosé made it to Wine Spectator's list of the top 100 wines of 2013—it was #84, but the only rosé on this coveted list and one of few to ever appear on it.
My first article (in May 2013) centered on the history of the Château and how much I liked the new Jolie-Pitt and Perrin rosé. My second and third articles (both in October 2013) focused on rather sensitive issues about the newly released rosé, including, most pointedly, the question of whether or not the wine was organic (or, as they say in France, bio).  Prior to the Jolie-Pitt purchase of Miraval in 2011—they had been leasing it since 2008—the wines produced on that property had long been certified organic. The village of Correns, in fact, has been "100% organic" since 1995. Eventually, with input from Perrin, I was able to report that Miraval rosé is indeed organic but for various reasons, Jolie-Pitt and Perrin opted not to include the tiny green sticker certifying the contents of the bottles as such. As I wrote in October 2013, given the Perrin family's longtime advocacy of organic farming and winemaking, it seemed counter-intuitive for them to abandon such practices at Miraval.
Then, about a year after those articles had seemingly settled this issue, Vanity Fair published a feature article on Jolie-Pitt (in January 2015).  There, they devoted several long paragraphs to whether or not Miraval was still organic, using one of my articles as fodder and not attending to the follow-up article in which Perrin responded to my questions, clearly confirming that the rosé is organic. Instead, they wrote, "Le vin rosé de Miraval n'est pas bio."
The mention of me, and my blog, "un blog spécialisé américain, The Modern Trobadors," was great for attracting new readers—and I was over the moon initially—but the sloppy journalism practiced by Vanity Fair in that section of the article fueled the ire of some locals near Correns, I'm told, and, I imagine, also among those folks who place particular value on organic viticulture and vinification.
I had no idea, as I stood there with Perrin, whether he held me culpable, in some way, for the Vanity Fair quagmire. After all, it was my article questioning the provenance of the grapes that went into Miraval's rosé that was referenced by Vanity Fair; however, my coverage was fair, transparent, and professional. Perrin did invite me, although that was before Vanity Fair. He did agree to meet with me now, I told myself.
"Organic, Organic, Organic…and we really follow the calendar," Perrin continued. "Basically, a vineyard is like the human body. If each time you have something that doesn't work, like a stomach ache, and you take pills, then you don't train your body to react by itself and a vineyard is a bit the same," Perrin elaborated, stressing the importance of both organic and biodynamic practices in the vineyard and in the cellar as well.
"Depending on the moon, you may even taste the wine differently," Perrin continued. "You are much more accurate on certain days than others…somedays, depending on the moon, every wine will seem 'weak' and the next day, everything is brilliant," he added.
The Perrins have had over 100 years to understand the land as, generation after generation, they have farmed it since 1909 when Pierre Tramier purchased the estate and associated vineyards, by then decimated by the phyloxera infestation.  He and his son-in-law Pierre Perrin began rebuilding them, a job continued by Perrin.
Jacques Perrin, Marc's grandfather, took the reins next until he succumbed to cancer in 1978 at the young age of 58 years old. During his tenure, he was instrumental in introducing much of what still defines the family's approach to viticulture and viniculture, most notably for adopting, early on, an organic approach to winemaking and for bucking the Grenache trend at the time in favor of planting ancient grape varieties that had nearly disappeared (e.g. Mourvèdre and Counoise). He was instrumental in shaping the philosophy that continues to guide the work at Château de Beaucastel (clearly evident in our tour of the winery that day).  Beyond the property, his spirit continues in Château de Beaucastel's "Hommage à Jacques Perrin," a limited production, ultra-premium red wine, only produced in the best years, and the recipient of 100 points by Robert Parker for five different vintages.
Jean-Pierre and François, Jacques Perrin's sons, rose to the helm after their father's death and are responsible for expanding the realm of the Perrin family's wine business. Today, they are joined by their grown children, the fifth generation, including Marc and his siblings and cousins: Pierre, Thomas, Cécile, Charles, Matthieu, and César.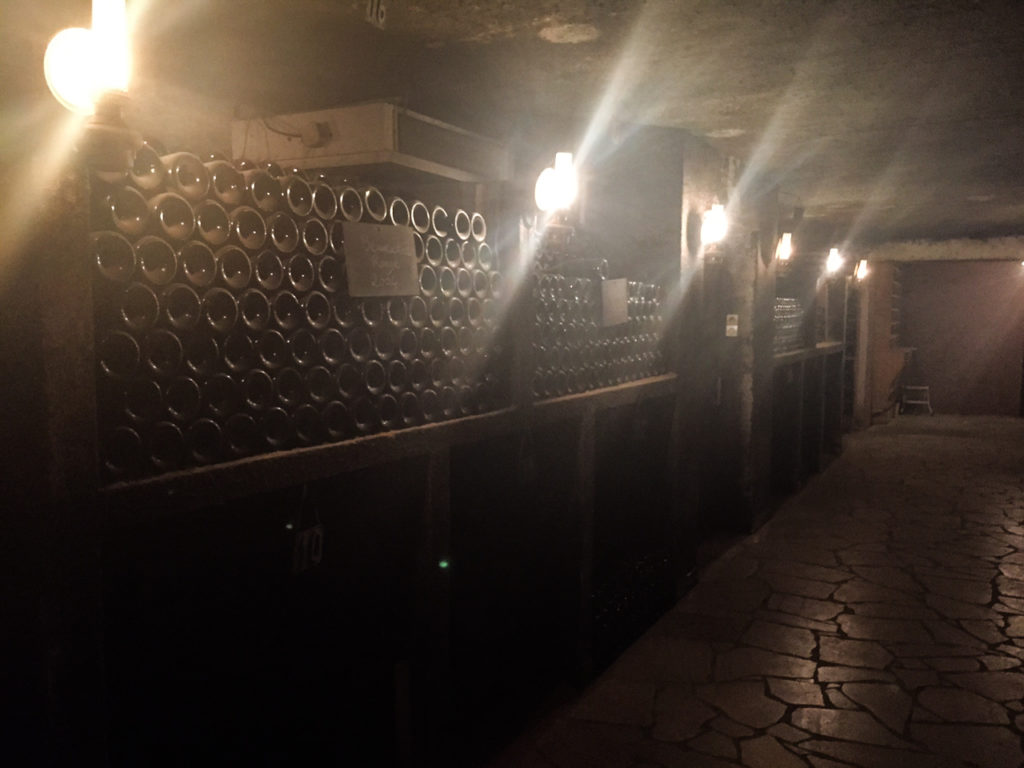 "Châteauneuf was the first AOC in France," Perrin said, "Basically, the first time ever that producers gathered to édictent rules for themselves and when they did that, they looked at all the history here."
 "In 1930 when they met, that was 2000 years of history," Perrin emphasized, since, of course, the Romans had made wine there. "Everything and every grape had been tried, every way of growing them…every generation tries different things."
The 13 Châteauneuf-du-Pape grapes are: Mourvèdre, Grenache, Syrah, Cinsault, Vaccarèse, Counoise, Terret Noir,  Muscardin, Clairette, Picpoul, Picardan, Bourboulenc, Roussanne
The group famously determined that 13 different grapes were compatible in Châteauneuf-du-Pape and all were permissible.  This is an unusually large number, but the Mediterranean climate can be excessive, Perrin explained, and with 13 grapes to blend, one can compensate, for example, when it's been particularly hot.
"We grow all of the 13 grapes of Châteauneuf-du-Pape," Perrin said.  This requires more work, he explained, likening the grapes to children as "they each need specific care at specific times." The varieties are each harvested separately (a harvest that takes over two months to complete), fermented separately, aged separately, and then blended to make the wine.
"It's more difficult to grow 13 grapes but we think it makes better wine, so we stick to this," Perrin summed up.
The mistral picked up about then and Perrin suggested we move inside to the cellar. It is located in the beautiful manor house—a quintessential Provençal mas—dating back to the time of its namesake Pierre de Beaucastel, variously dated as early as the mid-16th century. According to Perrin, Monsieur de Beaucastel acquired the money to begin building the house by striking a deal with King Louis XIV:  As a Protestant, he agreed to convert to Catholicism in return for the right to collect taxes from the local people and with this windfall, construction began. The original 1687 document rectifying this deal, with signatures of the King Louis XIV and Minister of Finances Jean-Baptiste Colbert, remains in the living room of this house.  (The de Beaucastel family coat of arms remains in the current drawing room, sculpted on a stone wall.)  Perrin's grandmother lives in this house today.  Perrin grew up just a short distance away and was often here, visiting his grandparents. He later told me, "I've been interning here for a long time."
"I always knew [the wine business] was in my roots and that's what I wanted to do eventually, but I did a few other things first," Perrin said.  When I graduated, it was the beginning of the internet, so I created a few internet businesses, which I sold before coming back to the wine business." Most were related to wine, Perrin explained, such as one of the first online retail wine store which he called Wineandco.com (still in business today).
We descended the stairs into a cellar that looked more like a piece of architecture one would find in an art exhibition: The precision, the perfect alignment, the perspective, the details, the patina of the oak, all beautifully synthesized, making me wonder whether they really make wine there? "It's a piece of art," I said, to which Perrin replied, "It's a working space." Perrin assured me they do make wine, Château de Beaucastel wine.
We began in the reception area, where grapes are received and sorted for the second and third times (after the initial sorting in the vineyard), and walked through the cellar, weaving in and out of narrow, sometimes dark, passageways lined on either side with wide foudres, tall tanks, skinny tanks, stacks and stacks of naked bottles, row after row of the imprints of the punts of bottles that were once stacked higher than I stood, reminding me of dusty honeycombs. As we walked, several themes emerged in nearly everything we talked about:  Terroir, family, and future generations, all of which reap the benefits of meticulous attention to detail and a steadfast long-term perspective.
The Perrin Family staunchly believes that the best way to produce good wine—wine that expresses the exceptional terroir of their estate—is to allow the vines to grow as naturally as possible.  That is, organically and, as much as possible, bio dynamically. To that end, weeding may be done by hand, no pesticides are used, indigenous yeasts are used as much as possible, and the lunar calendar is considered when making vineyard and winery decisions, all in keeping with organic farming.
By adopting these approaches in agriculture and winemaking, not only have the wines earned an international reputation for exceptional quality, but the land is better preserved for the next generation of Perrin winemakers.
"When you are in a family business, you think for your sons," Perrin said.  "Today the world is full of corporations that think short-term," he continued.  "I am 45 years old now…when I make a decision of planting a vineyard, it's not for me…I don't do it for me, I do it for the next generation," he said.  "When you do that for your sons and your cousins, you try to do the best possible thing…you don't care about short term."
I asked Perrin if it was important to him to leave an imprint on the family business.  In multi-generational wineries, subsequent generations sometimes feel in a quandary about how to balance a respect for tradition with a desire to have their own impact on the business.
"Why do you need to put your own stamp on things?" Perrin said. "People have been making wines here for 2000 years, so at the end of the day, you come back to [the idea] that everything has been tried, at least for red wine [although] for rosé, things are different."
Perrin went on to liken red and white winemaking to being a chef and rosé winemaking to being a pastry chef. That is, the latter requires more technique, suggesting one could put his or her mark on that color wine. However, at Château de Beaucastel, rosé is not produced (leading me to wonder if the collaboration with Jolie-Pitt to produce Miraval rosé allowed Perrin to be a pastry chef).
"Pfft," Perrin said, as he continued to ponder this issue, finally responding, "When you have a place like this in the family, you try to keep the vineyard in the best possible condition…the goal is to leave it for the next generation, in better shape, if possible, than what you received," Perrin said, reaffirming his conviction that future generations are very much an integral factor in decision-making and much more important than putting one's imprint on the business.
Perrin acknowledged that one of the challenges in a family business is that with each generation, the family grows. "We must have an entrepreneurial spirit and find new ways to grow so that we can accept new family members into our business," he explained and cited La Vielle Ferme, Famille Perrin, Tablas Creek, and Miraval as off-property ventures to make room for family members who want to join us in the business.  "The only way to do that," he chuckled, "is either you cut them or you grow your business so you can accept them," clearly preferring the latter.
Regarding their partnership with Jolie-Pitt, Perrin said, "We had always wanted to do something in Provence." Continuing, he said, "We visited properties for ten years, but we didn't want to do something average."
"With Miraval, it's very unique and we fell in love with the place, on what exists there now, but also on the potential," Perrin said.
"In the Rhône, every parcel that can be planted, has been planted," Perrin said, "But, in Miraval, there is a lot of untouched terroir and the soil is incredible."
Perrin explained that they hired  highly respected soil experts to conduct a "geological patchwork study" of the area.  "They are not finished," Perrin said last summer, "but we can already see that we have a very interesting terroir."
"We will plant more vineyards [at Miraval]," Perrin said, clearly quite excited about the possibilities. "We need to get permission first [to plant the vineyards]," he said, adding that it would be at least seven years before they would consider using the grapes. Clearly, this is a long-term project for both families.
Perrin family members, like those of all family-run wineries, have the distinct advantage of the life-long internship Perrin mentioned above. While it may seem that wine must course through their veins after all the generations of winemaking, Perrin was completely dismissive of that possibility.  "It's education," he said, "what you learn from working with your parents."
"We train everyone," Perrin laughed.
"I have a seven-year-old son who has been trained since he was a kid to smell the thyme, the rosemary, the peach, the apricot, the lavender.  The taste, for wine, you cannot learn so early, but for smell, you can train very early. When my son was three years old, he wanted a peach yogurt; so I went to the fridge, I looked, and there was no peach but there was apricot yogurt. I removed the label because he's a smart kid and I gave it to him and he tasted it and said, 'Daddy, I said peach yogurt, not apricot!'"
It won't be long before Perrin's son joins the elder family members around the table for the assemblage (the blending).
"The family gathers," Perrin said, "with my father, my uncle, my father started with his father so he tasted the 50s vintage with his father, I tasted the 70s with my father and we discuss and we say 'wow, it reminds me of 78,' 'reminds me of '90,' and every generation brings its experience."
"And then we do the assemblage, which is really a big thing for us," Perrin explains. "In the assemblage, the problem is not to make the best assemblage for now, it is to take this history, this experience, this family culture in order to anticipate the evolution of the wine in the long term."
By way of contrast, Perrin shared a conversation he had with a very famous mixologist who suggested to him that they had the same job. "You mix wine and I mix spirits and fruits," the mixologist allegedly said to Perrin.  "Yes, you have a very good capacity to detect taste," Perrin said that he told him, "but the difference is that what you do will be consumed in five minutes and what we do will be consumed in thirty years….Wine is not about today." Perrin told me that one of his greatest rewards, as a winemaker, is to be told that a bottle of his wine, opened years after it was made,  is exceptionally pleasing.
I couldn't help but wonder if the Jolie-Pitt children were learning about smells and would someday sit around the table for the assemblage at Château Miraval. Since my visit with Perrin, I've been sharpening my own scent-recognition skills but, discouragingly, I have a long way to go before I can catch up with Perrin's seven year old son!
We ended our visit with Marc Perrin with a tour of the state-of-the-art bottling facility a few kilometers from the Château in Orange; all Perrin-related wines except Château de Beaucastel are bottled here, including Miraval. An upcoming article will be devoted to this subject. By the way, in our parting conversation, Marc and I talked about the unfortunate article in Vanity Fair, but I'll have to tell you about that over a glass of Miraval rosé .
 Notes:
Visit by appointment only.
Please contact by e-mail to make an appointment.
Famille Perrin
Château de Beaucastel
Chemin de Beaucastel
84350 Courthezon
Tél. : +33 (0) 4 90 70 41 00
Fax : +33 (0) 4 90 70 41 19
E-mail: contact@beaucastel.com