Sacha Lichine Buys Winemaking Cooperative in La Motte
The Wine Snoop Report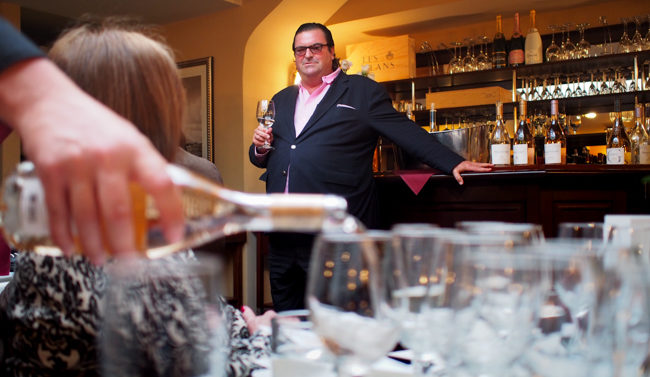 Sacha Lichine, Bordeaux-bred proprietor of world-renowned Château d'Esclans, has bought an old, rather run-down building in the village of La Motte, just a kilometer or so from where the Château is also located.  Essentially, to be clear, he bought the walls of this building, once a cave viticole (in France, referred to as a "cooperative"). Apparently, the demand for Whispering Angel, the entry level rosé of the four pink wines he currently produces at the Château, has outgrown the already huge capacity of onsite production.  Once gutted, fully renovated, and fully modernized to d'Esclans standards, it will be used exclusively to vinify grapes–from parcels selected by the d'Esclans team–to produce more wine to fill even more Whispering Angel bottles.
Lichine was in Boston last night to attend a "Spring Rosé Tasting Supper" at La Voile, a French restaurant in the Boston suburb of Brookline. Chef François Grayon went all out with an impressive five-course dinner that paired perfectly with Lichine's famous portfolio of four rosés.  Peter Holt, former Wine Director at Anthony's Pier 4 and longtime friend of Lichine, organized this dinner.
Guests sat down to a lineup of four glasses filled, in ascending order, with Whispering Angel 2015, Rock Angel 2014, Les Clans 2013, and Garrus 2013 and were served delights like (my favorite plates), "Smoked Salmon with Dill Crème Fraiche and Endive Leaf,"  and "Poached Cape Cod Oysters and Sabayon, Celery Mousse and Green Pea Pesto."
I had a chance to catch up with Lichine before the 50+ guests arrived.  Most of our conversation centered on his recent real estate acquisition, purchased explicitly for Whispering Angel, the most popular rosé in the U.S. and, in the New York City area, the rosé that most millennials cut their teeth on.
"In 2015, we produced 3.8 million bottles," Lichine told me. By comparison, production of the popular rosé, Miraval, made by Angelina Jolie, Brad Pitt, and Marc Perrin, probably didn't exceed several hundred thousand. However, at the other end of the continuum, in 2014, California's E&J Gallo Winery produced around 14.5 million cases of  its eponymous label (32.5 million cases if the Barefoot brand is included) compared to Château d'Esclans' roughly 500,000 cases of everything combined.
Whispering Angel is a négociant wine, meaning that the grapes from which it is made come from vineyards other than those on the Château d'Esclans property. Lichine said that they continue to look for more vineyards to purchase to ensure enough grapes for Whispering Angel and, at the same time, quality is ensured in the vineyard and in the cellar with the watchful eye of the highly regarded winemaker Patrick Léon.
Other scoop is that Lichine and family are on the move again. With less than a year in Florida, they are packing up for a move to Switzerland in mid-June.
Notes:
This article was updated on 5/13/16, based on a telephone conversation with Paul Chevalier, National Fine Wine Director at Shaw-Ross International Importers, Importer of Château d'Esclans.
For an excellent lunch or dinner in an inviting milieu, I recommend La Voile in either location:
La Voile
1627 Beacon Street
Brookline, MA 02445
617-277-1260
www.lavoilebrookline.com
La Voile
261 Newbury Street
Boston, MA 02116
617-587-4200
www.lavoileboston.net