Wine Enthusiast Taps Three Rosés in TOP 100 BEST WINE VALUES OF 2017
by Jerry Clark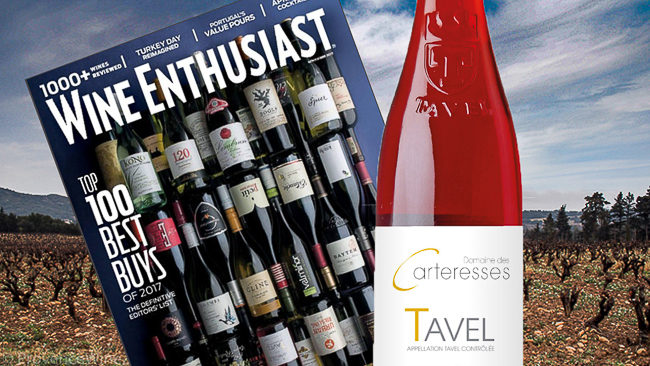 We have wine at every evening meal. So, I am always on the hunt for a good-value table wine that does not break the bank to keep in stock. I routinely pour through certain publications looking for new wines for that purpose.
At Wine Enthusiast, the wines that have achieved particular merit in each issue carry an "Editor's Choice," "Cellar Collection" or "Best Buy" tagline. In the last group are wines "generally priced at $15 or less, and are designated 'Best Buys' after surpassing a specific quality-to-price ratio benchmark." As we each have our own benchmark, I am not concerned enough to drill down on the definition of theirs so I can offer no insight there. And in my lowest-cost search category, the price bar is set at $10. Nonetheless, it's always interesting to see what is getting attention in the press.
I was somewhat taken aback when I went through my November issue of Wine Enthusiast to see they had listed three rosés in their culling of the top 100 of the more than 1,450 "Best Buy" selections reviewed throughout the year. And one, a Tavel, came in at number three. Here are the specifics on the three, as provided by Wine Enthusiast:
Rank: 3 – 2016 Domaine des Carteresses Tavel (taster's rating 93/100)
Rank: 28 – 2016 L'Ostal Cazes Rosé Pays d'Oc (taster's rating 90/100)
Rank: 90 – 2016 Kirkland Signature Rosé Côtes de Provence (taster's rating 88/100)
I find it especially noteworthy that the '93' rating given to Domaine des Carteresses is the highest score of the 100 wines selected, putting it alone at the pinnacle.
The timing of this best 100 group is to provide the magazine's readership with a shopping list of holiday wines for consideration, and to encourage readers "to stop buying wine by the bottle – and start buying wine by the case." The fact that three rosés are included for winter season wine hunting says that Wine Enthusiast clearly has its finger on the pulse of an all-season enjoyment of rosé, an emerging trend that many wine merchants have yet to recognize. Perhaps the sun and beach imagery associated with rosé will to exit the scene. If it does, the producers will have to deal with filling a year-round demand, and that will be no small feat.