2017 HARVEST IN PROVENCE AND SOUTHERN RHÔNE: EARLY AND SMALL BUT WITH GREAT EXPECTATIONS
by Susan Manfull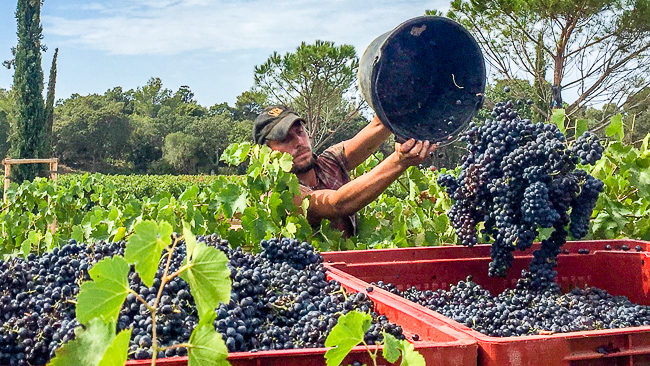 If you live in the South of France, you would have to be living a cave not to know that the 2017 harvest was historically early and small. I was in Provence during harvest time – la vendange, in French – and heard directly from winemakers about their concerns for the future but also about their optimism that Mother Nature who, despite dealing drought conditions in some areas and severe frost in others, operates in cycles. (We hope.)
"It used to be that grapes were picked in mid-September," said Romain Ott, great, great grandson of pioneer winemaker Marcel Ott and, today, the winemaker at Château Léoube, a sprawling estate located on the Mediterranean coast (next to Clos Mireille, one of Marcel Ott's original three properties).
"I never got to participate [in the harvest] because I had gone back to school," Ott said.
"Now, we are finished by then," he added.
"This year, our harvest began on August 17th," Ott told me when I visited Château Léoube at the end of August. He estimated the harvest would be complete on the 8th of September. "Five years ago, the harvest began the last week in August," he added.
Like literally everyone told me, Ott said the yield at Château Léoube was down and berries were smaller but, as also reported by others, the juice is highly concentrated and flavorful and the 2017 vintage is expected to be outstanding.
"Some things are changing, for sure," Ott said. "In the spring, there is usually rain and now there is not." (There had been no rain since April.)
When I asked him about whether he thought these changes were a result of overall climate change, he replied: "It's too early to tell. I think it's a cycle. I hope."
The Provence Wine Council (known in France as Conseil Interprofessionnel des Vins de Provence or C.I.V.P.) wrote, in their recent press release, that, on average, the vines were ready around August 16th, about a week earlier than usual. In that same press release, the Wine Council wrote that the harvest appeared very promising – fully ripe grapes and good acidity – but that quantities were difficult to predict.
It is impossible to make generalizations about a region as vast and varied as Provence (and including the Southern Rhône Valley further challenges such an endeavor). Nonetheless, in my conversations with people in the wine industry on my recent five-week visit to Provence, I heard great consistency in the reports of the 2017 harvest.
From Bormes les Mimosas on the Mediterranean coast, where Léoube is located, to Vacqueyras in the Rhône Valley, the vintners I contacted all reported earlier harvests and, to varying degrees, lower yields. Some said the berries were smaller which resulted in less juice and cited drought conditions as the culprit and others lamented that the yield was lower than usual due to a severe frost in April. They were unanimous in reporting the quality of the juice to be exceptional.
About 80 kilometers (50 miles) west of Bormes Les Mimosas, in Cassis, I met with winemaker Olivier Santini who also told me that from early spring there was no rain at Domaine du Paternel. Yields appear to be down at the Cassis estate and at Domaine Sorin in Bandol, another winery recently acquired by the Santini family. High temperatures and high winds in the summer exacerbated the already dry conditions, observations echoed by others in Provence.
Frédéric Ravel, owner of Château Montaud, reported that his harvest in Pierrefeu, 20 kilometers (12 miles) north of the Sea, began 10 days earlier than last year's and confirmed that there, too, it was extremely hot with an often present mistral wind drying the grapes.
Si les volumes de ce millésime ne sont pas forcément au rendez-vous, sa richesse aromatique laisse présager des vins d'une très grande qualité.
~ Frédéric Ravel, owner of Château Montaud
Just outside Provence in the Rhône appellation of the Luberon, the hot dry summer was the subject of much conversation among people in the wine business and I was told of fears that production would be down as much as 50%. Further north in the Rhône Valley's Vacqueyras appellation, an early spring followed by cold temperatures made for smaller bunches, according to Henri Bungener who owns Le Clos de Caveau. Miniscule amounts of rain also defined the harvest in this area; Bungener wrote to me that "Summer was drier than ever, the forests were ready to ignite and the fields were dust."
Bungener said that his vines were not affected by the drought conditions because the roots of the vines on his property extend as much as 35 meters to reach water tables deep underground. Other vintners also cited the ability of vine roots to extend deeply as the saving them from catastrophe.
Notably, irrigation is not a solution to drought conditions, according to the vintners with whom I spoke about the subject. Ott told me that the vines must adapt to drier conditions. François Miglio, winemaker for Château Gasqui, went so far as to say, "Never irrigate….It's like heroin for vines." Bungener, Ott, and Miglio all oversee certified organic properties and all engage in at least some biodynamic practices at those properties; Château Gasqui is certified biodynamic. Irrigation was not a subject that came up in all exchanges for this article but my guess is that all of those I interviewed would feel similarly.
In Tavel, the Rhône Valley appellation that produces solely rosé, Sandra Gay-Moulines, Attachée de Communication for the Syndicat Viticole de l'Appellation Tavel, told me that the situation was the same there: "The production is about 30% to 50% less [which] is due to the drought during the summer time, and the lack of rain during the spring time." Gay-Moulines added, "The quality will be very good, but the winemakers will have very few bottles to provide!"
Severe frost was the other challenge from Mother Nature. In the center of the Var, some vineyards were struck by such a frost in April. This was the case at Château Vignelaure in Rians and at Château Gasqui in Gonfarron where both vineyards, some 70 kilometers apart, experienced some loss in production. For Château Vignelaure the loss was minimal (resulting in about 15% – 20% smaller harvest) but for Château Gasqui, the loss was substantial.
Miglio said that at Château Gasqui, production was decimated as much as 80% by the April frost. According to Miglio, such severe frosts happen in roughly 30 year cycles with the last big one in 1981. As for the summer, he characterized it as "a very hot and very dry."
"Fifteen years of biodynamic production helped Gasqui survive the conditions," Miglio said. Echoing sentiments expressed above about irrigation, he added "Strong, healthy vines can withstand the heat and dryness."
Less than 10 kilometers from Château Gasqui lies Château Réal d'Or. There, weather conditions were quite different, illustrating the diversity of weather patterns in the nooks and crannies of Provence and why it is difficult to make sweeping generalizations about a given harvest. Owner François Lethier said that they were very lucky in escaping the devastating effects of the April frost that beset his neighbor's estate and also were not significantly affected by the dry summer. He estimated that production might be down about 15% this year.
How will the consumer be affected by the smaller than usual 2017 harvest in Provence and the Southern Rhône Valley? Some estate owners feel that bottle prices might go up to compensate for the low yields although no one volunteered that prices for their particular wines would substantially increase. Several people interviewed felt that bulk wine sales might be most affected since the wineries produce such wines are usually dependent on purchasing grapes and juices from other estates. Likewise, négociants of fine wines that rely on purchasing from other estates may find that the quantities they anticipated are just not there. The savvy consumer should buy early because supplies of your favorite bottles may be low.
Regarding the wine itself, the Provence Wine Council, in its most recent press release, wrote: "Early indications from the analysis of this year's first yield suggest that the harvest is very promising." The estate owners and winemakers were less restrained and far more enthusiastic about the 2017 vintage. Everyone I spoke with stressed their optimism for an exceptional vintage.
Lethier said that the quality this year was outstanding at Château Réal d'Or in Côtes de Provence. "The whites will be spectacular," he elaborated. "Best Rolle harvest ever." He added that the red wines are "trés fruité" and will also be excellent.
Philippe Bru, winemaker at Château Vignelaure in Coteaux d'Aix-en-Provence, similarly said, "The quality is excellent." He added that 2017 was an above-average year for all the fruit but seemed to be particularly excited about the white wines. A Viognier will be added to the portfolio this year.
Philippe Guillanton, proprietor of Château Margüi in Châteauvert in Coteaux Varois en Provence, also weighed in. While his harvest was also much smaller than usual, he was very pleased with the quality. "Exceptional" was how he described it with an emphasis on this vintage of red wine.
"One of the best harvests to date in terms of quality," Miglio said about Château Gasqui's grapes, "but one of the lowest ever in terms of yield." As if to console not just himself but all vintners, Miglio said matter-of-factly, "It is what it is."
I was continually struck by the positive attitude of the winemakers with whom I spoke. With a collective shrug of the shoulders, I imagined them thinking, "What can one do?" But when one's livelihood depends on a yearly harvest, it's got to be hard to contend with the capriciousness of Mother Nature.
I think of diseases and pests that have wreaked havoc in vineyards. I think of hail storms that have pelted vines and their fruit to a pulp in past vintages. I think of the heavy rains that have flooded vineyards, such as those I saw across Northern California last winter. And, now, the devastating fires that have engulfed Napa and Sonoma this fall, destroying wineries and still threatening others. My heart goes out to all. Provence also witnessed massive wildfires earlier this year. When I visited Château Léoube in August, I could see that fire had come frighteningly close to the vines at there. The flames lapped at vines on the very edge of the property, but, fortunately, had no impact on production or quality. The level of fear and anxiety must have been as high as the flames that covered the distant hills, burning forests to the ground as they quickly moved through the area.
Mother Nature usually nurtures the vines that provide the fruits for the winemakers to craft the wines we love so much but, occasionally, she reminds us that we are all at her mercy. I raise my glass to her and to all vintners around the world.