CHÂTEAU MIRAVAL TO RELEASE A HIGH-END ORGANIC ROSÉ THIS SUMMER: MUSE DE MIRAVAL
by Susan Manfull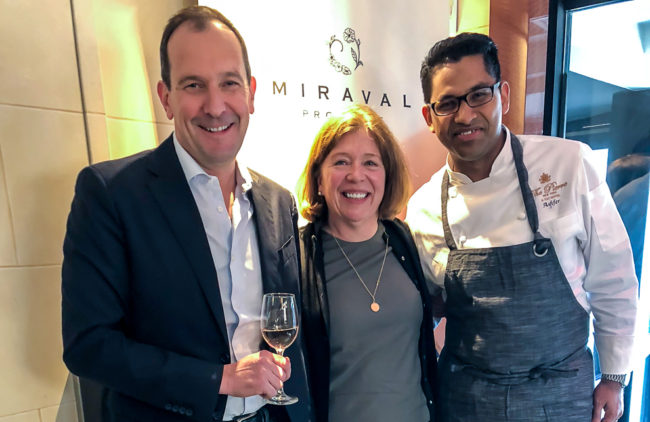 Marc Perrin of Château de Beaucastel fame dropped by The Pierre Hotel in Manhattan's Upper East Side this past week for a chat with a small group of wine writers. The rendezvous was part of a new partnership between the iconic hotel and the renowned Château Miraval in Provence, the estate propelled into the international spotlight when it was purchased by Brad Pitt and Angelina Jolie and, later, when their inaugural (2012) rosé, made in partnership with the Perrin family, made it on to Wine Spectator's list of the top 100 wines of 2013. At an intimate table in the hotel's French-American restaurant, Perrine, we talked about an assortment of subjects ranging from challenges winemakers in Provence face to new plantings at Miraval as well as a new high-end organic rosé to be launched from Miraval this summer. Executive Chef Ashfer Biju also joined the conversation (when he was not required in the kitchen) and we got to sample his exceptional appetizers as we talked.
Perrin is someone who needs no introduction to readers of Provence WineZine but in case you inadvertently landed in this article, Perrin, now in his late 40s, is part of the fifth-generation of vignerons at the legendary Château de Beaucastel in Châteauneuf-du-Pape, the CEO of the Perrin family business, and the Perrin family member who forged the partnership with Jolie and Pitt sometime around 2012, when the famous couple purchased the property that they had rented for several years.
The 500-hectare Miraval property is located in the heart of the Var department of Provence, in Correns, a small village known for its emphasis on organic farming. This is a gorgeous area known as "Provence Verte." The vast estate includes a rich forest of evergreen and white oak, a large grove of olive trees, gardens (where, according to Perrin, 40 varieties of basil are grown, including his personal favorite, Thai basil), and 40 hectares of vines on two appellations. Miraval rosé is composed of Grenache, Cinsault, Syrah, and Rolle (more commonly known as Vermentino outside of Provence), all from Côtes de Provence vines, both on the estate and sourced from selected vineyards off the estate. Two exceptional white wines of Rolle and of Rolle and Grenache Blanc are also produced, both from estate grapes from the Coteaux de Varois en Provence vines.
In the partnership, the Perrin family has an equal financial relationship with the Jolie-Pitt family in the Miraval wine business. Once the grapes are harvested and then vinified (essentially meaning the grapes are crushed and turned into fermented juice) at Château Miraval, the juice is transported to Famille Perrin in Orange for elevage and bottling. At the Famille Perrin facility, Perrin explained in (2013) correspondence, there is "a state-of-the-art bottling line (that can accommodate the atypical size bottle) as well as a quality control system and a team which is top notch."
The news of a high-end organic rosé to join the Miraval portfolio is big news. And there's more scoop about a Vin de France red wine from Miraval as well as two other relatively new parcels of vines on the esteemed property. But first, the new rosé….
I had asked Perrin about whether he thought rosé is a serious wine. "Of course," Perrin said, "I think it is very unfair for rosé [not to be considered a serious wine]."
"What sets the three colors of wine apart?" Perrin asked, setting the stage to tell us his thoughts on the hotly debated subject. "When you think about it, it is [the length of] maceration: it is longer than white and shorter than red. So if you can make great white or red wine, why can't you make great rosé?"
Perrin's answer, as other very knowledgeable wine folks have also said, is that rosé was long known as "a by-product of red wine," a method of concentrating the final product—a bolder red wine—thus implying that rosé is a "second wine" and, therefore, inferior. Today, in Provence, rosé is not a by-product of red; rather, rosé wine is the goal (although a small amount of juice from the saignée method may be used, in part, to produce rosé).
"There is no objective reason why you can't have a great rosé that compares with the great reds and whites," Perrin said. "When you taste [Domaine] Tempier of Bandol, you will understand," he added.
"At Miraval, we want to bring rosé to the next level," Perrin told us. "To the level of a great wine."
"We are going to release a new cuvée," Perrin announced and proceeded to tell us that it will made from an exclusive selection of Miraval's best parcels of Grenache, Cinsault, and Rolle. "The best of the best," he added.
And organic. I want to stress the organic provenance because, although Miraval had long been certified organic, the Jolie-Pitt-Perrin team stopped claiming organic status beginning with the 2012 vintage. According to the Miraval website, they wanted "to have the flexibility to blend the grapes of the estate with top quality grapes sourced from other vineyards which are not necessarily certified organic." (Clearly they anticipated the growth potential of Miraval rosé, under the new ownership.) In addition, according to the website, the vinification would include a stabilization method that is not considered organic in Europe (but is in the United States).
There was a lot of hoopla, locally and internationally, about dropping its organic status. Notably, in contrast, Château de Beaucastel prides itself on having adopted organic practices in the 1950s and, in addition, having begun experimenting with biodynamic practices as early as the 1970s and, now, having fully embraced this approach to viticulture and viniculture.
Back to the new rosé. In order to produce this rosé, a new winery was built under the famous recording studio of Miraval. For those who are not wine and music geeks, let me tell you a little of the history of this building. In the late 1970s, French jazz pianist Jacques Loussier, who owned Miraval from the late 1970s to the early 1990s, installed France's first "Solid State Logic" mixing console—read really high-end recording gear, for its time—and the list of prominent musicians who would come to record their music in "Studio Miraval" is incredibly impressive. From 1979 when the popular British rock group, Pink Floyd, was there to record their historic rock opera, The Wall, the list grew to include AC/DC, The Cure, Muse, Wham!, Sade, Steve Winwood, Yes, UB40, the Gipsy Kings, Queen, Sting, and Elton John. Let's hope these good music vibes continue to linger in the cave as the new wine is vinified.
Other details I was able to discern are that concrete tulip-shaped vats were used for fermentation as well as a few demi-muids but the final assemblage regarding the extent of the role of oak has yet to be determined. What is known is that this rosé is made to be aged, will only be sold in magnums, and pricing is not yet known. Most important, it will be christened "Muse de Miraval" and launched this summer.
Looking further ahead, watch for Miraval to launch a Vin de France Pinot Noir. In a June 2014 article in Wine Spectator, Perrin hinted at the possibility of creating such a red wine when he told writer Robert Camuto that "… the best terroirs [at Miraval] are outside the appellations." Perrin told us that after extensive soil analysis and "carrot plantings," they found a parcel that is exactly the same geology as Côte de Nuits. It is primarily limestone—"a signature of French wine," according to Perrin—and about 450 to 500 meters in altitude. There, Pinot Noir is to be planted—unsurprisingly given the predominantly limestone soil but very surprisingly given it is Provence. "Just to check, just for fun," Perrin added, smiling.
Other new plantings are more Syrah (presumably for the flagship rosé) and, for the first time, Mourvèdre. We did not discuss where the latter variety might fit in but possibilities might include: part of the future red blend or part of a rosé as Perrin mentioned the Mourvèdre in the context of it being a component of rosés that can benefit from aging. It is also known that this variety is a favorite at Château de Beaucastel, having been introduced by Marc's grandfather, Jacques Perrin.
Much to my disappointment, there are no plans to increase white wine production, especially since 2017 was plagued by drought conditions and destructive frosts across Provence. Like other properties in the South of France, Château Miraval had to deal with smaller harvests and lower productions than usual. Since Rolle is used in the rosé—and that color takes precedence over the white wines—expect a lower white wine production from Miraval (like 1-2% of production).
And, don't look north to Châteauneuf-du-Pape to assuage your thirst for whites. At Château de Beaucastel, the eponymous white wine production will remain at 10,000 bottles, Perrin said, and production of their more expensive "Vieilles Vignes" cuvée, made of 100% Roussane grapes from vines of at least 65 years of age, will total about 6,000 bottles.
"People think of red in Châteauneuf-du-Pape, but the white is amazing," Perrin said. I completely agree.
Climate change poked its nose into the conversation as we lamented the smaller harvests and lower productions across this part of France (and beyond). "I think the biggest challenge in business is global warming," Perrin said, matter-of-factly. "It is a fact so you need to adapt to that but the beauty is that, in wine, you can adapt by blending grapes…you are not stuck with one grape." (Certainly not in Châteauneuf-du-Pape, the appellation known for the large number of permitted grape varieties—13 or 18, depending on how you count the different colors–authorized when the appellation was first established in 1936.)
"When I started in '89, '90, the harvest in Beaucastel was, on average, two weeks later than what it is now. So, you really see an acceleration over the last 20, 25 years. It is a fact and nobody can deny that," Perrin added. Underscoring that having a diversity of grapes with which to work makes adaptation easier, he said, "With global warming, we will favor the grapes which have low alcohol versus the ones that have high alcohol and we can blend with the ones that have higher acidity to keep the balance."
The increased demand for Miraval rosé, coupled with the smaller harvest, made sourcing grapes particularly difficult this year, Perrin shared. For the United States alone, Miraval produces over 90,000 cases of its rosé, according to the most recent data I could find (Shaken News Daily, 7 February 2018).
Auguste Escoffier (1846 – 1935), known as "the king of chefs and the chef of kings," is credited with creating a new approach to Grande Cuisine: "Above all, keep it simple." He jettisoned "overly complicated recipes, ponderously extravagant dinners, sauces and garnishes that disguised main ingredients nearly beyond recognition."
— From Les Amis d'Escoffier Society of New York.
With our backdrop of Chef Biju's attractive plates of simple but exceptional food in the classic ambience of Perrine, it was easy to segue into the subject of how much our relationship with both food and wine has changed in the last couple of decades.
"The first menu [at The Pierre] was written by Chef Escoffier himself," Biju said. "The Pierre has always been traditional—classic French."
"In the last few years, we've tried to lighten up everything, including the food. We took all the classic dishes and made them more accessible, more modern…and rosé fits right into that," Biju explained.
Miraval is the exclusive rosé served in the hotel restaurants and lounges—Perrine, the Rotunda, and Two E Bar & Lounge—as well as for room service.
Both Biju and Perrin agreed that those in the food and wine business are facing a new clientele. Biju said that they see a new generation who views luxury as comfort, something that is accessible but not something that one must spend a lot of money on. Perrin concurred, adding that status is not as important to this generation as experiencing the moment. Rosé's popularity seems to be intertwined with a carefree lifestyle which might be described, in Perrin's words, as a new form of luxury.
The food we were served reflected Biju's philosophy: it appeared simply prepared but the flavors were anything but simple. A perfectly arranged charcuterie and cheese platter looked, to use the chef's words, as if it were prepared with "careful carelessness" and it was presented like "food that looks like real food." The same was true with a plate that was inspired by a rich mushroom quiche but was actually an Indian naan topped with fresh vegetables. My personal favorite was a miniature tuna tartare with Niçoise garnitures and Dijon dressing—served in Asian soup spoons. Each platter met the chef's two requirements: have a story and taste great.
Rosé was the perfect accompaniment. Like the food, it seems simple but, at least with good rosés, there is complexity, texture, a nice balance of fruit and acidity, and, ideally, a little minerality. "Rosé is a new way of experiencing wine," Perrin suggested. "It's easy….Rosé goes with everything and you don't have to think about the vintage."
For a man who cut his teeth on red wine, I found Perrin's perspective interesting. I asked him if he felt the new generation, given their propensity to focus on the moment and not be weighed down with planning, would have the patience to age their wine. His answer, in a word, was no. Although there will always be passionate people—and collectors, as Biju added—aging one's wine won't be mainstream, Perrin opined.
Château de Beaucastel came to this conclusion as much as 20 years ago and began putting away between 10% and 20% of the bottles they produce and holding them until such time that they feel the wine is in "a different phase of evolution." Clients, for various reasons (e.g., lack of appropriate space, lack of time, or no forethought) may not age their wine but they are willing to pay someone else to do it in a perfectly climatized cellar.
And, yes, there was the pesky matter of the glam couple's widely covered divorce and, most important to some observers in the wine industry, who will get the Château. Perrin said (rather emphatically) that they are not selling the Château, adding that "in the wine business, one basically does things for the next generation." As part of the fifth generation of winemakers at Château de Beaucastel, Perrin would understand the wisdom of such a philosophy. I wonder if any of the six Jolie-Pitt children will be bitten by the wine bug.
Notes:
The Pierre, in conjunction with Miraval, will be hosting several other French-themed events, including one on June 21st to mark La Fête de la Musique and another on July 14th to celebrate La Fête Nationale (aka Bastille Day in the U.S.). Tickets for The Pierre's summer event series with Miraval will go on sale in mid-May on EventBrite. Guests may also purchase tickets directly through Perrine by emailing reserveperrine@tajhotels.com .Check the hotel website for additional events and details, as they surface.
As in many hotels in France, les chiens are welcome at The Pierre. So, look for me and my daughter's Chihuahua, Penny, at an upcoming event. Check with the hotel for their specific policy on dogs.
Other related Provence WineZine articles you may be interested in reading:
CHÂTEAU MIRAVAL: A CELEBRITY LONG BEFORE BRAD AND ANGELINA MOVED IN
THE CURIOUS CASE OF MIRAVAL'S GRAPES
UPDATE: ANSWERS FROM MARC PERRIN ABOUT "THE CURIOUS CASE OF MIRAVAL'S GRAPES"
MARC PERRIN ON THE IMPORTANCE OF TERROIR, FAMILY, AND FUTURE GENERATIONS