THE THREE FACES OF GRENACHE
by Susan Manfull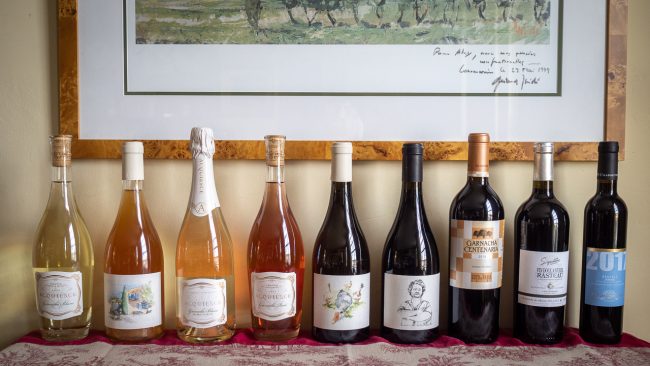 If you are a fan of wines from Provence or the Southern Rhône Valley, you are on an intimate basis with Grenache Noir. You probably don't sidle up to the bar and order a "Grenache Noir" like you would a glass of Pinot or Cab, but I assure you that, in Provence and the Southern Rhône Valley, you are drinking wines of which Grenache is a major part.
You may also know Grenache Blanc, one of its mutations, but you probably are not familiar with the third face, Grenache Gris. All three grapes can end up partially or solely responsible for red, white, orange or rosé wines that are still, sparkling, sweet or fortified.
Like the book that inspired the title of this article, The Three Faces of Eve, which is based on the true story of Chris Costner Sizemore who is purported to have three personalities – two of which were named Eve – there are the three main faces of Grenache mentioned above. But like Ms. Sizemore, who is said to have had more than 20 personalities, Grenache has more than three faces, too. And, with all the different names for Grenache, it can be so confusing that you feel like you are going cray-cray! (Ms. Sizemore, in fact, suffered from a serious psychiatric disorder, now referred to as Dissociative Identity Disorder.)
A fourth variety of Grenache, a mutation of Grenache Noir, is called Garnacha Peluda or "Hairy Grenache." (Garnacha is the Spanish word for Grenache.) In southern France, this grape is sometimes called Lledoner Pelut or Lladoner Pelut. The hairiness is on the leaf where tiny white hairs cover the underside. It is a mutation of Grenache Noir and relatively rare although apparently enough grows in Terra Alta in Catalonia in northeastern Spain and in Languedoc in southern France, such that it is authorized as a principle or recommended variety. It is authorized as an accessory grape variety in other appellations in Spain (notably Priorat) and within Languedoc-Roussillon.
Another variety called Garnacha Tintorera in Spain is sometimes mistakenly understood to be a variety of Grenache. This red-fleshed grape, known as Alicante Bouschet in other parts of the world, is actually the result of a cross between Grenache (Garnacha) and Petit Bouschet in the mid-1800s in southern France where Grenache was also known as Alicante.
To keep things simple, we will focus on the three main faces of Grenache in this article; but, for fun, do look up Garnacha Peluda and Alicante Bouschet sometime and keep an eye out for the wines made from these grapes!
Grenache Noir is the main face of Grenache; so much so that most people drop the "Noir" when referring to this red grape. It is now the seventh most widely planted grape variety in the world, having dropped from the world's second most widely planted variety at the end of the 20th century. This decline is strongly associated with the "EU vine pull-out scheme" in which grape growers were financially rewarded for pulling up their grape vines (widely referred to by the French term, arrachage). Still, over 90% of the globe's Grenache can be found in the vineyards of France (54.9%) and Spain (41%), most of which is Grenache Noir.
This grape finds its way into the blend of nearly every wine you will find in Provence or the Southern Rhône Valley. Today, there are somewhere around 90,000 hectares (222,395 acres) of Grenache in France, most of which is in the South of France (in Provence, the Southern Rhône Valley, and the Languedoc-Roussillon wine regions).
Do you drink rosés from Provence? Grenache Noir is in the blend of almost every rosé made in Provence. It is one of the principal grape varieties for rosés in eight of the nine appellations that comprise the region of Provence, as specified by the Cahier des charges de l'appellation d'origine controlée (the official French government body regulating vineyard plantings and wine production). Since Provence is almost entirely devoted to making rosé, that translates into a lot of Grenache Noir vines in the ground and a lot of Grenache Noir grapes in the bottle (in all appellations but Bellet).
Do you drink red wines from the Southern Rhône Valley? Grenache Noir is invariably in the blend of those wines, too. It is the most widely planted variety in the southern part of the Rhône Valley. It is a main player in every appellation in the southern Rhône Valley, so much so that it is well known by its first initial in the region's oft-used shorthand, GSM, for "Grenache, Syrah, Mourvèdre" (although, interestingly, that abbreviation actually originated in Australia).
In the storied appellation of Châteauneuf-du-Pape, Grenache is one of the famed "Thirteen Grapes" (or "Eighteen Grapes," depending on whether you count the different colors separately) that are authorized for use. Grenache Noir plays a leading role in the blends there and, predictably, accounts for upwards of 80% of the vines in this area.
In Tavel, where only rosé is produced, all three colors of Grenache are permitted although the red Grenache is clearly the primary grape. The Blanc and Gris are rarely used in the blends today.
Perhaps you have enjoyed a Rasteau vin doux naturel, also from the Southern Rhône Valley, north of both Tavel and Châteauneuf-du-Pape. As the name suggests, these are naturally sweet wines and they are made from Grenache Noir, Blanc, and/or Gris grapes to which pure grape spirit is added to stop fermentation while there is a significant quantity of sugar and an alcohol level of about 16 percent or more.
Banyuls wine, another of France's vins doux naturels, hails from the southeastern part of Roussillon in southern France, near the Spanish border. These wines are made mostly from Grenache. There is a clear preference for those made from Grenache Noir although Grenache Blanc and Grenache Gris also comprise some Banyuls wines. Like Rasteau vin doux naturel wines, alcohol is added to stop fermentation, leaving a certain amount of sugar and an alcohol level of about 16 percent or more.
Clearly Grenache Noir dominates the vineyards of southern France and, unsurprisingly, because I write about wines from Provence and the Southern Rhône Valley (and a few Rhône Rangers in the US), it dominates the selection of wines in our cellar. Mostly in blends, per the regulations of the Cahier des charges de l'appellation d'origine controlee, one can find reds, rosés, and vins doux naturels (underscoring not just my proclivity for Grenache but also its versatility).
There is still some debate about where Grenache Noir originated, but it seems that most writers have settled on Spain (in the northern province of Aragón) although the Sardinians, who call it Cannonau, argue that Grenache began on their island and was brought to Spain, according to Jancis Robinson, sometime between 1297 and 1713 when Sardinia was under Aragón rule. Another source reports that carbon dating of plant material found at archeological sites in Spain suggest that Grenache was planted as early as 152 BC in that area. Yet, another source argues that the question should be settled in favor of Spain because there is no other place with a greater number of varieties of Grenache (red, white, grey, and peluda) and because there is "significant clonal diversity" in the Spanish Garnacha (vs the Cannonau in Sardinia). One has to wonder why Garnarcha is not the most common name for this grape. Today, there are somewhere around 63,000 hectares (155,676 acres) in Spain where it often plays a supporting role to Tempranillo.
Grenache likely arrived in what is now France sometime before 1659, probably through what is now Roussillon as it was under Aragón rule for 400 years before that time. According to Matt Walls, author of the just published Wines of the Rhône, it was likely planted in the Southern Rhône Valley sometime before 1800. Today, it comprises about half of the vines planted in the Rhône Valley and is the second most planted grape in all of France, after Merlot.
The outbreak of phylloxera that decimated vineyards in Europe at the turn of the 19th century undoubtedly led to more plantings of Grenache in France and Spain because it is a hardy variety, relatively disease resistant, and easy to graft.
Other countries besides France and Spain where Grenache Noir has a significant presence include Italy (especially, Sardinia), the United States (California and Washington state), and Australia. Emerging countries where it is increasingly grown include China, Croatia, Israel, Mexico, and South Africa.
In California, Grenache Noir appears to be enjoying increased popularity, especially in the Central Coast American Viticultural Area (AVA), reflecting a growing interest in Rhône-style wines in those areas. The grape was introduced to California in the mid-1800s; unfortunately, as several writers have pointed out, it began in the Central Valley where it was harvested at high yields for bulk wine, especially rosé ("blush") wines. The total number of acres reached as high as 20,000 (8,094 hectares) in 1974 and then began to decline. Now, although covering less than half of the acreage it did even more recently in 2000 (11,462 acres vs 4413 acres in 2019), it may be experiencing a bit of a comeback in certain pockets of the state. According to the website of Tablas Creek in Paso Robles, California — a champion of Rhône varieties — 2000 new acres of Grenache were added in the last 20 years, most notably in Santa Barbara and San Luis Obispo (Rhône Ranger territory).
Grenache, in any color, thrives in warm, dry climates. Because it generally likes some hot days and cool nights (who doesn't?) and especially because it can stand up to drought conditions, Grenache may find itself increasing popular in new areas as our global climate changes. Regarding soil, this variety will thrive in the poorest of soils so long as the soil is warm and drains well; plant it in schist, granite limestone, clay or sand and it can do well. Grenache vines sing when their roots are surrounded by the large round stones — known as galets roulés – in Châteauneuf-du-Pape and Gigondas. Old vines can produce some amazing results. Pruning, controlling the yield, and harvesting at just the right time are crucial factors in whether the wine will be quite ordinary or extraordinary.
Red berry (strawberry, raspberry, blackberry, red currant) and dark red fruit (cherry, plum) characterize the flavors typically noted with Grenache red wines. Black pepper and herbal notes often surface as well. It was low to medium acidity, moderate tannins (more in young Grenache wines), and is prone to high alcohol (over 15%) but, in the hands of a talented winemaker, well-balanced, rich wines with great ageing potential will surface.
Most Grenache, in any color, is blended. For Grenache Noir, Syrah and Mourvèdre are the top varieties on its dance card. Until recently – with few exceptions, notably Château Rayas in Châteauneuf-du-Pape where a single bottle goes for several hundred dollars — one was hard-pressed to find a single-varietal Grenache Noir. But others are there to be found in the southern Rhône Valley; a few years ago, I was introduced to an exceptional mono-varietal from the Luberon, a Vin de France from a very small (and now favorite) winery called Domaine de la Cavalière.
Now, especially in the Central Coast AVA of California, there is a growing interest and success in producing 100% Grenache red wines thanks to Tablas Creek who introduced five new clones of Grenache Noir from Château de Beaucastel in the Southern Rhône Valley in the early 1990s.
There is the same preference for blends in making rosé. In Provence, said to be the birthplace of rosé and the home of the gold standard for rosé, Grenache is the backbone of this wine (which makes up about 90% of the region's production), and AOP rosés are always a blend of Grenache Noir and one or more other grape varieties. Potential candidates for the cépage include, depending on the appellation, Cinsault, Syrah, Mourvèdre, Tibouren, Carignan, and Cabernet Sauvignon.
Likewise, Tavel, the singular appellation dedicated to making rosé, must produce rosés that are blends, and the blend must include Grenache. Principal varieties that may be blended with Grenache include Bourboulenc, Cinsault, Clairette, Clairette Rose, Grenache Blanc, Grenache Gris, Mourvèdre, Piquepoul Blanc, Piquepoul Gris, Piquepoul Noir, and Syrah (plus a few minor grape varieties).
As with Grenache red wine, there are exceptions to the widely observed blending practice in making rosés, and these single-varietal Grenache Noir rosés are in the Central Coast and Lodi AVAs in California.
Grenache Blanc accounts for a fraction of the world's total Grenache growth. In France, it is the fifth most widely planted white variety (following Ugni Blanc, Chardonnay, Sémillon, and Sauvignon Blanc). Like the red version, the quality of the grape is very much dependent on terroir and viticultural care; in competent hands, rich full-bodied minerally wines can surface.
The majority of Grenache Blanc finds itself in a blend. In Châteauneuf-du-Pape, it is usually part of the coveted White Châteauneuf-du-Pape wine (which comprises only 5 – 7% of annual production). That blend typically consists of Grenache Blanc, Roussanne, Clairette Blanche and Bourboulenc. But others are used as well: Clairette Rose, Grenache Gris, Picardan Blanc, Piquepoul Blanc and Piquepoul Gris.
Again, Tablas Creek and its partnership with the Perrin family of Château de Beaucastel is credited with introducing cuttings of this grape variety to California. Susan Tipton of Acquiesce Winery in Lodi – increasingly well known for making award-winning white Rhône varieties – purchased some of this Grenache Blanc when she began her wine business a little over a decade ago.
Tipton produces a single-varietal Grenache Blanc as well as a blend called Belle Blanc which is her homage to a white Châteauneuf-du-Pape wine, the inspiration of Acquiesce Winery. Grenache Blanc, Roussanne and Viognier comprise Belle Blanc. Tipton said that there are now about 13 acres (5.3 hectares) of this variety in Lodi and upwards of 329 (133 hectares) in the U.S. Tipton also makes what appears to be the only sparkling Grenache Blanc in the U.S., and perhaps the world.
Grenache Gris is a pinkish-greyish mutation of Grenache Noir. It is grown almost exclusively in France where, even there, very little is grown: about 1600 hectares (4000 acres), according to ten-year-old figures from Robinson. In the entire Rhône Valley, Walls writes in his new book devoted to this region, there are just 35 hectares (86 acres) even though it is one of the permitted grapes in Châteauneuf-du-Pape and most of the southern Rhône Valley. It is in Languedoc-Roussillon where most of the world's Grenache Gris is grown.
It is widely reported that single varietal Grenache Gris wines are rare and, Wine Searcher goes so far as to write that they are "… a winemaker's indulgence, since there is little commercial gain to be made from producing them." Then, I read an article in which Robinson wrote about how charmed she was to discover Grenache Gris blends and even a couple of single-varietal Grenache Gris in two Languedoc-Roussillon appellations, Collioures and Minervois, respectively. Rare? Well, always up for a challenge, husband Towny sought out to find some and was successful! Never having had a Grenache Gris or paid attention to its inclusion in a blend, I was thrilled.
Beginning with IGP Centenaire (2019) from Domaine Lafage in Roussillon, a blend of Grenache Blanc (60%), Grenache Gris (20%), and Roussanne (20%) the color of straw, we were wowed. The Grenache vines are 100 years old — hence the name of the cuvee — and the Roussillon vines are quite young, a combination that no doubt contributes to the layers of interesting flavors. "Bright" is the operative word. It is a beautifully balanced wine that seems to light up the room. Aromas of lemon thyme and loads of minerality waft from the glass enticing one to hurry up and have a sip. Layers of flavors entice the palate, especially green apple joins the citrus notes and minerality, followed by a stunning finish that is persistent, clean, and fresh. Even with 14.5% ABV, it is very easy drinking and, to repeat myself, balanced.
The single varietal Grenache Gris (2019) Naomi is composed of grapes that hail from Gibson Ranch in Mendocino where the vines date back to before the turn of the 20th century, making them the oldest vines of Grenache Gris on record in the U.S. The wine is produced in Sonoma Country by Ruth Lewandowski. This is an organic, ambient yeast, minimal intervention — otherwise known as natural — wine that fills your mouth with more texture than flavor. The color is a rich golden one. We detected fleeting notes of cider on the nose that quickly dissipated in favor of green apples and orange zest. On the palate, there are savory flavors that reminded me of chamomile and possibly sage. The wine came alive with food. We happened to pair it with a Coconut Curry Chicken Soup which worked beautifully.
Today, we picked up another 100% Grenache Gris. Produced from grapes harvested in 2018 by Vignoble Reveille in Cassagnes in Languedoc Roussillon, it is called Vivre Sensible. I took that as a sign to live sensibly and open it another day. Stay tuned.
You still won't be able to walk into a bar and order a Grenache Noir (or Blanc or Gris) anytime soon but you will be able to regal your guests with tales of Grenache and its multiple personalities. You'll have them riveted with hairy Grenache.
_____________
NOTES
In the meantime, if you would like to learn more about Grenache– still and sparkling Blanc – and Grenache Noir as a Rosé, I encourage you to watch our webinar called "Cook, Drink, and Learn." I, along with Sue Tipton, winemaker and co-proprietor of Acquiesce Winery, and David Scott Allen, editor of Cocoa & Lavender, just recorded our live tasting and discussion of three of Tipton's wines made from her award-winning Grenache Blanc, including her sparkling version as well as her still white wine, and her Grenache Noir from which she makes her award-winning rosé. In addition, Allen does a cooking demonstration of a dish he created to go with the still Grenache Blanc (spoiler alert: it pairs beautifully). Three recipes are available to go with each of the wines.
Watch the webinar here: <https://www.acquiescevineyards.com/cook-drink-learn-2/>.
You may purchase Acquiesce Wines to go with the tasting by clicking here: <https://www.acquiescevineyards.com/wine>.